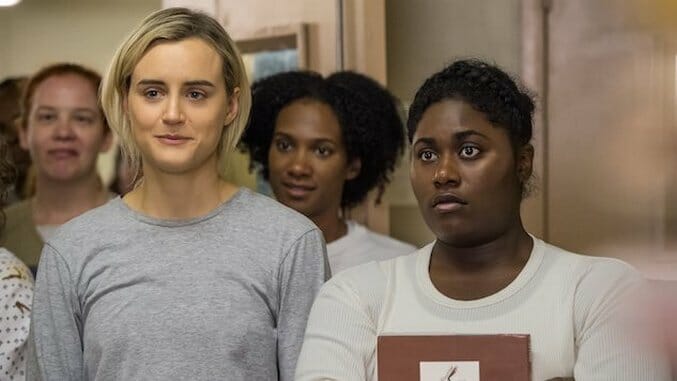 "Full Bush, Half Snickers," Season Five's most peaceful and unified episode thus far, made me laugh, made me cry and, above all, made me so freaking proud to be a woman. Proud because the Litchfield women proved—at least until the very end of the episode—that, no matter how underestimated women may be in a world ruled by men, we are capable of weathering the most turbulent storms. Using their resources and creativity, the women join forces to create a homey, harmonious atmosphere that immediately lifts the spirits and crushes residual hostility. But they also know how to hold their own in the face of danger and are far from being mousy, submissive and fragile little ladies.
The hallways have been turned into a makeshift market based on a bartering business model. A full bush braid goes for half a Snickers; a frilly, handmade wool necklace goes for six orange Starbursts; and one of the rooms reserved for leisure activity has been turned into a coffee bar run by Quija (Rosal Colón) and Pidge (Miriam Morales). Impressed by their brewing skills, Brandy (Asia Kate Dillon), who was featured on the cover of Barista Magazine twice before going down for poisoning "Jew and mud-people," launches into a historical gloss on Hispanic coffee culture. The topic would usually end with insults hurled at one another but, instead, is met with surprising mutual interest. On this particular day, the inmates seem to honor the post-racial stance they've supposedly taken on for the duration of the riot and, suddenly, even the anti-freezing Nazi is trusted to prepare and hand out coffee.
Don't get me wrong, the inmates haven't all suddenly become BFFs. But a new sense of togetherness is sweeping the Litchfield halls, allowing for a much-needed respite from days spent in constant fear. While Quija entertains the patrons of Litchfield's coffee bar with hilarious impressions of "Lorna la Loca" (Yael Stone), Red (Kate Mulgrew) and Nichols (Natasha Lyonne)—if Netflix is looking to create a stand-up special based on this, I'd be down with that—Boo (Lea DeLaria) continues to court the Counterfeit Cunt (Beth Dover) old-school style. Turns out, a shopping spree through Litchfield's market is exactly what Boo needs to seal the deal with her lady, wool necklaces being a girl's best friend and all.
But unlike Sankey (Kelly Karbacz) and her ukulele tugging at her audience's heartstrings, not everyone is having the time of their lives. Nichols, who confessed her unrequited love to Lorna, is heartbroken when Lorna retreats back into her fantasy world. Thanks to swollen breasts and erotic dreams about riding a whale, Lorna is convinced she's got a lasagna in the oven and is eager to share the great news with Vinny (John Magaro) by way of a "promposal"-style announcement. As predicted by Daya (Dascha Polanco), Lorna's big news sends him running. Meanwhile, Gloria (Selenis Leyva) is desperately trying to figure out a way to get furlough when she finds out her son Benny suffered a hematoma to his brain and is still in ICU.
"Full Bush, Half Snickers" is very much centered on mothers and their will to do the best they can for their children, even when their attempts fail miserably. Having learned that her sentence was never extended, Maria (Jessica Pimentel) joins Alex's (Laura Prepon) unintentional resistance in the hopes of getting back to her daughter while she's still pooping in Pampers. Aleida (Elizabeth Rodriguez) advises Daya to lie in order to avoid a lifetime in max, but Daya has made up her mind. She finally takes responsibility for her daughter Armaria, and convinces Delia (Mary Steenburgen) to adopt her and give her the life she deserves.
With Taystee (Danielle Brooks) growing increasingly impatient waiting on their demands to be met, Piper (Taylor Schilling) suggests channeling her nervous energy into something creative. The idea to create a memorial for Poussey is born and auditions are held to introduce possible ideas, but none of the suggested pieces (hair dolls, a theatrical piece based on clams, etc.) are good enough. Taystee reluctantly allows Brook (Kimiko Glenn) to take charge of creating the memorial installation, and to her surprise, it's everything Poussey would have wanted. An entire hallway is decorated with books strung up like garlands and arranged into Jenga-like towers, inviting people to get lost in the stories and illustrations Poussey spent most of her time with.
In "Tied to the Tracks," Taystee is so focused on getting the negotiations started she no longer has the time to play momma for Suzanne (Uzo Aduba), who is quickly losing her grip on reality with no routine to abide by. She starts to hallucinate that her parents are visiting and lets it be known that she's consumed by bad feelings she cannot control. Aware of her mounting anxieties, Cindy (Adrienne C. Moore) and Alison (Amanda Stephen) take on the role of "Bitchfield" COs and employ the guard-hostages to keep Suzanne entertained with storytelling and games like "Circle Jerk." When Quija and Pidge finally demand their hostages back, Suzanne is on her knees begging them to let them stay, but they don't have the patience to deal with her childlike notions and tie her to the bed post, deserting her in her moment of need. (Aduba's performance in this scene is absolutely heart-wrenching to watch.)
When the Governor finally sends a negotiator to discuss their demands, the Litchfield ladies are disgusted to find that it is no other than Figueroa (Alysia Reiner), who immediately launches into her spiel about MCC's "current economic climate." But Taystee has done her homework and hits back with all the evidence needed to prove that there is money—they just have no intention in spending it on inmates. Things are looking good for Taystee and her fellows until a news segment featuring Judy King (Blair Brown) discussing details of Humphrey's (Michael Torpey) shooting goes live. Unless the woman responsible agrees to hand herself over, amnesty is off the table. It looks as though all their hard work was for nothing, but just as Figueroa is about to exit the prison in a self-righteous huff, Daya steps in and sacrifices her future for the future of the others. (Sidenote: Flaca (Jackie Cruz) and Maritza's (Diane Guerrero) obsession with becoming YouTube celebrities, and their lack of interest in the riot or any other movement of substance, hilariously depicts the worst excesses of the hunger for 15 minutes of fame.)
The ladies are filled with hope yet again. However, they're unaware of Red and Blanca's (Laura Gómez) plan to lure Piscatella (Brad William Henke) into the building using Humphrey's phone and his mutilated fingertip. They are convinced they can get him to confess to murdering a prisoner by Home Alone-inspired booby traps, but as they finally descend into Suicide Sunday comedown mode, their paranoid babble no longer makes sense to anyone, and is brushed off as a momentary obsession brought on by grade A amphetamines. Unfortunately, their plan worked, and in a highly emotional closing scene set to Low's "Especially Me," we see Piscatella breaking into the building clad in his riot gear.
Here's hoping the booby traps hold up.
Read all of Paste's reviews of Orange Is the New Black Season Five here.
---
Roxanne Sancto is a freelance journalist for
Paste
and
The New Heroes & Pioneers
. She's the author of
The Tuesday Series
& co-author of
The Pink Boots
. She can usually be found covered in paint stains.