Paste Power Ranking: The 5 Best TV Shows on Right Now, from The Expanse to Cobra Kai
Illustration by Christine Fernando
TV
Lists
Power Ranking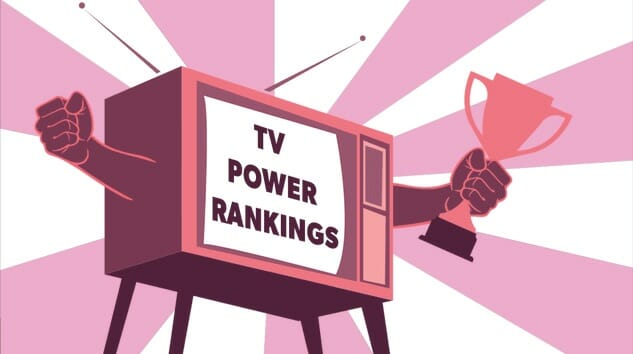 In this relative lull before a new premiere season, we got the rather lulling arrival of the latest Star Wars series, The Book of Boba Fett on Disney+. Maybe it was the holiday timing, or Disney's insistence on airing shows on Wednesdays now, but it landed without much fanfare. The premiere was fine (our own Terry Terrones was a fan), but it certainly did not get the buzz (or the memes) of The Mandalorian or even some of the recent Marvel shows. Is saturation finally happening? Are we ready for something new?
Maybe not entirely; the Harry Potter reunion special went over well on HBO Max, and was a much more genuine and seemingly heartfelt affair than Friends, anyway. And while it was technically a movie about movies, we continue to have hope that one day we'll get our Marauders TV show. Also, Daniel Radcliffe has since starred in a great comedy series, Miracle Workers (now on HBO Max), so we claim him as our own.
The rules for the Power Rankings are simple: Any current series on TV qualifies, whether it's a comedy, drama, news program, animated series, variety show or sports event. It can be on a network, basic cable, premium channel, Netflix, Amazon, Hulu, YouTube or whatever you can stream on your smart TV, as long as a new episode was made available the previous week (ending Sunday) —or, in the case of shows released all at once, it has to have been released within the previous four weeks. The voting panel is composed of Paste Editors and TV writers with a pretty broad range of tastes.
Honorable Mention: Landscapers (HBO), The Book of Boba Fett (Disney+)
5. Cobra Kai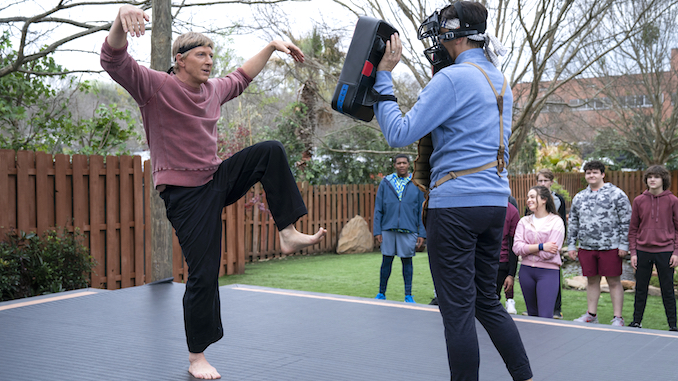 Network: Netflix
Last Week's Ranking: Not Eligible
This Week: A ridiculous, karate-loving delight.
Cobra Kai never dies.
And thank goodness. The series, which continues The Karate Kid story, survived two seasons in relative obscurity on YouTube, an overwhelmingly successful transition to Netflix and remains, in its fourth season, the rare revival that fans still really want to see. The secret to the show's success is its loving embrace of its source material—warts and all. The law of diminishing returns was hard at work with The Karate Kid franchise. By the time we got to The Karate Kid Part III things had gone, shall we say, rather astray. And Cobra Kai knows it.
The big news about Season 4, of course, is that Thomas Ian Griffith returns to reprise his role as the nefarious Terry Silver, John Kreese's (Martin Kove) old pal from the Vietnam War. In The Karate Kid Part III we are introduced to Terry as he is signing a plutonium deal and saying things like "For the next few weeks my business is strictly revenge." Not exactly subtle. But it was the '80s right? Excess was the name of the game.
Quite a few storylines are dropped or not completely followed through on, though, which really stands out when you can stream all 10 episodes back to back. (Terry's arc, for example, doesn't make a whole lot of sense.) But despite my quibbles, I still love Cobra Kai. The show is such an enjoyable romp. I'm happy to spend time with the characters and their karate-loving world no matter what. —Amy Amatangelo [Full Review]
---
4. The Expanse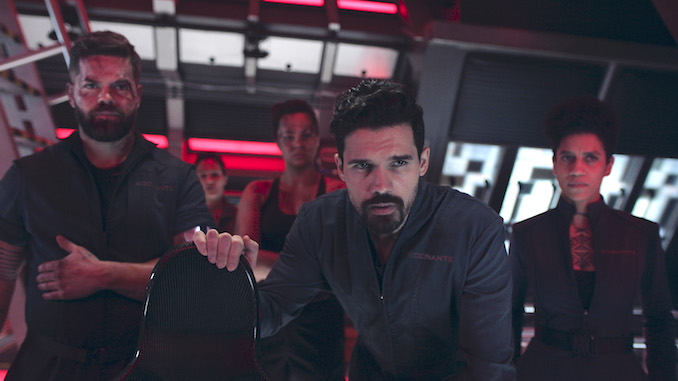 Network: Amazon Prime Video
Last Week's Ranking: Honorable Mention
This Week: A weekly treat to savor.
It's hard to believe that The Expanse's current season will be its last—the interstellar world of the Prime Video series (once upon a time of Syfy) feels bigger than ever, the kind of sandbox any TV writer would kill to play in. The cult sci-fi series' truncated sixth installment almost seems to share that perspective, with the Rocinante's intrepid crew continuing to explore an exponentially Ring gate-expanded universe and tangle with dangerous extremist Marcos Inaros (Keon Alexander) as if their adventures would never end. Whether this conclusion can do justice to the years we've spent with Captain James Holden (Steven Strait) and company is a question for another day, but in the meantime, the Rocinante's final flights continue to exhilarate while the nuanced machinations that surround them sprawl, further cementing The Expanse as an immersive and thought-provoking small-screen accomplishment. —Scott Russell
---
3. Station Eleven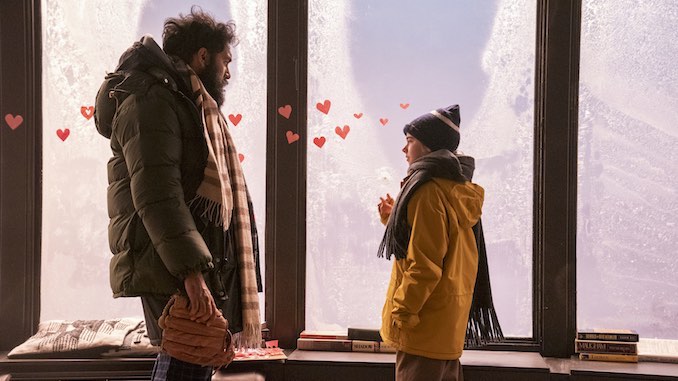 Network: HBO Max
Last Week's Ranking: Honorable Mention
This Week: No seriously, we know the timing sucks but give it a chance.
The past few years have really pushed us to consider what the end of the world might look like. And in that sense, HBO Max's new series Station Eleven, an adaptation of the apocalyptic 2014 novel by Emily St. John Mandel, has unfortunate (or perhaps auspicious) timing. Who wants to watch a show where the world's population has been ravaged by a pandemic, where characters suffer through what they have lost and debate if hope is a worthy investment? Who wants to inhabit a dark universe that feels just a branch away from our own?
And yet, the 10-episode miniseries pulls off an incredible feat: it is a masterpiece. The timing of our own pandemic escalates the horror and doom of the show, but also makes every emotional beat even stronger. Station Eleven's pandemic is very different from our own: it is quick. In only a few days the world is forever changed, very few get to say goodbye. The series dives into this pain, and asks if parting is something one can learn to endure in a world that takes each character on their own path. For a series so inspired by the legacy of Shakespeare, it seems fittingly impacted by "parting is such sweet sorrow." Station Eleven ventures to dwell on both the sweet and sorrow, that both can exist at once all the time.
While COVID-19 remains a fresh wound and Station Eleven is not for the faint of heart, it rewards the viewer by finding the artful beauty in a painful world. —Leila Jordan [Full Review]
---
2. The Witcher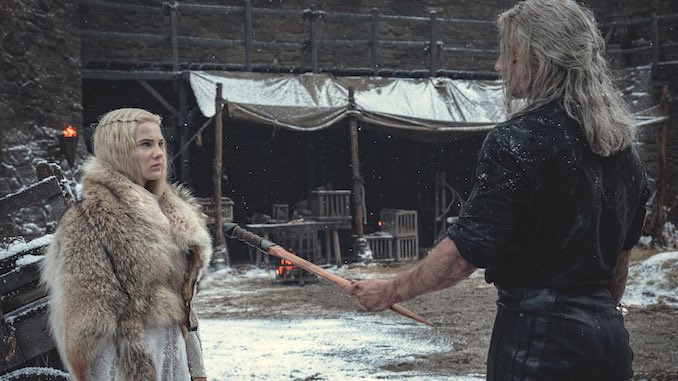 Network: Netflix
Last Week's Ranking: Honorable Mention
This Week: One of the best fantasy shows on TV.
"It's a bit complicated," a guard at the docks calls out to Jaskier (Joey Batey) about one of his new songs. "Took me until the fourth verse to understand there were different timelines." That's the kind of sly, self-aware humor that The Witcher once again brings to its layered fantasy storytelling. Showrunner Lauren Schmidt Hissrich also made an adjustment after that Season 1 experiment; Season 2 has dropped the timey-wimey stuff, and instead sets a more linear—although still complicated—story that follows Geralt of Rivia (Henry Cavill) and his ward Ciri (Freya Allen), who are finally reunited just as her destiny becomes clear.
Based on Andrzej Sapkowski's novels that spawned an extremely popular gaming franchise, Netflix's series remains both fully engrossing and fully ridiculous. We wouldn't have it any other way. Like any good bard, Hissrich understands that both parts are necessary to tell a great fantasy tale. It's also worth noting that Season 2 is a marked improvement over that messy, if enjoyable, first season. More episodic in nature, especially at the start, the series can now let us relish in everything that was previously established. That means Geralt traveling with Ciri—the Child of Surprise whose powers and lineage become more surprising by the day—mourning what he believes is the death of Yennefer (Anya Chalotra), and meeting up with more witchers at their stronghold in Kaer Morhen, including Geralt's mentor, Vesemir (Kim Bodnia).
This excellent second season is a deeper dive into a rich world that shines in its focus on Ciri and Geralt's relationship, and how that connection influences everything around them. Though there are plenty of things to quibble over from book to screen (or from videogame screen, although the show is expressly pulled from the page), The Witcher is perhaps best viewed and accepted as a fresh translation of an old fable. Redoing the same thing over and over again, exactly the same way, is boring. The Witcher's interpretation of its original text offers up something new—and that's refreshing, both within this story and for fantasy TV at large. —Allison Keene [Full Review]
---
1. Yellowjackets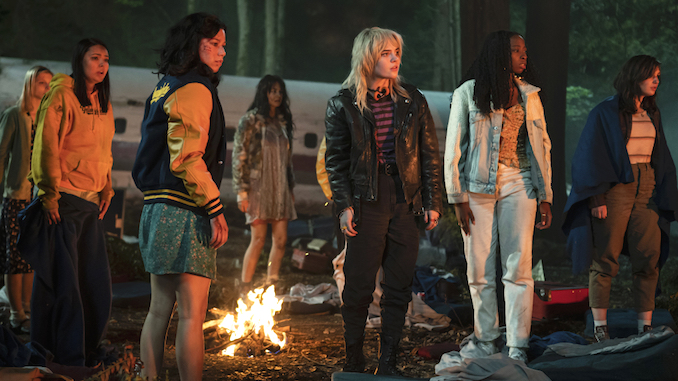 Network: Showtime
Last Week's Ranking: Honorable Mention
This Week: Who. Is. Adam?!
Showtime's new survival thriller Yellowjackets feels like such a breath of fresh air. The series is an intriguing mix of genres: part 1990s-set horror story and part modern-day mystery, with heaping doses of teenage angst and supernatural weirdness thrown on top. It honestly feels like nothing else on television right now, and though its pace is somewhat more glacial than its trailers might have initially indicated, there are moments where the tension—combined with our knowledge that many of these people aren't going to make it out of this alive—is nigh unbearable.
The story begins in 1996 and follows the titular Yellowjackets, a New Jersey girls high school soccer team on their way to nationals. But when the private plane lent by a rich dad for the trip goes down in the Colorado mountains, they spend the next 19 months fighting to stay alive—a feat not all of them apparently accomplish. We know this because the other half of the show's plot is set 25 years later, as several of the crash survivors (played by Juliette Lewis, Melanie Lynskey, Christina Ricci, and Tawny Cypress) find themselves visited by a nosy reporter aiming to write a book about their stories.
Ultimately, Yellowjackets is a twisty mystery that doesn't easily give up many of its secrets, and grounds its story in a specifically female experience in a way that other series like this have never bothered to try. From awkward crushes and sexual double standards to character revelations driven by the fact that the girls' menstrual cycles sync up… basically what I'm saying is that Lord of the Flies could never. —Lacy Baugher Milas [Full Review]
---
For all the latest TV news, reviews, lists and features, follow @Paste_TV.