Lots of changes to this week's power rankings as last week's champion, Halt and Catch Fire, is no longer eligible, and more of us got caught up on Netflix's excellent new show Mindhunter. The top spot, this week, was unexpectedly claimed by a dark horse with one of the best episodes of television in any genre this year. One newcomer expands the definition of "TV show" with its season debuting on YouTube. But I don't think you can write off RWBY as just a web series anymore, not with a 22-minute episode that expands upon the world that Monty Oum has spent more than four years building.
The rules for this list are simple: any series on TV qualifies, whether it's a comedy, drama, news program, animated series, variety show or sports event. It can be on a network, basic cable, premium channel, Netflix, Amazon, Hulu, YouTube or whatever you can stream on your smart TV, as long as a new episode was made available the previous week—or, in the case of shows released all at once, it has to have been released within as many weeks as episodes are available (10 weeks for a 10-episode series).
The voting panel is comprised of Paste editors and TV writers with a pretty broad range of tastes. We're merciless: a bad episode can knock you right off this list, as much good TV is available right now.
Honorable Mentions:
Big Mouth, Crazy Ex-Girlfriend, Curb Your Enthusiasm, Last Week Tonight With John Oliver, Mr. Robot, Nathan For You, Queen Sugar, Vice Principals
10. The Walking Dead
Network: AMC
Last Week's Ranking: Ineligible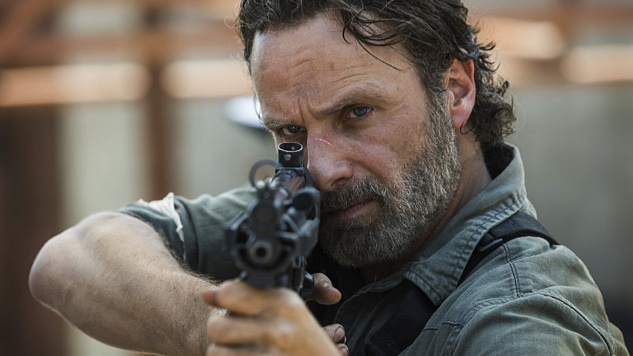 The Walking Dead has its issues—plot gaps, bizarre character behavior, gun-aiming that would make The A-Team look like master marksmen—but I was still glad to welcome back Rick and company for Season 8. One thing that you can always count on from the folks at AMC is to open up each season of their franchise show with a bang, and "Mercy" showed none. Daryl as ninja assassin. Daryl as zombie herder. I don't even remember if Daryl had any lines, but from the beginning when he was passing arrow notes with Dwight to the end when he was delivering all the zombies, he was the best thing about this episode, which was good enough to sneak in at the bottom of this week's round-up. Full review here. —Josh Jackson (Photo: Jackson Lee Davis/AMC)
9. Speechless
Network: ABC
Last Week's Ranking: Not ranked

Speechless prides itself on not being the maudlin or sappy. The show thrives when it threads the delicate needle of tackling some of the difficult realities that face JJ (Micah Fowler) without ever being treacly. Instead this underappreciated comedy leans into the natural humor these awkward moments can provide. When JJ asks his father Jimmy (John Ross Bowie) if he will ever be able to have a family of his own, Jimmy nervously replies with an exaggerated "certainly" before being honest with his son. The resulting moment may have brought a tear to my eye but not in an emotionally manipulative way. Now in its second season, the comedy continues to hone its sharp wit while giving Minnie Driver one of the best roles of her long and varied career. Don't let anyone tell you network TV is dead. —Amy Amatangelo (Photo: ABC/Eric McCandless)
8. RWBY
Network: YouTube
Last Week's Ranking: Ineligible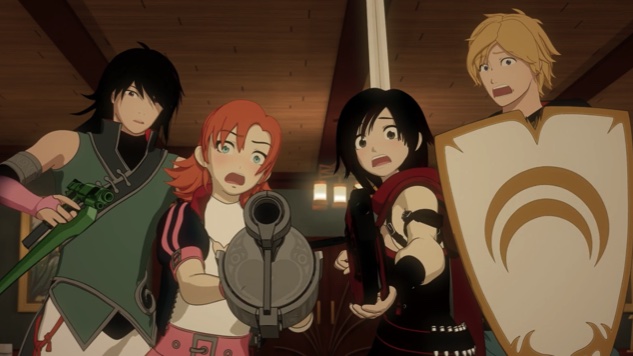 If you don't have a pre-teen or young teen kid at home, you might not have ever heard of RWBY (pronounced "ruby"). But the first episode has more than 10 million views on YouTube, and the pop-metal soundtrack debuted at #1 on iTunes. Volume 5 just debuted this week after an eight-month hiatus, and no series return has ever elicited this much excitement in my 13-year-old son. The show's popularity stems from memorable characters, great world-building and mythology, non-stop action and plenty of humor. It follows the lives of students training to be hunters and huntresses in a world where soulless monsters roam. While the question of whether this qualifies as anime is one I'm not qualified to answer, it's the best animated children's drama I've come across since The Last Airbender and it's successor The Legend of Korra. I know what I'll be doing the next 11 Saturdays, at least for six to 22 minutes, as episodes vary in length. —Josh Jackson (Photo: Courtesy of Rooster Teeth)
7. BoJack Horseman
Network: Netflix
Last Week's Ranking: 3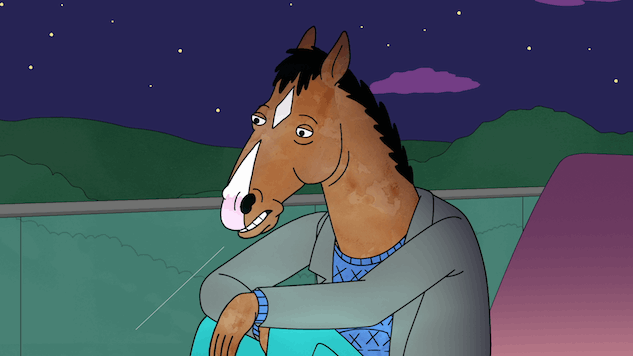 Not everyone at Paste loves the Sad Horse Show. But the Bojack Caucus is a powerful voting bloc. In making the case that it's the "defining TV series of our time least for its seventh episode, eligible this week, which turns a fracking disaster into a celebrity Lord of the Flies situation, Matt Brennan writes:
That BoJack manages to pinpoint the character of the zeitgeist and map a few of the ways through it is, for me, at the heart of its profound genius, always slipping, almost imperceptibly, from silver-tongued satire to pathos and back. As BoJack forges a relationship with the daughter he didn't know he had (Aparna Nancherla) and cares for the mother he's long wished to forget about (Wendie Malick), Season Four doesn't forgive his cruelties—or anyone else's—so much as suggest that cruelties are now our dominant form of currency, the payola that secures the White House for the wicked and Wall Street for the damned, the surest path to fame and fortune for the tiny few and destitution for the many. In BoJack, the backdrop to the characters' familiar foibles—their unthinking insults, their unspoken apologies, their selfish choices, self-doubt, self-flagellation—is the even more familiar crassness of lobbyists, donors and campaign managers, of studio heads, ambitious agents, stars on the make; of cable news anchors, dimwitted columnists, "Ryan Seacrest types"; of a social order so inured to insincerity, whataboutism, political profiteering, environmental collapse that being kicked in the stomach starts to feel like a gift.
BoJack isn't just the defining series of our time. It's a handbook for surviving it. —Matt Brennan (Photo: Netflix)
6. Will & Grace
Network: NBC
Last Week's Ranking: Not ranked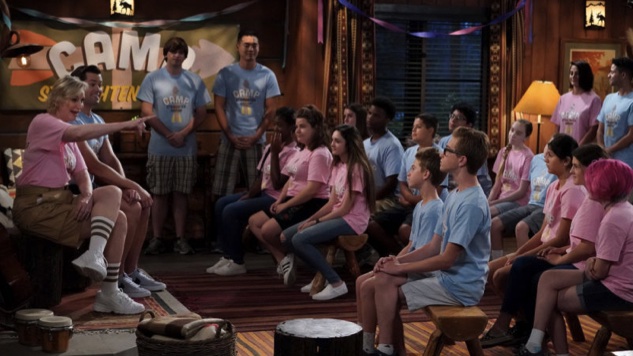 The revival of NBC's beloved sitcom has not, in the main, handled politics with aplomb—as Matt Brennan writes in his column on the series, "I want to send a copy of the premiere, in which Will romances a conservative congressman and Karen snookers Grace into redecorating the Oval Office, to every showrunner in America, as an example of how not to tackle politics. But "Grandpa Jack" has the feeling of vintage Will & Grace, updated for our current moment: When Jack (Sean Hayes) and Will (Eric McCormack) head upstate to protect Jack's grandson (!) from a gay conversion camp, the result is gleefully funny, loving and wise, with every bit the beating heart by which the original earned our affection. Special shout-out to guest stars Jane Lynch and Andrew Rannells as the camp's counselors—casting such gifted queer comedians is an inspired decision, and both knock the spirited satire right out of the park. —Matt Brennan (Photo: Chris Haston/NBC)
5. Brooklyn Nine-Nine
Network: Fox
Last Week's Ranking: Honorable Mention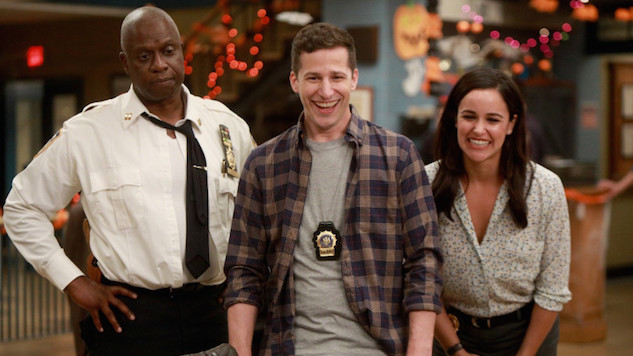 Co-creator Michael Schur, master of the ensemble comedy, has two shows on this week's TV Power Rankings. The Good Place and Brooklyn Nine-Nine, thanks to the latter's fifth and finest Halloween episode. For the Nine-Nine, October 31st means time for the annual Heist competition, something Jake, Amy and Captain Holt take beyond seriously. This year, the whole precinct is in on the action, and the lengths each team or individual goes to in order to win get more and more ridiculous. But The Heist is all about surprises, and even after five years, Brooklyn Nine-Nine keeps delivering them. —Josh Jackson (Photo: Jordin Althaus/Fox)
4. The Good Place
Network: NBC
Last Week's Ranking: 4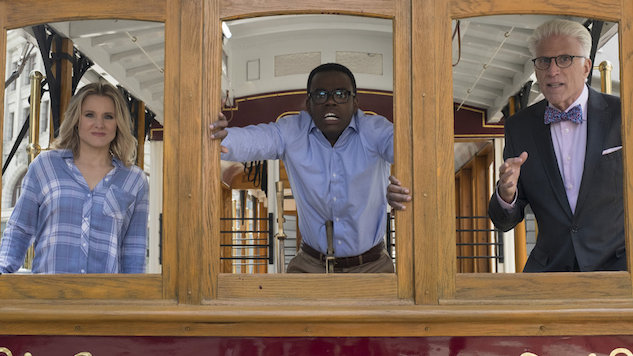 This week The Good Place tackled the most famous ethical problem in philosophy in grisly fashion. Chidi repeatedly getting coated with the blood and entrails of workers run down by his out-of-control trolley might have felt out of place for this generally genteel show, but sometimes the shock of violence can be funny and this was one of those times. More importantly this episode was perhaps the finest showcase yet for Ted Danson, who has reestablished himself as one of the best actors on TV with his gleefully malicious performance as the demon Michael. Danson's evil grin and charismatic misanthropy have brought a jolt of urgency to an already-great show. This week's episode also set up two storylines with the potential for a major impact later this season, between Janet operating outside the parameters of her programming and Tahani and Jason's secret love affair. "The Trolley Problem" succinctly combined substantial character development and the groundwork for major plot points down the road in a single, smart, 22-minute package. —Garrett Martin (Photo: Colleen Hayes/NBC)
3. Mindhunter
Network: Netflix
Last Week's Ranking: Honorable Mention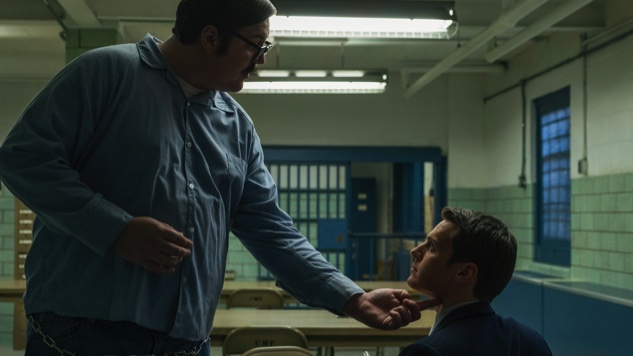 The name and the description may have you assuming that this is a typical network procedural: FBI agents interview psychopaths in order to catch murderers. But this is as much Mad Men as it is Law & Order. Produced by David Fincher and Charlize Theron, the story follows two real-life agents, Holden Ford (Jonathan Groff, the original King George III in Hamilton on Broadway) and Bill Tench (Holt McCallany), along with academic consultant Debbie Mitford (Hannah Gross) in the FBI's nascent Behavioral Science Unit. Joe Penhall's series is based on a similarly titled true crime book. Interviewing and cataloguing convicted serial killers (a phrase the trio invents) leads to them helping on active cases, but it also affects each of their personal lives in different ways. Cameron Britton is particularly unforgettable as notorious murderer and necrophiliac Edmund Kemper. —Josh Jackson (Photo: Merrick Morton/Netflix)
2. The Deuce
Network: HBO
Last Week's Ranking: 2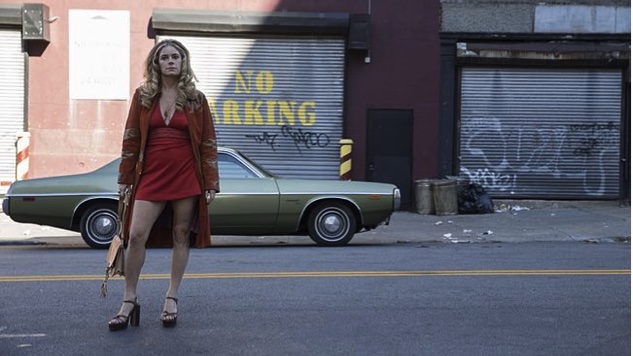 The Deuce has remained gripping week-to-week, thanks to a laundry list of characters we've come to care about. This week it's Jamie Neumann's character, Ashley, except Ashley is just a name given by her abusive pimp C.C. And Lawrence Gilliard Jr.'s Chris Alston, a beat cop both disillusioned and tarnished by the rampant corruption in the police force. And, of course, Maggie Gyllenhaal's Candy, who sees the porn industry as her escape from turning tricks on the street. And even the pimps, who are finding themselves without purpose now that prostitution is being pushed into the parlors. It's David Simon, George Pelecanos and, this week, Megan Abbott's abilities to write flawed but sympathetic characters that make The Deuce one of the standout shows of the fall. —Josh Jackson (Photo: Paul Schiraldi/HBO)
1. Better Things
Network: FX
Last Week's Ranking: 8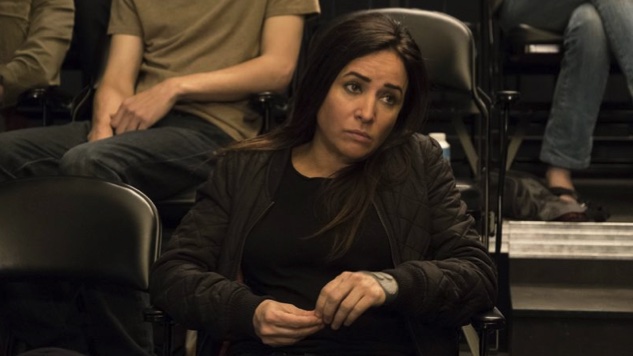 "Sam demands satisfaction" is the entire logline for "Eulogy," and from that declarative sentence it plunges into her life—the high diver leaping off the edge of the platform, performing remarkable feats with apparent ease. It is autobiographical, like Better Things as a whole: As with her character, Sam Fox, series creator, director, co-writer and star Pamela Adlon has spent her life acting, making things, putting herself out there, accomplishing some things, too. It is at once naturalistic—defying the rhythms of fiction—and fantastical—embracing them tighter: In one sequence, Sam cuts short the story of the worst job she's had to return to an anodyne car commercial; in another, her children and her closest friends hold a "funeral" for her, replete with old photographs and those cheap plastic "candles." More than any of this, though, "Eulogy"—dedicated to the late Robert Michael Morris (The Comeback)—is a moving, keenly observed appreciation of working actors, of their challenges and their craft. "Eulogize me," Sam orders at one point, though her own satisfaction is only part of the purpose: Here, Better Things' exceptional second season offers a tribute to her tribe, and one of the best TV episodes of the year. —Matt Brennan (Photo: Jessica Brooks/FX)