With Riverdale's Series Finale, We Are Losing the Best Lesbian Representation on TV
Photo Courtesy of The CW
TV
Features
The CW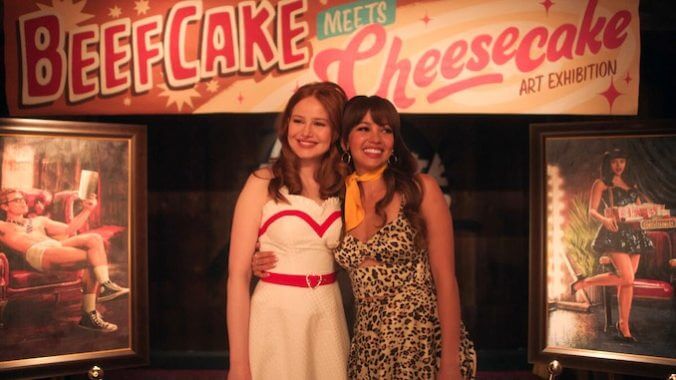 It has undeniably been a rocky road for sapphic representation on screen over the past few years. While the woes began with Netflix and its pension for canceling sapphic-led series, the blows to LGBTQ+ (but specifically lesbian and bisexual) representation just keep coming—spanning everything from The CW's own sapphic series massacre early last year to the most recent reversal of A League of Their Own's second season renewal at Amazon Prime. Through it all, though, there has been one beacon in the darkness: Riverdale's own Cheryl Blossom (Madelaine Petsch). 
While Cheryl's sexuality was not confirmed on screen until Season 2, the beginnings of her lesbian journey started bubbling to the surface much earlier. Petsch (arguably the world's greatest ally) actually suggested that Cheryl was a lesbian to Riverdale showrunner Roberto Aguirre-Sacasa while they were filming the pilot, and her story was only able to blossom from there—moving Riverdale's sapphic representation away from the first episode's queerbaiting kiss between Betty (Lili Reinhart) and Veronica (Camila Mendes) to something much more substantial and, frankly, still groundbreaking . 
In her time on Riverdale, Cheryl has been through the wringer. Suffering at the hands of her homophobic mother both on and off screen, losing her brother, winding up in conversion therapy, having to watch the love of her life get married to someone else, and finally being the conduit for the energy that attempted and failed to save Riverdale, Cheryl's struggles are a core element of her character, but even when that pain was connected to her sexuality, the series never leaned on homophobic stereotypes or harmful portrayals.
The original conversion therapy storyline, which took place in Season 2 and featured Toni (Vanessa Morgan) coming to Cheryl's rescue in one of the series' most iconic images (with Cheryl and Toni kissing in the flickering light of the conversion film playing on the projector), actually received major push-back when it first aired in 2018, but Riverdale's willingness to acknowledge the true pain and suffering that some members of the LGBTQ community face day in and day out was a bold and well-done choice. At the time, fans argued that Cheryl being sent to conversion therapy tarnished the "positive representation" she had since provided, but the pearl-clutching surrounding "good representation" does more harm than good. Riverdale took a risk, and told a very human and heartbreaking story with Cheryl and Toni at the very center, where love won against the forces of hatred—what better way to commit to your lesbian representation from the very start than to show not only queer heartbreak, but unabashed queer joy? 
From there, Cheryl continued to grow and change, and along with that came her relationship with Toni. Arguably the heart of the series, Cheryl and Toni's (dubbed Choni) path to the endgame status they deserved was a rocky one, but provided an engaging and nuanced relationship throughout the six seasons they revolved around one another. From having their duet cut from Riverdale's first musical episode to being the center of the show's take on Heathers, the series itself doesn't hold all the credit for making the Choni relationship the phenomenon that it still remains. From the start, the fans have been behind Cheryl and Toni, being loud about their lack of screentime, and fighting in particular for Toni to become her own person outside of just her relationship with Cheryl. Petsch and Morgan also became Choni's champions, even inserting a sex scene during Season 3 "that wasn't [originally supposed to be] there," in order to break down the barrier of double-standards that lingered between Choni and the other canonical couples on the series. 
More than anything, it has been so refreshing to see Cheryl both suffer and thrive on this weird and wonderful series. In potentially her most poignant turn as the character, Petsch managed to capture a specific type of lesbian longing during her estrangement from Toni. She questioned if she was destined to be alone, she leaned into her more unhinged wiles, and she became the kind of friend she knew Toni deserved as she began going through the motions of motherhood and eventually marriage. Even when Cheryl wasn't with Toni, Riverdale's wholesome portrayal of her relationship with childhood-crush-turned-second-chance-girlfriend Heather (Caroline Day) was a delight to watch. And even outside of romance, Cheryl's mentorship of Britta (Kyra Leroux), a young lesbian student at Riverdale High, was another heartfelt portrayal of queerness and community, especially after Cheryl welcomed Britta into her home after her parents kicked her out of her own. Riverdale always knew when to lean into the angst, and by Season 6, they allowed Cheryl to happily move on from Toni and become fulfilled in other ways, even if just for a moment before they inevitably came back together. 
As the seasons progressed, Season 6 dove head-first into Cheryl and her lesbianism, even using one of its Rivervale episodes to tell an almost-entirely self-contained story about Abigail Blossom, an immortal lesbian witch who assumed other identities over the course of her long life. In the Season 6 finale, Abigail and Thomasina (Toni's ancestor and Abigail's soulmate) possessed Cheryl and Toni to reconnect one last time, after which Heather told Cheryl that her and Toni were soulmates as well, destined to be together forever. Riverdale was able to perfectly fold its sapphic beats into its increasingly bonkers storytelling, always ensuring that the representation remained consistent (and even improved) as the series continued to reach for the stars. 
And finally, in the seventh and final season, Riverdale gave Cheryl and Toni a new story, one that wasn't as rife with heartache or danger, and ended with them having a son together and dying peacefully after a fulfilling life lived. For the series to end with Cheryl and Toni getting their happy ending when each of the show's much-debated straight couples didn't actually end up together in any combination is a revelation, one that is so rare on TV, especially today. 
When most lesbian stories either end in heartbreak or remain unfinished due to cancellation, it's been a genuine delight to watch Cheryl's journey on Riverdale, and it's incredibly satisfying to see it end in such a brilliant way. Every week for the past seven seasons, queer viewers could always tune in to Riverdale knowing that Cheryl would always be there, getting up to her usual antics, saying the most ridiculous things, and always proudly declaring that she is a Lesbian with a capital "L." Of course, the Heartstoppers and A League of Their Owns of the streaming world are incredibly important, but there is something so different about representation that you can rely on; representation that lasts more than 30 episodes and airs more than once every two years. 
Because of its extended run-time and commitment to Cheryl and her antics, Riverdale told countless lesbian stories across its 137 episodes, and carved out a space in one of TV's last remaining teen drama juggernauts for a group that are now slowly but surely being pushed back to the darkest corners of television.
The landscape for representation has changed so much in the time since Toni told Cheryl she was sensational; 2018 was a boom for lesbian representation on screen, with Cheryl and Toni's evolving relationship being just another addition to The CW's line-up of sapphic storytelling. However, even just these short few years later, lesbian representation is becoming a desolate wasteland. In fact, we have come so full circle within lesbian representation over the lifetime of Riverdale that, in its Season 6 finale, when Cheryl was hit by a bullet and was revealed to be bulletproof, it was just as impactful of a statement in 2022 as it was when the same stunt was pulled in Wynonna Earp's first season finale back in 2016. And now, as the series comes to an end, Cheryl Blossom represents one of the last lesbian characters remaining from what we didn't realize would be the golden age of sapphic storytelling on screen. 
While Riverdale didn't always perfectly handle Cheryl or her relationship with Toni, its consistent and (more often than not) fun representation was undeniably important and impactful, remaining steady as the rest of the turbulent TV landscape shifted around it. With its departure, we say goodbye to one of TV's best lesbian characters, as well as an era of lesbian and sapphic television that already feels like a distant memory.
---
Anna Govert is the TV Editor of Paste Magazine. For any and all thoughts about TV, film, and mournful posts about the loss of Riverdale, you can follow her @annagovert.
For all the latest TV news, reviews, lists and features, follow @Paste_TV.