Where Vinyl was all Pretense, The Get Down is the Intoxicating Real Deal
(Episode 1.01 and Episode 1.02)
TV
Reviews
The Get Down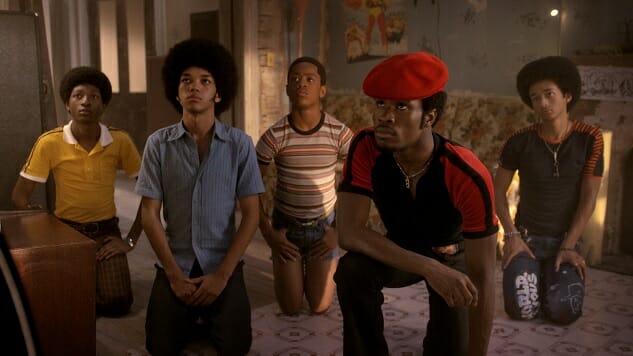 "The Get Down isn't Vinyl." It is incredibly important that you take this mantra to heart when you queue up Netflix's reply to HBO's risible, and mercifully defunct, 1970s-set music biz drama. Spoken in the tongue of press releases, they sound a lot like siblings. Put in actuality, they're third cousins at best, one of them a brazen, earnest go-getter, the other an ambivalent, inept drudge. The Get Down is to Vinyl as Allagash is to Blue Moon, as bacon is to turkey bacon, as Nutella is to Hershey's; it's the impassioned, lived-in, thoroughly intoxicating real deal, accept no substitutes, brook no alternatives. Vinyl only pretends to be about its time, place, and subject. The Get Down, by contrast, is where it's at.
Maybe "better than Vinyl" is a shoddy yardstick for measuring The Get Down's quality, so here's a bit of good news: The series, created by Baz Luhrmann and Stephen Adly Guirgis, who executive produced with Shawn Ryan, Catherine Martin, and Nas, is a hit on its own considerable merits, a raucous, effervescent, fleet-footed tale of young love budding amid the birth and evolution of hip hop as a culture and an aesthetic. If there's one commonly used term for articulating the series as sensation, it's "dizzying," though that applies solely to its pilot, a 90-minute whirl of introductions couched in the establishment of the show's tangle of plotlines. To call any romantic, youth-centric yarn "dizzying" is to court cliché, but if the adjective fits, you wear it, and in the case of The Get Down, the adjective is a most superflicious fit.
"Superflicious is 'super,' plus 'official,' plus 'delicious.'" Now that's how you compliment the girl you're crushing on, or it is if you have the same way with words as Ezekiel (Justice Smith), one of our two star-crossed paramours; the other is Mylene (Herizen Guardiola), daughter of Pastor Ramon (the great Giancarlo Esposito), a girl possessed of a voice that could make all of God's angels weep with joy. Ezekiel and Mylene have their dreams, though she is central to his, while he is an obstruction to hers. Mylene wants to be a disco singer of the same caliber as Misty Holloway, her idol, an aspiration her ultraconservative dad quashes with threats promised and later acted on in a scene that'll halt the breath in your lungs. (In the pilot, Ramon looks like a monster. A heart-to-heart between Ramon and Mylene's sympathetic uncle, Francisco, played by Jimmy Smits, in The Get Down's second episode doesn't remedy our perception, but we are left to wonder at the source of his grim paternal anxiety.)
Unlike Mylene, Ezekiel doesn't know what he wants, though he knows he wants Mylene. He's left adrift in The Get Down, an orphan who lives with his aunt, Wanda (Judy Marte), and her boyfriend, Leon (Brandon J. Dirden), and excels at school but cringes on hearing his achievements acknowledged aloud. But his love for the written word, and for putting words to verse, matches his love for Mylene. He's compelled to make sense of the world around him via lyricism. He's great at it, too, a prodigy in the making. That Nas himself wrote all of Ezekiel's lyrics comes as little surprise. Ezekiel's poem, which he reads to his teacher from memory, is a fiery statement of intent, and a furious critique of racial divide. While Mylene's keen determination is coiled around her fight for her agency and her quest for her star, Ezekiel is just determined to win her heart.
And then he butts heads with and ultimately befriends Shaolin Fantastic (Dope's Shameik Moore), a streetwise dynamo to Ezekiel's introspective bookworm. The presence of Shaolin—"Shao"—pushes Ezekiel in the same direction as Mylene, but along separate paths. That doesn't stop the two from repeatedly running into each other, but no one's complaining about that; their courtship is one of the two modes in which The Get Down expresses itself through profound magic. Smith and Guardiola are performers of exceptional talent. Each moment they share together is a moment to savor, not solely because they are exceptionally talented but because those moments remind us that Ezekiel and Mylene are just kids struggling to reconcile hope against reality, exhibited here in routine nods to the political, economic, and social turmoil smothering New York City in 1977.
The other mode where The Get Down thrills and delights is in its perspective on music. Unlike Vinyl, which treats music as window dressing instead of a necessary component of world building, The Get Down runs on music the way Tinkerbell runs on applause. Better than that, the show invites us to embrace its passion for its music through sequences of instruction, where the camera puts eager focus on the turntables run by Shao's mentor, the one and only Grandmaster Flash (Mamoudou Athie). Flash's role here is dual purpose: Athie tutors Moore in the science of distinguishing the breaks from the breakdown on screen, while the real Flash, Joseph Saddler, serves as associate producer off screen. His influence, much like Nas's, imparts knowledge upon The Get Down, and a sense of care. The investment the show makes in its subject matter extends naturally to its characters, for whom music is oxygen instead of decoration.
The Get Down's chronicle of hip hop's formation and its classic, Luhrmann-esque love story trace their way through most of the series. Whenever we lose sight of either, things get messy, particularly in its thread of gang violence, which culminates in the pilot with a shooting at a disco club run by Cadillac (Yahya Abdul-Mateen II) and his mother, crime boss Fat Annie (Lillias White), and recurs in the second episode when Cadillac attempts to intimidate his rivals and fails spectacularly. It's not that the writing fails to link guns and drugs to love and music; it's that the links are tenuous, leaving Cadillac and Annie stuck in an orbit that feels separate from Shao's, Ezekiel's, and Mylene's. They're in the orbit of The Get Down, and they're the pieces of the show that work best and make it worth watching.
Bonus Observations & Quotes:
Grandmaster Flash's lessons in DJing are hilariously elliptical. "Do not underestimate the crayon!" The tonal shift from teen melodrama, to kung fu-style quest for hip hop wisdom is eased by how enthusiastically The Get Down digs itself into both, but let it be said that Athie is a real treasure.
Episode two's pigeon sequence, and Shao and Ezekiel's quiet ruminations on the nature of birds, ought to make fans of Cannibal Ox's The Cold Vein go at least a little bit bonkers.
Seriously, though: Smith and Guardiola are absolutely incredible. It's no small feat to stand out and shine so brightly in a series that features heavy hitters like Esposito and White.
---
Boston-based critic Andy Crump has been writing about film online since 2009, and has been contributing to
Paste Magazine
since 2013. He writes additional words for Movie Mezzanine, The Playlist, and Birth. Movies. Death., and is a member of the Online Film Critics Society and the Boston Online Film Critics Association. You can follow him on Twitter and find his collected writing at his personal blog. He is composed of roughly 65% craft beer.