HBO's The Plot Against America Limited Series to Star Winona Ryder, John Turturro, More
Photos by Jon Kopaloff/Getty, Dimitrios Kambouris/Getty
TV
News
The Plot Against America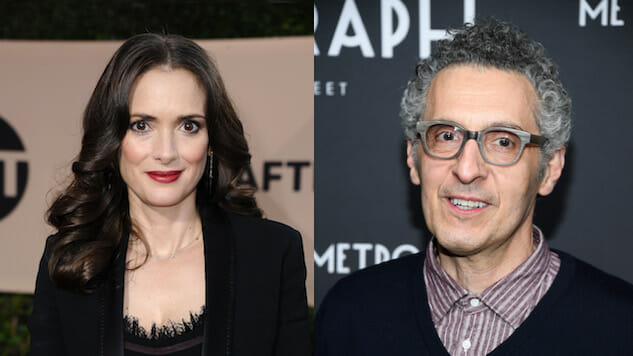 HBO has announced casting details for its forthcoming limited series The Plot Against America. According to THR, the alternate-history drama will star Winona Ryder, John Turturro, Zoe Kazan and Morgan Spector. The six-episode series is an adaptation of Philip Roth's 2004 novel of the same name helmed by David Simon and Ed Burns, the duo behind the legendary HBO drama The Wire.
The series is set in an alternate version of America in which famed aviator Charles Lindbergh defeats Franklin D. Roosevelt to become president in 1940 and subsequently steers the country towards fascism. The real-life Lindbergh was openly xenophobic and was often considered to be a Nazi sympathizer.
Winona Ryder is set to play Evelyn Finkel, an unmarried Jewish woman in New Jersey who has spent the last 10 years caring for her sick mother. She suddenly attracts the attention of John Turturro's character, Rabbi Lionel Bengelsdorf, an important supporter of Lindbergh's despite opposition to his policies from the wider Jewish community.
Zoe Kazan of The Big Sick and The Ballad of Buster Scruggs will play Evelyn's younger sister, Bess Levin, who is fearful of the shifting political climate and tries to plot an escape for her and her family. Morgan Spector plays Bess' husband Herman, a level-headed insurance agent who counsels caution and tries to prevent Bess from panicking too much about the future of the country.
Anthony Boyle, Azhy Robertson and Caleb Malis round out the show's cast as Herman's orphaned nephew Alvin, the youngest Levin child Philip, and Bess and Herman's artistic teenage son Sandy, respectively.
Simon and Burns are teaming up to write and executive produce The Plot Against America. Joe Roth will also executive produce alongside Simon's producing partner Nina Noble, and Annapurna TV's Sue Naegle, Megan Ellison, Susan Goldberg and Jeff Kirschenbaum. Dennis Stratton and author Philip Roth are also co-executive producers. The Plot Against America was revealed to have been ordered to series by HBO back in November 2018.
Simon's most recent project is HBO's The Deuce, which depicts the origins of the porn industry in 1970s New York City. Simon and Burns rose to prominence in the early 2000s with their breakout series The Wire, a dramatic exploration of the socioeconomic problems facing the city of Baltimore, Md., based on the duo's time as reporters there. The Wire is often considered to be among the greatest television series of all time, not to mention the best HBO series ever made.
The Plot Against America, now in production, remains without an air date.