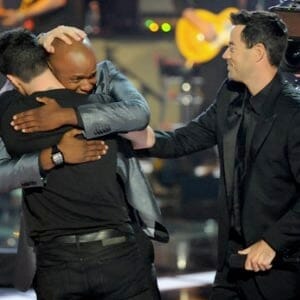 As predicted, it looks like America still puts a lot of value in personality.
In the season finale of NBC's _The Voice, by a very small margin, the country's votes ushered in the show's inaugural winner, Javier Colon.
Colon beat arguably the most talented participant, the meek Dia Frampton. She was consistently impressive with her Norah Jones-esque voice, taking the number one iTunes spot each week. When she walked onstage the during the first round of live performances, she made everyone reassess the competition with her unique take on Kanye West's "Heartless."
So it would only seem fitting that winner with the most talent take home the title. But when has that ever happened on these shows?
Now, I'm not downplaying any of Colon's talent, but he was destined to win since the day he auditioned with his wife and two little girls in tow. He strummed a sweet rendition of Cyndi Lauper's "Time After Time." And as saccharine as that version was, it was his genuine charm that won over the viewers almost instantly.
This isn't the first time Colon's talent has found recognition. Unbeknownst to many, Colon is a former member of The Derek Trucks Band and also had a short record deal with Capitol Records until it was terminated in 2006. So maybe it isn't so awful to see him fight for a second chance and take care of his family.
Two of the most coy contestants were within 2 percent of each other this season, but it was Colon's source of inspiration that gave him the leverage he needed to push through—his family.
I think Americans, as dysfunctional and socially corrupt as we may seem, still want to believe in something wholesome like family. And if that's what gave Colon that 2 percent extra, that ain't so bad. And to top off his win, he had the coolest celebrity duet as well—he sang "Landslide" with Stevie Nicks.
This season of The Voice changed up the way these talent shows function. There was a sincere partnership displayed between the celebrity judges and the contestants. On shows like American Idol, thousands of people line up to have their looks screened and their vocals chastised by a few has-beens sitting behind a table with their arrogant attitudes.
The Voice has its cheese factor, but the line between celebrated musician and aspiring artist was blurry, making the show feel a little more authentic for an NBC primetime slot. I wasn't the only one who took notice. The Voice 2 is currently casting, and will air during the coveted, post-Super Bowl spot. The Voice is novelty at its finest.