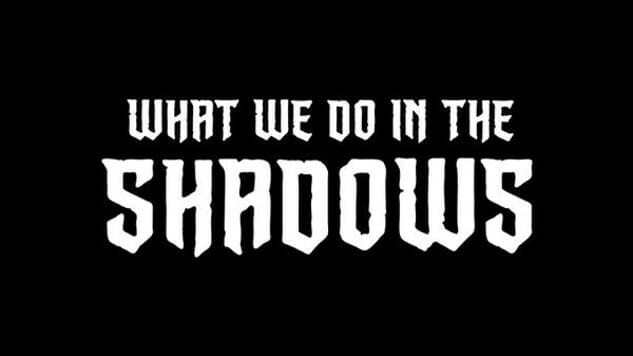 "Everything We Know about … " is Paste's series of deep dives into the forthcoming projects we're most excited about. Explore them all here.
In 2019, FX will premiere What We Do in the Shadows, a series based on Jemaine Clement and Taika Waititi's vampire mockumentary film of the same name. Here's everything we know so far about the forthcoming U.S. TV adaptation.
---
Development
In January, FX gave a pilot order to a series reboot of What We Do in the Shadows. Original co-directors, writers and stars Clement and Waititi will stay onboard for the forthcoming series. Both are attached as executive producers, with Clement also attached as writer and Waititi as director on the project. Other executive producers attached are Scott Rudin, Eli Bush, Garrett Basch and Paul Simms.
In May, Deadline reported that FX had given a series order for a 10-episode first season of What We Do in the Shadows, slated to premiere in spring 2019.
On Oct. 7, at New York Comic Con, FX presented an exclusive sneak-peek screening of the series' pilot, followed by a Q&A panel with executive producers Clement, Waititi and Simms.
During the panel discussion, Simms revealed that the series is set on Staten Island.
"We wanted the idea that the vampires had been sent maybe 200 years ago, to conquer America, but had sort of lost their way and forgotten," said Simms. "They'd gotten to New York, and that's where the boat dropped them off, and they never went any farther and before they knew it, a lot of time had passed."
He also teased a forthcoming episode following the vampire's first Manhattan visit.
""We're about to shoot an episode where they venture into Manhattan for the first time," said Simms. "They sort of think that Staten Island is all of New York or maybe even all of America, but there's a whole story where they go into Manhattan for the first time to meet the Manhattan vampires, who are a little bit cooler than they are."
Waititi confirmed that the series take place in the same universe as the original film, also teasing a potential crossover with the original's characters.
"I'd like to say that our characters [from the film] are still in New Zealand at the same time, there's a chance that there could be some crossover," said Waititi.
On Halloween, Oct. 31, FX debuted a trio of first teasers for What We Do in the Shadows. Although set in New York City, unlike the original film's New Zealand, the short clips show that the What We Do in the Shadows series hasn't lost the comedic, mockumentary-style DNA of the original in its move to the U.S.
In episode six of Paste's video series What Do You Love?, Clement noted the differences between working on the tightly scripted series as compared to the more improvisational style of the original film.
Plot
FX has shared the following synopsis for What We Do in the Shadows:
Set in Staten Island, What We Do in the Shadows follows three vampires who have been roommates for hundreds and hundreds of years.
For now, that's all we've got on this front.
Cast
Along with their pilot order, FX announced that Kayvan Novak, Matt Berry, Natasia Demetriou and Harvey Guillen were set to star in the show's debut episode, per the Deadline report on the order. Novak plays Nandor, the head vampire of the house. Berry plays Lazslo, the goofiest in the house, and the type of vampire who turns into a bat and flies into a wall. Demetriou plays Nadja, the badass female vampire of the house, while Guillen is expected to play Nandor's assistant.
In February, Variety reported that Doug Jones, Beanie Feldstein, Jake McDorman and Mark Proksch had joined the pilot's cast in unknown roles, which would become recurring if the series was picked up to series.
In an April interview with Collider, The Edge of Seventeen star Hayden Szeto revealed that he had been cast in the show's pilot in an unknown role.
In May, FX gave What We Do in the Shadows a series order, although all roles besides the four leads are still being kept under wraps.
Wellington Paranormal
The forthcoming What We Do in the Shadows is not the only TV adaptation of the film that shares its name.
First announced in September 2016 and originally titled Paranormal Event Response Unit, Wellington Paranormal received its first trailer in June. The New Zealand spinoff series aired this summer on TVNZ 2 in Clement and Waititi's home country.
Wellington Paranormal follows Officers Minogue (Mike Minogue) and O'Leary (Karen O'Leary), two incompetent police characters from the original film. The series was created by both Waititi and Clement, and as with the U.S. series, the duo serve as executive producers on the New Zealand series. Clement also directed four episodes in the series' six-episode first season. Wellington Paranormal has been renewed for a 13-episode second season, which will air in 2019 for New Zealand audiences.
At FX's panel for What We Do in the Shadows at the 2018 New York Comic-Con, Waititi confirmed that the forthcoming series will take place in the same universe as both the original film and Wellington Paranormal.
"We're creating a universe to rival that of Marvel," joked Thor: Ragnarok director Waititi, per Entertainment Weekly. "We're taking one idea and stretching it out."
Premiere Date
What We Do in the Shadows is slated to premiere on FX sometime in spring 2019.
The Latest
FX revealed in early February that What We Do in the Shadows will premiere on Wednesday, March 27, via the show's first full trailer.
A network press release also provided the following plot and character details:
The self-appointed leader of the group is "Nandor The Relentless" (Kayvan Novak), a great warrior and conqueror from the Ottoman Empire, who has taken the helm of the group despite many of his Old World tactics resulting in what some might politely refer to as bupkis. Then there's the British vampire "Laszlo" (Matt Berry) – a bit of a rogue and a dandy and a fop, he might say. He's a lover of mischief and a great soirée, but not as much as he loves seeing Nandor fail miserably in every attempt. And then there's "Nadja" (Natasia Demetriou): the seductress, the temptress, the vampiric Bonnie to Laszlo's Clyde. Her wisdom and provocative tales from times past allow us insight into the many ups and downs of living an immortal life.
Also cohabiting in the vampire household is "Guillermo" (Harvey Guillén), Nandor's familiar (a.k.a. servant/protector during the daylight hours), who wants nothing more than to be made a real vampire just like his master. Also lurking about is "Colin Robinson" (Mark Proksch), an energy vampire and day-walker of sorts — he feasts on humans, but not on their blood. A frequent visitor is Nadja's new friend, "Jenna" (Beanie Feldstein), a student at a nearby community college. She loves LARPing, boys, and art history, and for some reason has been rather confused lately as to why it is she so ravenously craves the flesh of the living.
After an unexpected visit from their dark lord and leader, "Baron Afanas," the vampires are reminded of what they were initially tasked with upon their arrival in Staten Island over a hundred years ago – total and complete domination of the New World. But what exactly is the best way to go about achieving said domination? Our vérité camera crew follows along as the vampires set out to answer this query.
---
Hang around for further updates on FX's What We Do in the Shadows series.