11 Things We Learned About Westworld at PaleyFest 2017
Michael Bulbenko for the Paley Center
TV
Lists
Westworld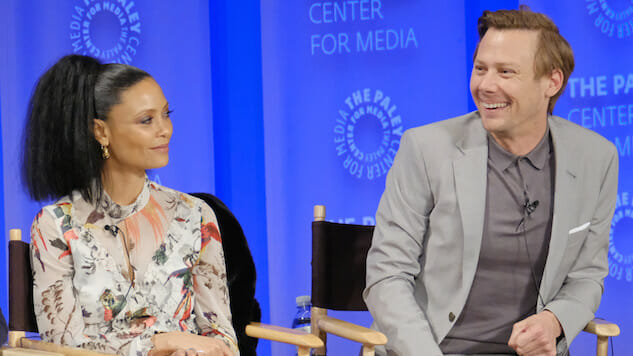 The Westworld cast and creatives took center stage at the Dolby Theatre in Hollywood on Saturday night for PaleyFest 2017. Before an audience filled with fans of HBO's sci-fi Western, Entertainment Weekly's Jeff Jensen tried to untangle some of Season One's mind-bending twists while quizzing the panelists about Season Two—"tried" being the operative word.
Paste also had a chance to interview some of the cast backstage before the panel discussion, asking about their story arcs in the first and second seasons.
Of all the themes packed into Westworld, there is one that reigns supreme.
Jensen asked husband-and-wife co-creators Jonathan Nolan and Lisa Joy about the numerous themes in Westworld—American history, show business, female empowerment and enslavement among them—and if there was one theme that galvanized them while writing the first season. "More than anything else, human nature," Nolan said. "We are so fucked up." Then to the audience, "Not you guys."
Teddy's love for Dolores has no limits.
James Marsden was asked in the press room if there's a limit to Teddy's love for Dolores (Evan Rachel Wood), even though she turned into a killing machine at the end of Season One. "To infinity. I think they're never-ending," he said. "I've learned… the more complicated, and the more flawed, the more interesting the person is. Early on, his idealistic image of what their relationship was, and who she was—she's this sweet farm girl that he needed to protect—got completely rearranged by the end of the [season], and I think he fell more in love with her."
Ed Harris will not don a samurai suit for the show.
Both backstage and during the panel, Ed Harris admitted he wasn't crazy about the possibility of a "Samurai World" in Season Two. (The series finale hinted at other worlds at the park.) Paste asked what his hopes were for The Man in Black next season. "I just want him to stay out of the samurai suit, that's all. I don't care where he goes after that," he said. Did he want to explore Samurai World at all? "I don't want to do that. I want to be a Man in Black, so I don't know what they've got planned for me, but I just want to be a Man in Black. That's what I signed on to play, so if they try to take me out of that suit, they're going to have a fight on their hands." We had to ask: What if he were given a black Samurai suit? "That ain't gonna work," he said. "Samurais don't wear hats." Harris reiterated all these sentiments during the panel discussion—so he'd have them on record.
Thandie Newton combined her activism with acting in her role as Maeve.
"When I spoke to Lisa Joy and Jonah, and they said, 'So, you're going to play a madam in a brothel and you're going to do it a lot of it naked. Is that cool with you?' I was thinking, 'Do you know that I fight violence against women, like, that's what I do in my spare time?'" Newton continued, "I'd like to feel that it's not gratuitous—without clothes on—in the show. And then they told me why the setup for the series had to be as extreme it is."
Newton explained that when the initial trailers were released, Westworld was criticized for its depiction of women in the selected clips, which Wood added was a valid point. "And even though we were all terrified because we desperately wanted people to stick with it, and just stay with this… we also knew that that was the point! The point we were trying to make is, 'Look where we are, and is there a road out from here?
"I think that Westworld, for me anyway, is going to be part of the solution and not part of the problem."
Newton told the audience that she often feels that she needs to put her activism on the back burner when acting. "When I go to work, I have to just be the actor, do what I have to do. But the work that I do with my life, about trying to empower women—about trying to empower women, and men, by extension—that I have to leave behind. I was an activist every single day that I went to work [on Westworld]. I felt part of the solution every single day that I went to work."
The Westworld cast members were often as confused as viewers were.
The cast members were often left in the dark about their characters' journeys and how they fit into the bigger picture. Simpson and Harris said they didn't know they were playing the same character at the beginning of the season. When Marsden and Wood were asked if they knew what they were looking for at the center of the maze, Marsden was quick to quip, "Yeah, of course," which cracked up his colleagues and the audience. "Still don't know," Harris interjected.
Wood theorized that there'd be a secret door, leading them through a maze, which led them to either to Arnold or to finding "all the human versions of everyone." Wood also didn't figure out until late in shooting the season that she was the murderous Wyatt. "I was looking all over the place… asking, 'Have we cast him yet? Who's it going to be?'" She then acted out the moment when she realized who Wyatt was. Waiting a beat, Wood added, "It's me, isn't it?"
Sometimes ignorance is bliss.
Wood said that not knowing the entire plot added to her portrayal of Dolores' awakening. As an example for the PaleyFest audience, Wood discussed the scene with Anthony Hopkins (Ford) and Jeffrey Wright (Bernard) in which her character learns that she killed Ford's partner, Arnold. "It helped inform the performance. It helped really be in the moment, and it felt like we could play it out in real time."
What was the significance of Maeve getting off the train in the finale?
In the season finale, Maeve exits the train leaving Westworld at the last minute (presumably to rescue her "daughter"). Jensen wanted to know from the creators whether her action was simply another directive in programming and part of her new storyline as a host. "I've been waiting for the message boards on Reddit to tell us," Nolan quipped. "The way it was designed, the way it was shot, with that beautiful performance, in that moment, [it's] really the first decision she ever made," he added. "For me, it's a very emotional moment in the episode because you see the birth of free will there."
James Marsden thought he would need to perfect his gunslinging skills. Wrong.
"As an actor… you're faced with characters [to] play that you learn certain skills. I was excited to come in and learn how shoot a gun. I didn't know I'd spend the whole season learning how to get shot," he laughed.
Jimmi Simpson auditioned for two roles, though he didn't quite know what Westworld was about.
Simpson auditioned for the roles of William, which he won, and his debauched friend, Logan. He originally thought he was going to show up and do a little part, "and then I picked up the lead girl's can… like the star's can." Since he doesn't keep tabs on industry news, Simpson said that he didn't know about Westworld's buzz. "I didn't know the scope, and I honestly thought it was going to be like a goofy kind of a CHiPs remake." Laughing along with the audience, he said he was further convinced about the show's potential: "The list of actors… Anthony Hopkins is on this show?"
Simpson guessed a big Westworld twist because of an eyebrow plucking.
"Our beautiful makeup/special effects makeup guy, Christien [Tinsley], was looking at my face one day. He pulled me, and it was just me. [In Christien's voice]: 'Um do you mind if I pluck your eyebrows now?'" Simpson couldn't get an answer as to why his eyebrows needed plucking, but he guessed that he needed to look like someone else in the cast. When he ran into Lisa Joy on the way to lunch that day, he asked her if William and the Man in Black were one in the same. Simpson mimicked Joy's poker face and recounts her response: "I don't know… but don't tell Jonah!"
Joy added, "I remember [thinking] at the time, if I say something Jonah's going to kill me, but I also remember thinking, I don't want him [Simpson] to be insecure about his eyebrows."
What we gleaned from the panelists about Season Two.
Not much. When Jensen asked what Season Two would be about, Nolan's response was, "It's a musical." (He's kidding, we think.) Asked if viewers would see other worlds, Nolan teased again, "That'd be cool, wouldn't it?" But here are a few other tidbits:
— Nolan, Joy and the rest of the writers are currently writing Season Two.
— They may start filming this summer. (Nolan was cagey about answering even that.)
— When asked about the music for the player piano for next season (usually covers of modern classics), Joy did give the audience this solid hint: "We spend a lot of time watching children's movies [with their daughter], and one of them has proven to be, musically, incredibly inspiring. So there may be a strange shout out to a very innocent, enjoyable song."
---
Christine N. Ziemba is a Los Angeles-based freelance pop culture writer and regular contributor to
Paste
. You can follow her on Twitter and Instagram.