Noah Baumbach loves music nearly as much as his characters seem to loathe each other.
In Mistress America—the director and screenwriter's latest farce, just released on DVD—a trip to a toney Greenwich, Connecticut home involves references to Superchunk and vinyl. In Baumbach's other 2015 outing, While We're Young, Adam Driver's character impresses his 20-years-older friend (Ben Stiller) by naming his band after a 1970s commercial, or is it a ruse?
In Baumbach films, musical taste and knowledge is a stand-in for status, aging and anxiety—and an agent of deception. (2005's The Squid & The Whale famously featured Jesse Eisenberg passing off a Pink Floyd track as his own.) We combed through Baumbach's filmography for this near-exhaustive guide to musical references in the nine films he's both directed and written.
What's it about? A group of friends incapable of moving on from their idyllic college life.
Specific musical references? Baumbach's debut evades musical talk for other sorts of pop culture geekery (like a challenge to name every Friday the 13th flick). It does contain a jukebox that only plays country music, though.
Best musical cue? A little-remembered Pixies track ("Cecilia Ann") opens up the flick, as we meet characters one-by-one in a wonderful graduation scene.
What's it about? Baumbach has since "disowned" this small-scale comedy that plays out in the form of three apartment parties, rightfully considering it unfinished and inadequate.
Specific musical references? John Lehr's character tries to impress Ally-Sheedy-playing-herself by interrogating her about her celebrity contacts: "Do you know Iggy Pop? How 'bout the Cars?" Later, he quips: "You like music? It's the music of the gods." Indeed, music is the music of the gods.
Best musical cue? A falsetto karaoke performance set to Stephen Foster's "Beautiful Dreamer." (Karaoke sequences were having a moment in the mid '90s—remember The Cable Guy?)
What's it about? Baumbach's most underrated flick stars Eric Stoltz as a serial dater so insecure that he shadows his girlfriend's famous-novelist ex (Chris Eigeman) into a therapy group. Smart and sharply acted relationship comedy.
Specific musical references? Very few! Mr. Jealousy is mostly too busy satirizing literary snobbiness to satirize musical snobbery. If you listen carefully, though, you can catch this extremely '90s bit of party dialogue: "Last week I sent in a treatment for the Nine Inch Nails video. I talked to Trent on the phone and he said to me one word: 'Maggots.'"
Best musical cue? John Lennon's "Jealous Guy" (covered by Luna) playing over the end credits, because of course.
The Squid and the Whale (2005)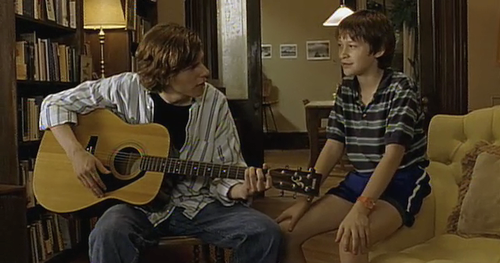 What it's about? Set in 1980s Brooklyn, Baumbach's semi-autobiographical masterpiece is a poignant and funny portrait of a literary family going through a divorce.
Specific musical references? Aiming to impress his literary doofus dad, Jesse Eisenberg's character performs Pink Floyd's "Hey You" in a talent show—passing it off as his own composition. Perfect encapsulation of how music functions as a tool of deception and status for Baumbach's characters.
Best musical cue? One of the very best song/scene pairings: the staccato string swells of Lou Reed's "Street Hassle" as Jesse Eisenberg embarks on a wistful sprint to the American Museum of Natural History's squid and whale exhibit.
What's it about? Nicole Kidman plays another insufferable literary type who hauls her 11-year-old son to her estranged sister's wedding weekend.
Specific musical references? Several. Jack Black, as the sister's fiance, basically reprises his High Fidelity role as failed musician-turned-loudmouth music snob. Again, music is a means of grasping for status: "Malcolm [Jack Black] played with Ric Ocasek once," his soon-to-be wife boasts. Later, the scene references a hip mom who dug R.E.M., Pixies, and X in the '80s. "You only liked Top 40," Kidman's character shoots back.
Best musical cue? With musical consulting by Britta Phillips and Dean Wareham, the soundtrack puts a premium on '70s pop and folk. Best is Stephen Bishop's 1977 hit "On and On" blaring on a sad diner radio.
What's it about? Baumbach's first collaboration with Greta Gerwig is a funny and sad portrait of a guy going through a nervous breakdown (Ben Stiller) who falls for his brother's housekeeper (Gerwig) while his brother's away.
Specific musical references? Ben Stiller's character mansplains folk singer Karen Dalton to Gerwig's character and makes her a mixtape. During a party scene, he commandeers the aux cord from the kids and, amidst protests, defends Duran Duran as "great coke music—give it a chance!"
Best musical cue? Gerwig's sorrowful character sings along with Paul McCartney's glorious "Uncle Albert/Admiral Halsey." The scene is sweet and affecting; as with previous Baumbach films, he lets the song go on for a good 40 seconds. ("I wanted it to be classic," the director said of the song choice.)
What's it about? Adulthood, in all its messy adjustments and disappointments. Baumbach's sweetest and most affectionate film.
Specific musical references? Not many, in part because the male characters impress more with money (a "rich-kids' apartment," a banking gig) than with pop-cultural capital. But there is this dialogue gem: "I was there [in Paris] when Serge Gainsbourg died." "Weren't you like eight?" "Yeah, it was the end of euro-Disco."
Best musical cue? A euphoric running sequence that spans nearly a full minute of David Bowie's "Modern Love." (Between this and "Street Hassle," Baumbach is really good at scoring running scenes.)
What's it about? Another anxiety-ridden meditation on aging and status, While We're Young chronicles a 40-something couple that finds excitement after befriending much younger hipsters.
Specific musical references? The youthful Jamie (Adam Driver) impresses much older Josh (Ben Stiller) by naming his band Cookie O'Puss, after a '70s commercial only Josh actually remembers. Later, Josh feels played. Also: Ad-Rock's casting—as the once-cool new dad character—feels like a music in-joke in and of itself. (Another in-joke: Beastie Boys' first hip-hop track was called "Cooky Puss.")
Best musical cue? Jamie gives Josh a pep talk by handing him his headphones and blasting Survivor's "Eye of the Tiger." "I remember when this song was just considered bad," the much older Josh quips—another association of music with aging.
What's it about? An unlikely friendship between an alienated college freshman (Lola Kirke) and her older and more self-destructive soon-to-be stepsister Brooke (Greta Gerwig).
Specific musical references? When the pair embarks to Brooke's ex-best-friend's Greenwich house, snobbery is in the air. "I saw Nirvana live, and this was way before Nevermind," the friend's husband boasts. "I DJed the radio station—we played Mudhoney, Superchunk." He's also "very into vinyl," which serves as a stand-in for class (Brooke favors mp3s).
Best musical cue? The original score is again by Wareham and Phillips, though a sublime city sequence is set to Suicide's "Dream Baby Dream."