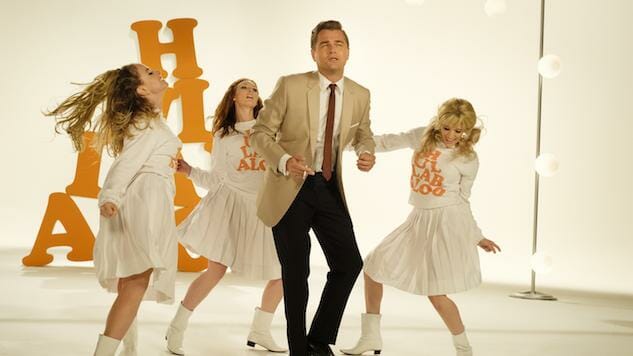 The first teaser trailer for Quentin Tarantino's new film Once Upon a Time in Hollywood has arrived. It gives audiences a first look at the film's central duo—Leonardo DiCaprio as television actor Rick Dalton and Brad Pitt as his stunt double Cliff Booth—in action. We also get several mysterious glimpses of Margot Robbie as Sharon Tate, whose murder at the hands of the Manson Family provides the backdrop for the film. However, most of the teaser's under-two-minute runtime is dedicated to showcasing Pitt and DiCaprio's palpable chemistry as they try to break onto the silver screen.
Once Upon a Time in Hollywood will be Tarantino's ninth feature film as writer and director. In addition to DiCaprio, Pitt and Robbie, it also stars Dakota Fanning as Manson Family member Lynette "Squeaky" Fromme, Al Pacino as Dalton's agent Marvin Shwarz, Damian Lewis as Steve McQueen, Bruce Dern as Manson Family ranch owner George Spahn, Damon Herriman as Charles Manson and the late Luke Perry as Western actor Wayne Maunder. The film was produced by Columbia Pictures, David Heyman's Heyday Productions and Bona Film Group. Principal photography on the feature took place around Los Angeles between June 18 and November 1, 2018.
Tarantino's last film was 2015's The Hateful Eight, about a group of strangers who seek refuge from a blizzard at a stagecoach lodge some time after the American Civil War. It received mixed but generally favorable reviews from critics, who felt for the most part that Tarantino had continued to develop his craft since 2012's Django Unchained.
Once Upon a Time in Hollywood will reportedly premiere at Cannes in May before arriving in theaters on July 26. Check out the trailer below, as well as the first posters for the film.