Listen: Bebe Buell, Rock's Most Famous Groupie, Shoots for Rock Stardom
On this date in 1981, the "girlfriend to the stars" fronted her own band in New York.
Music
Features
Bebe Buell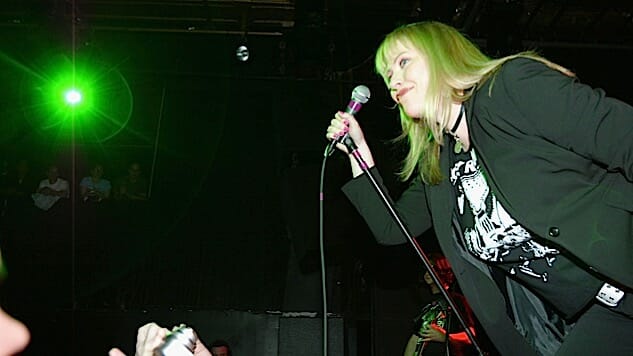 Did you know that Paste owns the world's largest collection of live music recordings? It's true! And what's even crazier, it's all free—hundreds of thousands of exclusive songs, concerts and videos that you can listen to and watch right here at Paste.com, from Louis Armstrong to The Who to U2 to Wilco. Every day, we'll dig through the archive to find the coolest recording we have from that date in history. Search and enjoy!
Bebe Buell was basically the Kim Kardashian of the 1970s: famous in large part because she was beautiful and surrounded herself with beautiful, talented people. In the annals of rock history, her name is often associated with groupie culture and the myriad stars she dated—Elvis Costello, David Bowie, Mick Jagger, Iggy Pop and Todd Rundgren among them. But there is more to Buell than all that. Today in the Paste Vault, we're going back to Sept. 13, 1981, the night Buell played with her own band at the Palladium in New York City.
Buell had come to New York as a model, having been discovered by Eileen Ford, namesake of Ford Models. After her move from small-town Virginia, she was immediately launched into an impressive career, even becoming Playboy's Playmate of the Month in 1974.
Quickly, she became a regular at Max's Kansas City, a regular haunt for rock stars and wannabes of the time. She became fast friends with the likes of Patti Smith and Andy Warhol, not to mention her laundry list of famous boyfriends. In 1977, while in a relationship with Rundgren, she gave birth to her daughter, the actress Liv Tyler, following a fling with Aerosmith frontman Steven Tyler.
She also had designs on a singing career. Though Buell has often been pegged as the quintessential "groupie"—she is said to have been a source of inspiration for Kate Hudson's character Penny Lane in the 2000 film Almost Famous, written by her friend, Cameron Crowe—she rejects the term. In a 2012 interview with ELLE Magazine, she provided a simple explanation for her track record of famous beaus, saying, "Talented, beautiful people tend to fall in love with each other." Buell worked hard to leave her own imprint on the music industry. With the help of her gifted friends, she released her first EP, Cover Girls, in 1980, with The Cars serving as her backing band on a couple songs.
Her music career never really turned heads, but the passion was clearly genuine. After a long break from music, Buell released solo LPs in 1995, 2010 and 2011, and to this day she continues to make music and play shows around the country. But she has remained a cultural reference thanks to her past proximity to great musicians. Has Buell been unable to find her footing in the industry because of deep-seated sexism spawning from her romantic relationships with acclaimed artists? Or was her early-'80s star turn never meant to be? Decide for yourself by listening to Buell, fresh off the release of her first album, perform original songs "Little Black Egg" and "My Little Red Book" at the Palladium in 1981.