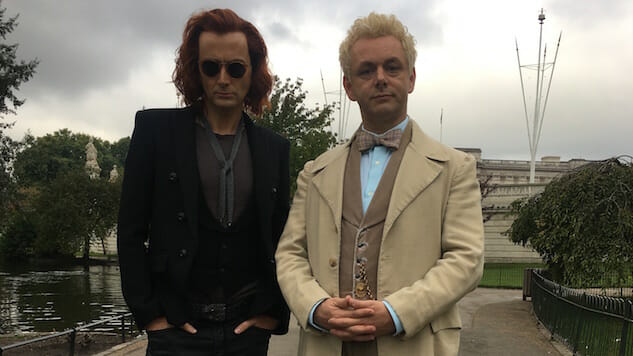 Every once in a while, an adaptation really nails it. Though director Douglas Mackinnon was quick to note he wouldn't use that word to describe Amazon's Good Omens. "With Neil Gaiman as showrunner, I really don't see it as an adaptation. It's a translation."
Fair enough. Fans of Gaiman's collaboration with Terry Pratchett, Good Omens: The Nice and Accurate Prophecies of Agnes Nutter, Witch, will find little was lost in translation, and that a few things were gained. Delightful things, like a cashmere-wrapped Jon Hamm as the Archangel Gabriel. (Aside: At the London premiere, I witnessed Hamm saying to a journalist that at his advanced age he wasn't particularly a "sex symbol" anymore. Please congratulate me for not interrupting to set the Archangel straight on that score.) For the uninitiated, the elevator line is: An angel and a demon forge an unlikely bond in an attempt to avert the Apocalypse, there's a missing book of prophecy, a witch, a Witchfinder General, a hellhound and a cabal of feisty kids, and hellish and celestial hijinks duly ensue.
The script is, unsurprisingly, annunciation-grade, luminously funny and strikingly poignant—and considering the principal characters include angels, demons and witches, (and a tween Antichrist) it's as human as they come. The cinematic sensibility is something like… I don't know, like if Terry Gilliam, Michael Powell and Emeric Pressburger all had a lovechild. There's Powell-and-Pressburgerish, deeply saturated, slightly hyperreal color and exquisitely weird visual imagery; there's Gilliam-saluting surreal, and sometimes hammy, oddball cheekiness side by side with an arrow-to-the-heart sort of emotional honesty. (Mackinnon noted at least one Gilliam-shout-out Easter egg; I'll leave it to fans to find it.) There is excellent sound design and a thoroughly bitchin' Queen-heavy soundtrack (you will have "I'm In Love With My Car" earworming you to the edge of insanity and you will relish every minute).
And holy Hell (as it were), there's an alarmingly gifted cast, including Hamm, Miranda Richardson, Michael McKean, Frances McDormand, Adria Arjona and Ned Dennehy for starters. But as good as everything is, as good as everyone is, the locus of this translation's magic is the to-perish-for chemistry between Michael Sheen's angel Aziraphale and David Tennant's demon Crowley. Each of them has a serious light-up-the-screen quality in his own right; Mackinnon called them the best Scottish actor and best Welsh actor of their generation, and I would not be motivated to dispute it. Together, they produce the kind of voltage no one can predict, but when it happens, it's a thrill to watch. As Aziraphale, Sheen puts on a lilting, posh accent, a scrupulously polite and slightly prissy demeanor and a huge glowing smile. Tennant's Crowley has a languid, dissipated rockstar vibe, a gravelly voice and the peculiar energy of someone who is faking an exquisite boredom to conceal his disaffection. After centuries of sentinel duty on Earth, they have their earthly enthusiasms; Aziraphale runs an antiquarian bookshop (those are, of course, all run by angels) and adores human food. Crowley fetishizes his vintage Bentley, has a truly awesome collection of sunglasses, and takes credit for the design of London's M25 roadway (confirmably demonic). For ancient arch-enemies, though, they get on embarrassingly well, deny it though they might. One could be forgiven for noting that it rather feels like they care, not only for the flawed, teetering, increasingly Apocalypse-y world, but for each other. They bicker like an old married couple, and, when it comes down to it, protect each other. By the end, neither is precisely on the side of good or evil any longer, and that's the way long relationships are all supposed to go, isn't it? An evolution toward the middle of something? A mutual quest for development and knowledge? And hey, isn't that what started this whole shebang? With a couple biting into a forbidden, but utterly irresistible, body of knowledge (and vice versa)? With the Final Battle successfully put off and the heroic/antiheroic odd couple breathing a sigh of relief and basking in the momentary peace, they raise champagne flutes and toast "To the world" and I swear, if you do not do that involuntary catch in the throat thing, I'd propose you might want to consult an otorhinolaryngologist to make sure your throat is in working order.
Neil Gaiman said that he and the late Terry Pratchett had collaborated on Good Omens in a tag-team fashion; when he hit a wall with the manuscript he passed it to Pratchett to work on for a while. I suppose drafting a novel isn't quite as massive an undertaking as preventing the end of the world, but based on my experience, it gets closer than a lot of human endeavors. Pratchett had wanted to see a screen adaptation come about but didn't live to do so; Gaiman said he started drafting the script when he got back from attending his collaborator's funeral. At the premiere, Pratchett's hat and scarf had pride of place in the front row of the cinema—they also have a cameo in the show. Overall, this is a friend's radiant tribute to a friend, a top-of-game imagination rendering his own work in a new medium, a triumph of chemical coincidences and a Queen-worthy power chord of talents. People who love the book will love it, and people who've never heard of the book won't feel left out. It really is an unusually seamless production, rich in humor and drama and all the felicitous stuff that happens when creative partners understand and value one another. Hurrah!
In the beginning was the Word. And in the end, if we are very lucky, a few words—honest, mindful, well-crafted words—outlive us. If we're very, very lucky, those words might come to life for millions in a collaboration that expands well past the sum of its syllables. I heard Gaiman asked repeatedly how he accounted for the oddly prescient "timeliness" of this 30-year-old story, and I confess I thought that was almost as funny as Jon Hamm having aged out of being a sex symbol, considering the grounding of the story in the Epistles of John. Gaiman, who is a lot more gracious than I apparently am, offered a comment about the human impulse to tell stories transcending any moment's particulars, and that's definitely true. There's also something extremely universalizing about placing a narrative in the context of fable or myth or symbolism or anything that drives us to view it through the kaleidoscope of metaphor. It oddly creates characters and situations of extraordinary specificity because they become archetypal, part of the vast web of received storytelling from centuries of authors each trying to make sense of who we are and why we're here. So yes, Good Omens feels like one of Agnes Nutter's eerily specific yet wildly oblique prophecies. Surely we are, now, facing down the Apocalypse; surely an epic battle for the fate of mankind and the planet is imminent; surely this show is about us, about our moment.
My dudes, the Apocalypse is always about to happen. Always. It's hardwired, because at least one of those Four Horsemen is coming to swing its scythe at every single one of us and we hurtle through life ceaselessly trying to make sense of it. (Some people try especially desperately to do that, and we have a name for them: "Writers.") The forces of good and evil are always squaring off, coming together, balancing the scales. And in the end, the conclusion is that being a flawed, blinkered human is a worthy and even enviable thing.
Good Omens is available on Amazon Prime.
Listen to our Good Omens episode of the Paste Podcast with Neil Gaiman, Jon Hamm, David Tennant and Michael Sheen on iTunes, Google Play, Stitcher, Spotify or the new app from our podcast partner Himalaya or listen right here: