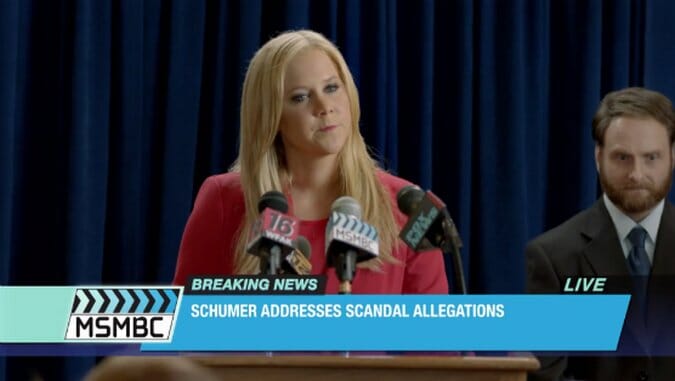 Well, geez, what's left to say about this season of Inside Amy Schumer? It slyly addressed feminist issues. It insightfully captured the relationship dynamics between men and women. It drew inspiration from the way media messaging wreaks havoc on female self-esteem. But at the end of the day, all you need to remember is this: It was really fucking funny.
"Slut Shaming" manages to stick the landing, showing minimal signs of season's-almost-over fatigue from Schumer and her writing team. "Sex Prep" is a rare cold open that could have worked as a full sketch, with Schumer getting caught mid-meatball at lunch by a booty text from a guy listed in her phone as Hot Steve. This sends her into a day-long beauty binge, motivated by magazine headlines ("Hair Down There? Kill Yourself") that convince women such extreme measures are required to be considered even remotely acceptable as a female human. I thought we were headed for a twist where the guy turns out to be a total slob, or that he clearly doesn't care how Amy looks, but instead the sketch cleverly focuses on how Amy has so fallen victim to media pressure ("Does Confidence Cause Cancer?") that she can't even bring herself to answer the door.
Similarly, the "Who's More Over Their Ex?" game show highlights how both men and women seek validation after a break-up, chasing people who clearly have no interest in them and clinging to the deluded hope their ex will make them feel worthy again. The fast pacing lets host Jeremy Beiler drop in hilariously blunt, realist commentary as the perfect deadpan contrast to the contestants' emotional justifications. ("Nothing complicated about it. You are alone.") The overall message: When you get dumped and feel depressed, at least have the dignity to turn and walk the other way instead of jumping to answer the phone on the first ring. Of course, we all know that's easier said than done, and we've all been the person in that nostalgia booth, succumbing to that piece of carrot cake. Which is not even the best cake—that's how sad and desperate we are.
"The Gab" illustrates another way women find self-worth: by tearing down other women. You can usually tell how horribly mean a girl is going to be about another girl by how overly nice the prelude is: "I love so-and-so, she is super smart and really sweet, BUT…" Here, Schumer hosts a The View/The Talk mash-up called "The Gab" in which the female co-hosts focus solely on gossiping about their mutual friend Janelle. Never mind that she appears to be a genuinely nice person. In fact, that makes her even WORSE, amirite? Schumer again demonstrates precise timing with her delivery and reactions, bolstered by effective cameos from Natasha Leggero and Sasheer Zamata as the one women who dares to defend poor Janelle. And the whole sketch again shows that Inside Amy Schumer will call out women for their own self-destructive behavior as sharply as it highlights the media and societal forces working against them.
Heading into the home stretch, the show truly saved one of its best sketches for last, with Rep. Amy Schumer holding a press conference to confront allegations of lewd conduct. It's already a funny concept to imagine flipping the standard script and have a woman be the one accused of pulling an Anthony Weiner. But the specific examples of Schumer's obscene behavior ("Where you see a fist, I see a comfortable chair") and her increasingly defiant defenses against them escalate the premise perfectly. Throw in Jim Norton apparently improvising a string of increasingly profane questions and you've got yourself a winner.
The punchline that Schumer's husband is clearly a closeted homosexual is a little too easy, and the same can be said of the episode's weakest sketch, in which Schumer pesters her boyfriend into admitting Channing Tatum is attractive. The accusations that he's homophobic and his stubborn reluctance even to think about the question telegraph the twist a mile away—that he's going to do something super gay. Casting Reggie Watts as the neighbor on whom he suddenly goes to town was a smart move, both because Watts is a gifted comic performer in his own right and because his unique look makes for a funny visual. But minus Watts, it's a pretty standard "two guys kissing is hilarious" gag and one the show probably could have done without.
Along those lines, Schumer ends the season by bringing back her friend and tour-mate Bridget Everett to close out the show with a song. Last year, it was an ode to all types of titties; this year the refrain has Everett inquiring about what requirements she needs to meet in order to perform oral sex on a man. Joined onstage by collaborators Adam Horovitz and Carmine Covelli, Everett is a formidable presence and the song is admittedly catchy, but there's something about Everett's act that doesn't quite work for me. Schumer can be vulgar with the best of them, but there's usually a larger point and, most importantly, a funny point. Everett stops at the shock value and never quite gets to a real joke. I want to say any favorite of Schumer's is a favorite of mine, but I found myself just wishing we got another few minutes of Schumer before the long silent summer ahead.
Comedy Central hasn't yet announced a pick-up for Season 3 of Inside Amy Schumer, but given the strength and success of these past 10 weeks, I can imagine the ball is only in Schumer's court. For now, she's a little busy on-set starring in a movie she wrote, Trainwreck, directed by some dude named Judd Apatow. It really feels like those of us who watched Season 2 (and Season 1) of Inside Amy Schumer will be the ones who knew Schumer's full star potential before everyone else. Sure, she's got a decent amount of fame right now, but she's on the cusp of much, much more. There's lots more talent to mine inside Amy Schumer, and we've only begun to scratch the surface.