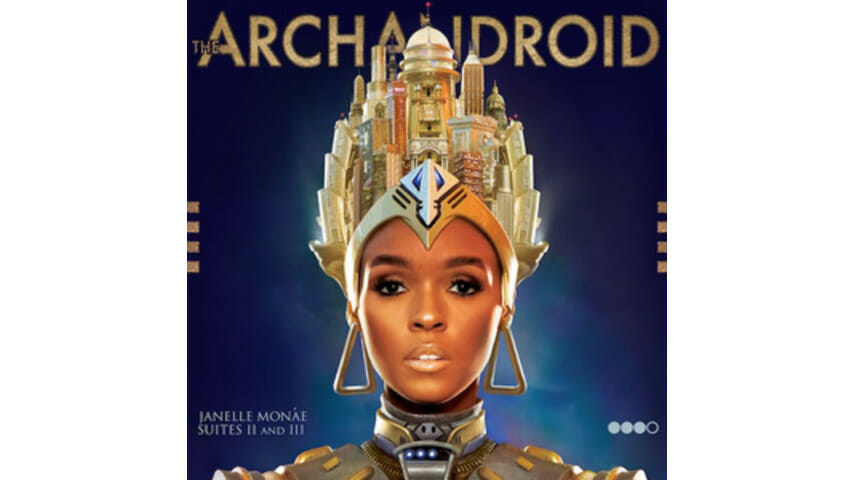 Androids dream of eclectic funk on Atlanta ingénue's debut
Janelle Monáe's long-awaited debut album opens with the sounds of an orchestra tuning and some polite applause, then a sharp jab of strings, the rise of an ominous choir and flittering woodwinds. If you're sitting in front of the computer you just bought the record on, dressed in sweats and a t-shirt, you might feel underdressed.
And rightly so: The ArchAndroid is a fully immersive, theatrical experience. It's a near-perfect R&B album; hell, it's a fantastic hip-hop, psychedelic, neo-soul, dance and orchestral album too. It's hard to classify but harder to ignore, matching Monáe's massive stylistic scope and ambition with endless melodies, can't-help-but-smile jams and an all-star cast of guest artists, including Big Boi, Saul Williams, Deep Cotton and Of Montreal. The 18-track epic brings to mind Stevie Wonder's Songs in the Key of Life; its stunning, sophisticated tunes spanning styles, speeds and sentiments, all tied together by a smorgasbord of artistic personalities.
From that moment in 2007 when Kansas City native Monáe introduced herself as an "alien from outer space / I'm a cyber girl without a face, a heart or a mind" (on "Violet Stars Happy Hunting" from her debut EP, Metropolis: Suite I of IV) it was clear she was more Bowie than Beyoncé. That EP was a tightly-wound funk-opera about an Alpha Platinum 9000 android on the run. Crafted under the tutelage of OutKast's Big Boi, The ArchAndroid follows a different story (also loosely inspired by the dystopic 1927 silent film Metropolis) but matches the energy of her earlier set, popping and sparkling all the same. Like the best concept albums, the plot is evident but never gets in the way; the bubbling sugar-pop of numbers like "Wondaland," an emotional android tale ("So inspired, you touch my wires, my supernova shining bright…Hallelujah"), is easy to pick out and digest on its own.
Where Suite I featured brassy future-funk throughout, The ArchAndroid's shape-shifting melodies are the equivalent of splatter art. Monáe is careful to work her way up to her more outré moments; after the orchestral opener "Overture II," ArchAndroid's first three songs are an easy transition from Suite I's theatrics. "Dance or Die" is tense, propulsive hip-hop with a spidery bassline and hushed vocals from fellow freak Saul Williams; "Faster" and "Locked Inside" continue the quick, skittering funk. But then "Cold War" hits like a lit match at a fireworks stand: It's her very own "Hey Ya!" moment, a simple and catchy burst of energy likely to inspire more dance-tantrums than smooth moves.
At the album's halfway point, Monáe knows she's got you hooked, so it's time to get weird. "Oh Maker" pairs vintage Mariah Carey-style crowing with playful, bouncing music. It's followed by "Come Alive (The War of the Roses)," an abrasive punk-guitar freak out; Monáe plays a great Iggy, screaming like a banshee about "dancing in a dungeon every Monday night … like a schizo running wild." A collaboration with Of Montreal on "Make The Bus" is the album's only notable misstep. The hyperactive disco song isn't exactly gag-worthy, but it's lacking a crucial ingredient: Janelle Monáe. Of Montreal fromtman Kevin Barnes wrote the tune, giving it his band's trademark jittery, spastic syncopation instead of Monáe's soulful funk swagger. It's mixtape fodder on an otherwise perfectly assembled album.
The ArchAndroid is especially impressive for how early it arrives in Monáe's career. OutKast's similarly ambitious Speakerboxx/The Love Below came almost a decade after their debut; Stevie Wonder had recorded almost 20 albums before his mind exploded into Key of Life. Monáe may be an alien or an android, but if this is just the beginning, she may wind up a legend.