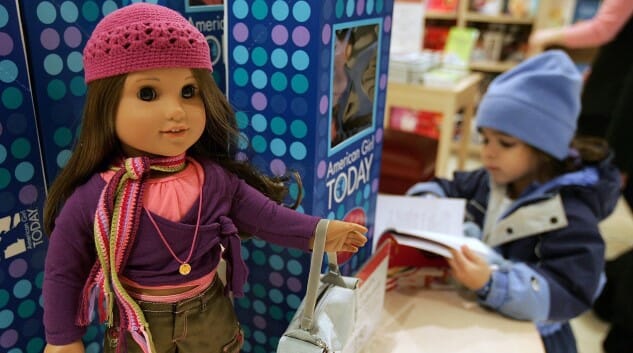 Move over, Margot Robbie as Barbie, there's another toy adaptation in town.
Well, several more toy adaptations, really, when you look at the wider film industry. A film based on tiny Hot Wheels cars is cooking at Warner Bros., along with the aforementioned Barbie, and a He-Man/Masters of the Universe movie is in the works at Sony. Joining them? Today's announcement of an American Girl dolls movie happening at MGM.
The American Girl doll brand was introduced in 1986, and became a sensation in the 1990s and 2000s. The series features various "girl" characters with historically inspired backstories, such as Kitt Kittredge, a young girl growing up during the American Great Depression, or Josefina, a Hispanic girl from 1824 New Mexico. The series was previously adapted as a low-budget film in 2008—Kitt Kittredge: An American Girl starred Abigail Breslin as the title character. Now, it seems MGM and Mattel want to explore a more ambitious adaptation for the property.
It all begs the question: What kind of structure would such a film possess? If all the "girls" live in different time periods, it's sort of difficult to make a film that features much interaction between them … unless of course, the film covers hundreds of years of history, with the story of one girl threading into the next. And of course, if they feel like playing it safe, they can always just pick another white, upper class girl like Kitt Kittredge for all the young American ladies to aspire toward. Let's hope that if the studio goes the "single girl" route, they make a choice that is a bit more diverse, this time around.
We'll bring you more information on the developing American Girl doll movie as it breaks.