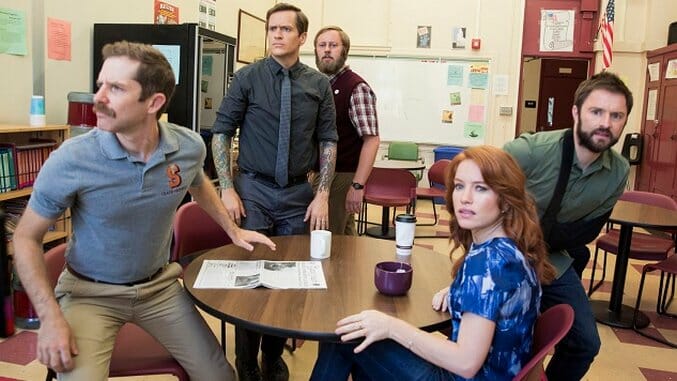 TruTV's new sitcom Those Who Can't premieres tonight at 10:30 and has already been renewed for a second season. This is an unprecedented move for the network, but then so is Those Who Can't itself, the first scripted series in a playground of sketch and reality-ish comedies like Billy On The Street, Impractical Jokers and The Carbonaro Effect. Created by and starring the Grawlix, the Denver-based stand-up/sketch trio, Those Who Can't fits well into the lineup. It features a cast of everymen in an everyplace who are relatable but off-kilter, lovably irresponsible, and doomed by their own good intentions—or, often, ill intentions. The episodic narrative often veers into sketch, to varying success, and the troupe's stand-up background has granted each member a commanding onscreen presence. It's Always Sunny In Philadelphia would be an easy comparison—not least because Ben Roy bears a striking resemblance to Glenn Howerton—but Those Who Can't falls more naturally into the lineage of Terrible High School sitcoms that have been conspicuously absent from the airwaves since Strangers With Candy ended 16 years ago. It's been a long time coming.
Whereas Strangers With Candy mostly adopted the student perspective, Those Who Can't focuses on teachers. The central cast comprises Roy as the oft-acrimonious history teacher Billy Shoemaker; Adam Cayton-Holland as the daffy Spanish teacher Loren Payton; Andrew Orvedahl as Andy Fairbell, a gym teacher and, well, the Charlie of the group; and Maria Thayer as Abbey Logan, the librarian who hasn't quite figured out what to do with her life. There's also Rory Scovel as the new-agey principal—one of my favorite jokes involves him banging a pair of tiiiiiiiiny cymbals—and Kyle Kinane as the resident alcoholic vet. It's a strong, accomplished ensemble; most have been with the show since its original pilot debuted through Amazon's open submission process three years ago. The chief difference is Thayer's character, Abbey, who was originally played by Nikki Glaser and existed mostly as a love interest, rather than as a member of the core ensemble. The change came partly out of the Grawlix' effort to move away from sketch formats and write actual narratives with actual characters; it was also a directive from on high. "It was important to us that they more fully developed Abbey," said Chris Linn, TruTV's president and head of programming, who snapped up Those Who Can't when Amazon released it. "In the original pilot she was sort of there as romantic relief; in our version she's definitely one of the guys, an integral part of the ensemble."
This implicit acknowledgement of Those Who Can't's masculinity is hard to overlook, especially given its many similarities to TV Land's Teachers. Both are single-cam sitcoms about dysfunctional educators on networks in the midst of rebranding, and both come from pre-established sketch groups (Teachers from the Chicago-based Katydids). But Teachers, set in an elementary school, has an entirely female main cast. I suspect a good deal of the conversation about Those Who Can't will (rightfully) compare the two shows, and indeed one writer has already eviscerated its juvenile humor and tokenization of Abbey. I think this is fair to an extent—though I've only seen four episodes, I do find it odd that Those Who Can't is largely indifferent to the reality of teaching, a profession dominated by women. Yet while no female character should have to be One of the Guys to be taken seriously, it's striking that Abbey is more often at odds with her counterparts than on their side; in many cases, including the pilot, she succeeds where they fail to solve the central conflict. Certainly her status as a Strong Empowered Woman doesn't excuse the show's gender imbalance, but I do think it's disingenuous to write her off as a token. As a counterpoint to the cynical, hedonistic, idiotic core trio, Abbey might be Those Who Can't's most interesting character.
Not that these are dull characters—far from it. The Grawlix have been collaborating for the better part of a decade, producing a monthly stand-up show in Denver and eventually making a web series, directed by the Nix Bros, for Funny or Die. Though it was framed as a mockumentary following their real selves, the web series was where they developed the chemistry and personalities that would end up on Those Who Can't. "Shoemaker and Loren and Coach Fairbell—those are our characters from the web series," Cayton-Holland said in an interview. "It allowed us to practice in relative obscurity, where no one really saw what we were doing, and we got better and better. It makes writing these scripts way easier, 'cause we know these characters backwards and forwards."
The Grawlix join a growing cadre of TV stars—Ilana Glazer and Abbi Jacobson, Fred Armisen and Carrie Brownstein, Ben Sinclair and Katja Blichfeld, Derek Waters—who developed their characters and relationships, if not their entire concepts, on the web before ascending into television. "In essence the web series became a proof of concept for the show," said Roy. "We never intended it to be anything else—we just wanted to create something that would draw people in." This model is as beneficial to distributors as it is to talent, of course, as a successful web series often comes with an audience attached—let alone the assurance that a group of green comics know what they're doing. "Anytime you have the opportunity to see talent's body of work," said Linn, "it gives you a greater sense of their depth and their abilities. So having seen their pilot and having seen their web series gave us a better sense of what they're about."
A little guidance was necessary for the jump to TruTV, however. "Once we were with Tru," Orvedahl recalled, "we had the benefit of show runners. We had Eric Slovin for the pilot and then Dean Lorey for the rest of the season. They were huge in shepherding us through creating stories, not just funny things. Funny things we had a handle on—they helped us take it to the next level of actually telling a funny story, and then telling ten funny stories in a package."
That package is an idiosyncratic, if flawed (but what first season isn't?), take on a reliable, long-dormant genre. Each of the Grawlix is delightful in his own way: Roy as the straight man who occasionally dips into madness; Cayton-Holland as the fool fully embracing his foolery; and Orvedahl as the wild card (his B-story in the fourth episode, involving a sex tape that plays like True Blood's opening credits , is as funny as anything on IFC or FXX). The ensemble's peculiar sensibilities are by no means whitewashed for a mass audience; for every juvenile pun about nuts, there's a gag that comes so completely out of left field you forget what you're watching. Take it from Thayer, who played Amy Sedaris' sidekick on Strangers With Candy. "I feel like I laughed as much on this show as I did on Strangers With Candy," she told me. "That's the show, more than anything I've done, that I'll go back and watch—not to see myself, but because I love it so much. I really do love it."
Seth Simons is a Brooklyn-based writer, performer, and birdwatcher. Follow him @sasimons.