Challenging your bladder for eight or more hours, subjecting yourself to horrific weather, and depriving yourself of the gift that is water—who wouldn't want to join that club?
Kind on the ears, but certainly not the wallet, music festivals have been making monetary masochists out of the concertgoer for years. Easily lured in by outstanding lineups, some college students are unfortunately quick to hop on the flower-crowned bandwagon (pun intended). Sure, Coachella has Jack White, Boston Calling has Beck (much to Kanye's chagrin)—but sitting down to budget a music fest is starting to more so resemble budgeting a family vacation. Three hundred for a ticket, $200/night for lodging, $10 for a beer, etc., etc. Heck, when Coachella debuted their first festival in 1999, tickets were only $50. Which is only laughable now.
Transportation is only one of many items on a laundry list of chores that accompany a music festival excursion. Riding in the sidecar is the ticket fee, shipping fee, that fee that no one actually knows the purpose of, an arm, the blood of a virgin—you get the idea. Take Governor's Ball, for example. Not only is a general admission ticket a whopping $290 (plus an extra $32 fee), extra transportation is inevitable. Hosting a music festival on an island makes the event restricted—more importantly, tough to swing. With a ferry pass costing $50, which leaves three days on the island at a final price tag of $372—that doesn't even begin to cover food or possible accommodations. For $372, you could listen to a garage-rock band at a Brooklyn dive roughly 15 times.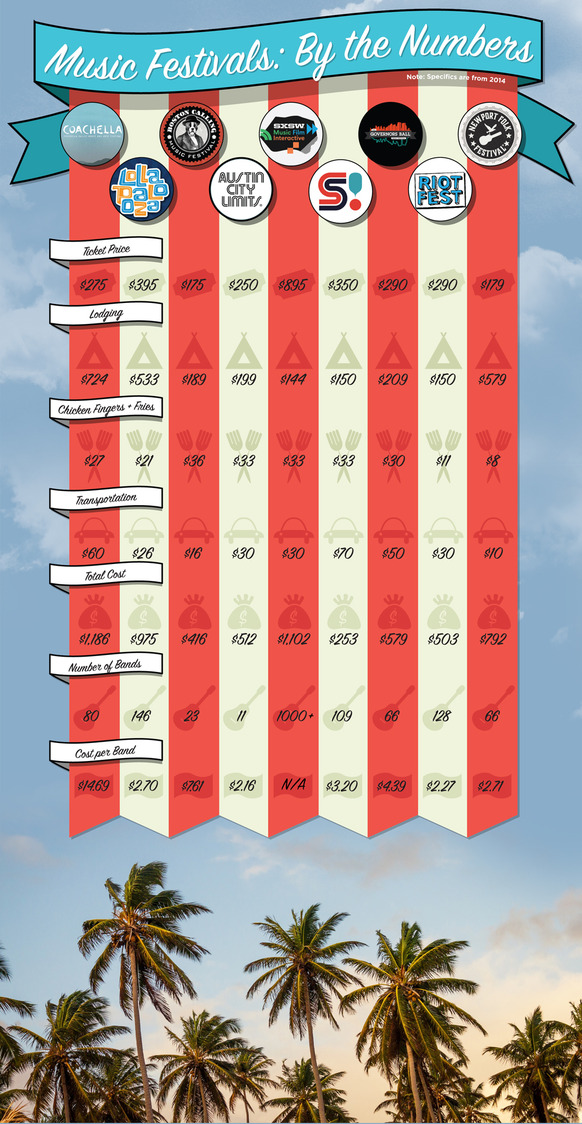 Though not on an island, Coachella rings with similar location challenges. The festival may allow for beautiful scenery, but the drive from the Valley to LAX is three hours. Jackie Bamberger, a Boston University student, attended Coachella in 2012 and 2013. Just to park at the campsite was $80 per group, plus $30 for every additional car. "Because Coachella is in the middle of nowhere, transportation and housing is a big issue," she said. "And for Coachella, camping is really not ideal, mainly because of the heat, which gets to be pretty unbearable at times. And if you want to take a shower, you have to stand in line for over an hour just to have five minutes under some barely running water."
But even for the lucky ones who live in the Coachella neighborhood, its inaccessibility, for financial reasons, still remains: The majority of locals live below the poverty line. And while the festival is performing good deeds by donating free wristbands to some lucky students, it's an unseemly location for the most expensive major music festival in North America.
Nevertheless, the prices don't seem to quell the masses that show up in their junkiest shoes and snagged tanks. According to a study curated by LiveAnalytics, attendees at major music festivals have the lowest household incomes, in comparison to concertgoers at bars and local venues, arenas or amphitheaters. Most young adults fresh out of college may have the most disposable income, but also the most debt. The question is, how, and why, are we consistently willing and able to support this bearded money sucker? Julia Meslener, a student at SUNY Purchase, said, "It's like a whole other world there. Everyone is there for the same reason, and it's a whole sense of connectedness."
It's a vibe that's come to warrant the price. And so have the outstanding, can't-fathom-missing-it lineups: Wilco is headlining Pitchfork; Billy Joel and Earth, Wind and Fire are at Bonnaroo; AC/DC and Jack White and Drake at Coachella. But while the festivals remain alluring for these reasons, when those lineups filled Facebook feeds a few weeks ago comments didn't exactly read, "Looks great! Buying my ticket, and plane ticket, and reserving a rental car." Instead, a resounding "So expensive" covered the screen. The festivals are incredibly inviting but also impossibly unaccommodating, enticing but elusive. And even upon arriving, with ticket costs aside, festivals still manage to squeeze every remaining penny out of their young attenders. A shower at Bonnaroo is $7. At Boston Calling, a lunch of chicken fingers and fries totaled up to $12. And if one course isn't enough, $225 can get you a four-course meal at Coachella, created by "celebrated chefs." Regarding festival grub, Jackie Bamberger remembered, "You aren't allowed to bring your own food or water inside, so unless you eat a huge meal before or don't mind going over 12 hours without food, you're going to have to rely on the festival. Just buying a water bottle that I continually refilled and eating one meal a day set me back at least $20 per day." Yes, these are necessities—but why have music festivals been increasingly unwilling to meet their loyal supporters in the middle?
For Jackie Bamberger, at least, the lo-fi garage-rock bands in Brooklyn have won her wallet over instead. "Seeing one or two bands in a more intimate venue has more value to me," she said.
Editor's note: "Music Festivals: By The Numbers" methodology: The total costs of each festival are estimates. Transportation costs were calculated based on individual circumstances of each festival: Coachella's was the cost of a shuttle from LAX; Lollapalooza' was the cost from O'Hare to Lollapalooza also using an airport shuttle; Boston Calling's was the three-day pass for using the subway system; Austin City Limits and SXSW was an estimate based on a three-hour drive from Dallas; Sasquatch! was the bus ride from Seattle to Quincy, a $70 roundrip, through Western Trailways Bus co.; Governor's Ball was the cost of a ferry pass; Riot Fest was the cost of an estimated taxi trip; and Newport Folk was the cost of an airport shuttle to the festival as well.