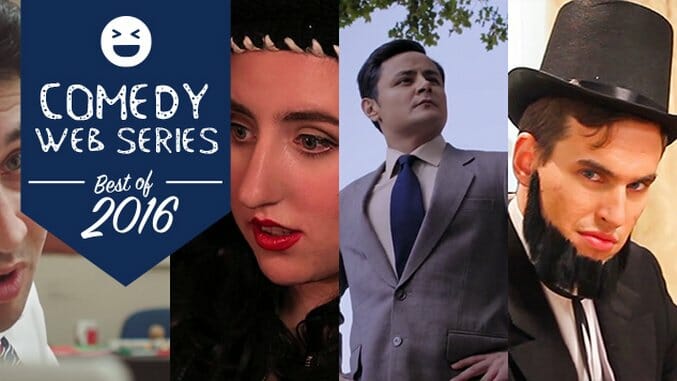 With Netflix, Hulu and Amazon producing the most-discussed long form web content of 2016, it's easy to forget about all of the great short form comedy still getting pumped into the digital universe. The web series is more than just a vital platform for the development of fresh comedic voices—it's an art form on par with any other, capable of telling bite-sized stories with no less heft than their longer counterparts. These ten series, the year's finest, run the gamut from satire to new wave reality show, and even a fictionalized account of Monica Lewinsky's time living in New York City.
10. The 5th Quarter
The 5th Quarter is a parody of ESPN's 30 for 30, taking on a different sports subject with a new cast in each episode. A great place to start is episode three, "A Vicious Cycle," which chronicles a professional cyclist who refuses to dope and fails spectacularly as a result. It features the always hilarious Jon Daly. The creators of the show have clearly watched a lot of 30 for 30, but even if you're not a big sports fan, there's still plenty to enjoy.
9. 7 Minutes in Purgatory
Anybody who's been to a comedy open mic knows that a quiet audience can kill the room. I've been to more than one mic where a silent crowd has led the comic to veer from jokes about an ex to desperate monologues about the meaningless of life. This is roughly the context of 7 Minutes in Purgatory: Alone in a room, comedians deliver their material while wearing noise canceling headphones. A camera records and streams the set to a packed audience in a separate room; the comic has no idea whether they laugh or not. It's a fun concept and the tension builds as each comedian tries to make it through the set without giving into the anxiety of not knowing whether they're getting laughs. The comics are all uniformly very good, though, so of course the audience is laughing—the comedian just can't hear it.
8. 1600 in 360
Virtual experiences are at the forefront of every medium, and comedy web series are no exception. CollegeHumor's 1600 in 360 is a sort of Choose Your Own Adventure-style web series that uses immersive 360 degree technology to allow you to explore the Oval Office of famous presidents, catching different jokes from all sides of the room. It's ultimately pretty light but nonetheless enjoyable fair, sort of like Drunk History with a fun tech angle.
7. Tween Fest
Tween Fest is a sharp satire of social media stardom centered on a minor internet celebrity named Maddisyn Crawford (Joey King) who tries to transition from popping pimples in YouTube videos to becoming a Rebecca Black-esque music star. Her father, played by the reliably funny John Michael Higgins (Christopher Guest films, Pitch Perfect), sets up the titular festival in the hope of advancing his daughter's career. Writers Nick Ciarelli and Brad Evans round out the supporting characters with targets that are specific and relevant. A Venmo celebrity touts a book detailing her transactions, a Humans of New York-type figure attempts to place audience members in a Shame Sack and the world's greatest Family Guy impressionist even makes an appearance.
6. I Want My Phone Back
I Want My Phone Back is a game show that toys with its contestants—and by extension, our culture's—dependence on smart phones in every little corner of everyday life. (Full disclosure: I use a basic phone, but I do live in the world, so I was able to follow the show's logic.) Contestants hand over their phones to host Alana Johnston, who sends missives in their name out into the world, increasing the potential prize based on how embarrassing the text, tweet or email will be. It's hilarious to watch people squirm as Johnston pretends to be them, texting their boyfriend that they have diarrhea ($100) or sending fan fiction to a potential employer ($1,000 turned down, the contestant took her phone back).
5. Alternatino
Alternatino stars Broad Cityregular Arturo Castro in a series of sketches sending up late night talk shows, true crime investigations and anything else that Castro and writer Brendan Fitzgibbons think is worth parodying. The series is an excellent platform for Castro's full range, and his comedic timing is perfect in every sketch. Give this guy his own TV show, Comedy Central!
4. Little Banks on Wall Street
This brilliant parody of Wolf of Wall Street, written by and starring Carmen Christopher and directed by Marty Schousboe, is as sharp and surefooted as anything on FX or IFC. Christopher and Schousboe have big ideas on their mind, but they address it through the lens of kinetic comedy sequences worthy of Will Ferrell and Adam McKay. It's difficult to pinpoint highlights—each episode is truly full of surprises—so you might as well just start at the beginning, when Christopher's Deion Banks realizes he needs to spice up his life as a Christmas tree salesman. Keep your eyes peeled for guest stars John Reynolds (Search Party, Stranger Things) and Carmen Christopher (The Late Show, Joe Pera Helps You Find The Perfect Christmas Tree), who infuse Little Banks with bizarre, unpredictable energy.
3. Friday Night Bites
Friday Night Bites is a hilarious, kinetic web series from the New Zealand team Flat 3 Productions. Its brilliantly stylized cinematography sets it apart from peer series about millennial life—dating, dealing with roommates—and it deftly mixes highbrow and lowbrow humor into thoughtful ruminations on the issues of our day: cosplay, rape culture, Star Wars, consent, Chat Roulette and more.
2. #Throwback
One of the best—and easily the most slept-on—web series of 2016 is #Throwback, an ingenious take on the anxieties of social media. The show is a period piece in which every episode debuted one year after it was filmed. The May 10, 2015 installment, for example, was released on May 10, 2016, and contains such ur-May 2015 references as the "How Old Am I" app and the new Hamburglar. Nearly all of the episodes were written, directed and edited by Hoff Matthews, who also stars in the series. Matthews uses this high-concept premise to create fully formed characters and relationships, all while cramming an absurd number of great jokes into each perfectly paced episode.
1. Monica
Monica pulls off the delicate balance of being at once quite funny, tender and thoughtful. Imagining what life was like for Monica Lewinsky when she lived in New York City in 2001 at the age of 27, the series features an exquisitely measured performance by Lily Marotta. Director Doron Max Hagay creates fictions around these little known years in Lewinsky's life that poignantly reflect the ways in which we're all just trying to make it through another day. If you must watch only one series on this list, watch Monica.