Watch Daveed Diggs and Black Thought Rap About Voting on The Tonight Show
Images via NBC/YouTube
Comedy
Video
Daveed Diggs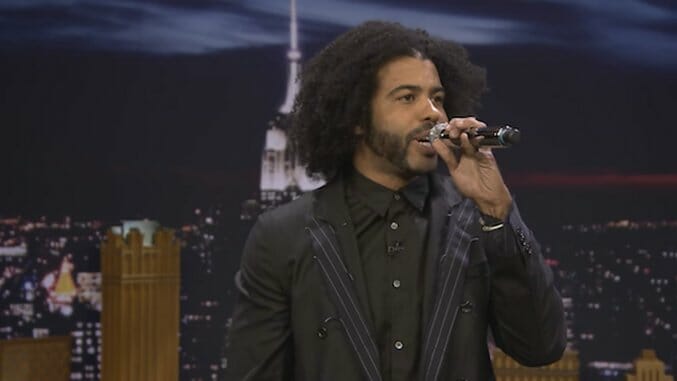 Stephen Colbert had current Hamilton star Javier Muñoz on his show last night to rap about voting, but, not to be outdone, Jimmy Fallon had his own Hamilton alums on to do some political bar-spitting.
Daveed Diggs, Hamilton's original Thomas Jefferson and rapper for the hip-hop group clipping., was asked to exhibit his talents, and he chose to talk a little bit about voting. While not as explicitly anti-Trump as Colbert's number, Daveed traded verses with The Roots' Black Thought (who has his own connection to Hamilton) and neither were exactly pro-Trump.
Black Thought rapped, "We up the creek without a paddle, look at the boat we in. The devil is screaming 'Vote me in,' it's dystopian." Then Daveed broke down the history of voting, saying, "Not until 1920 did it include any women, and not until 1965 if you exhibit melanin," before getting into recent voter suppression efforts, saying, "I'll be damned if after all that blood and fighting for the right to be counted, I don't get out my bed and fill out that ballot. Go vote tomorrow." It's a pretty strong indictment of a certain party's practices, and also a slick Hamilton reference.
You can watch the video embedded above.