The Season Premiere of Documentary Now Proves It's One Of The Smartest Comedies On TV
Photo credit: Rhys Thomas/IFC
Comedy
Reviews
Documentary Now!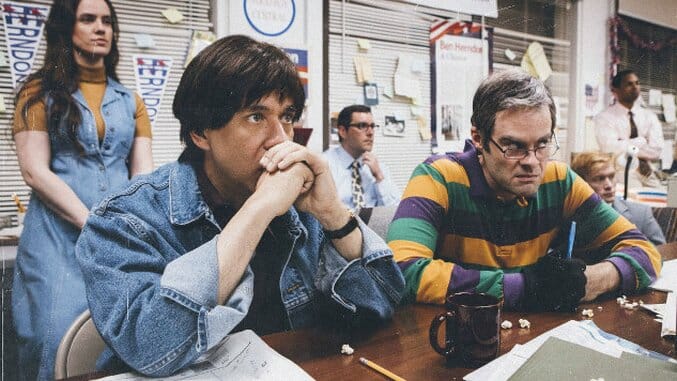 Documentary Now, IFC's mockumentary series created by Bill Hader, Fred Armisen and Seth Meyers, opened its six-episode sophomore season with "The Bunker," riffing on the 1993 political documentary, The War Room, which tracked Bill Clinton's 1992 presidential run. Although filmmakers D.A. Pennebaker and Chris Hegedus were given limited access to Clinton, they focused on two other larger-than-life "characters": the campaign's young Communications Director George Stephanopoulos and Lead Strategist James Carville. "The Bunker" is a loving re-creation of the documentary with Armisen stepping into Stephanopoulos' role as Alvin Panagoulious ("Boy Hunk of the Beltway") and Hader as "the Mississippi Machiavelli" Teddy Redbones. The episode is not only timely, on point and funny as hell, but its attention to detail is astounding.
From Helen Mirren's straight introduction of Documentary Now's "season 51" (a la PBS intros) to the hues and tones used to create the fictional 25-year-old documentary, directors Rhys Thomas and Alex Buono have proven once again that they're not just going for the cheap laughs; they're playing the long game, crafting one of the smartest comedies on TV in the process.
"The Bunker," directed by the unseen RC Bumgartner, follows the exploits of Panagoulious—with a clean-cut preppy facade hiding lecherous tendencies—and Redbones, a ruthless Southerner who will do almost anything to keep his candidate win streak alive. The two have their work cut out for them as their candidate Ben Herndon (D), played by Van Epperson, is unequivocally unfit to lead Ohio in the 1992 gubernatorial election. Herndon is a decent man, a husband, father and grandfather, who served as a local city councilmember and refuses to resort to dirty politics. He's got a folksy charm about him, evidenced when he tells Panagoulious and Redbones as he hangs up a call: "That is fun! Talking into the telephone with reporters!" Did we also mention that the guy is also dumb as rocks? His opponent is incumbent and veteran politician Tom Lester, who seems qualified and competent. (If the storyline mirrored this year's election any closer, it might not even be considered satire.)
Redbones and Panagoulious prove to be ruthless opponents who aren't afraid to twist the truth and hit below the belt. Their antics are uncomfortably funny: They drive around suburban neighborhoods placing politically incorrect (aka racist) lawn jockeys next to Lester yard signs; spin a story about Lester's overworked interns into one about "child slavery"; and pull a ridiculous stunt to try and win the election. Armisen plays Panagoulious as smarmy and charismatic political operative, but the charm seems forced; Hader fares much better as the angry Redbones, teetering on the line of sanity. Other jokes are hidden in the details, from Redbones' mumblings (describing himself as "succubus" and "suspected arsonist") to Herndon's election signs that read: "Herndon. A Choice." That the episode is written by John Mulaney—with his thoughtful and deadpan style—makes perfect sense and the perfect choice.
One of the final scenes in "The Beltway" features Hader's fake take on Carville's impassioned speech on the eve of the 1992 election. Hader, scene stealing throughout much of the episode, is terrific as he channels The Ragin' Cajun, brimming with emotion. (He's also wearing a green, purple and yellow striped rugby shirt, which is almost an exact copy of the ugly shirt Carville wore in the original movie. Again, the details are remarkable on this show.) He tells the staff at campaign headquarters: "This was never about the state of Ohio…or Ben…." He pauses to remember his candidate's last name. "Herndon? This is about what we did. We changed the way election narratives are hijacked."
He's sells the BS to staff, and they buy it. Viewers will too.
Christine N. Ziemba is a Los Angeles-based freelance pop culture writer and regular contributor to Paste. You can follow her adventures on Twitter and Instagram.