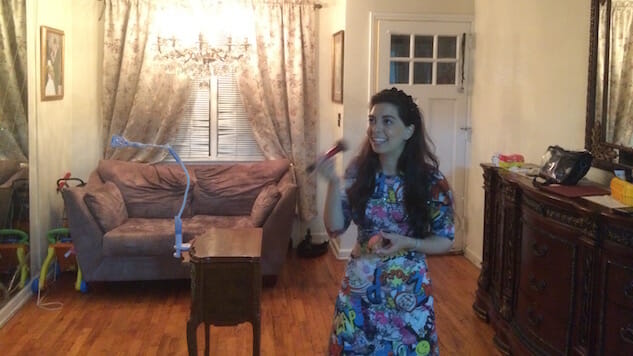 Adina Sash, better known to her 24.5K Instagram followers as @flatbushgirl, is wearing a tight-fitting, shin-length dress with elbow-length sleeves. Smiley faces and comic book "ZAP!"s adorn it. Her two children, a toddler and an elementary schooler, are running around and playing with a pink smiley face balloon in the living room.
Sash, like her character, is a married Orthodox Jewish woman who lives in Brooklyn, but Flatbush Girl is ditzy where Sash is savvy and sly. She and her husband, Chaim—they got married at 18—make the charming and subtly irreverent Flatbush Girl videos, sometimes in partnership with local businesses. Tonight, after putting the kids to bed, she will prepare to go live on Instagram and Facebook, which she does most weeknights.
It's 8:30 p.m. She and Chaim make sure to post around this time, when people have just finished dinner and begun scrolling through their feeds. But first she has to make sure the kids are taken care of, too. The younger child chants for chicken while delighting in some orange cherry tomatoes. The older requests Alexa, and Adina brings down the voice-activated Amazon device. A bit of real-life comedy ensues when Alexa repeatedly misunderstands the boy's request to play the La La Land soundtrack. Tomorrow at school, kids are supposed to dress like what they want to be when they grow up. The older kid wants to be an actor, but they can't decide how to convey "actor" sartorially. He ends up photoshopping his name onto a picture of an Oscar.
Sash shows me the video she's just posted. In her previous post, her character had gotten outraged about graffiti in the area and tried to paint over it, only to end up encountering the police. In this one, real-life Brooklyn Councilman Chaim Deutsch gives her an honorary citation and she helps the Flatbush Shomrim, a male-only Jewish neighborhood watch group, paint over some graffiti. "You should include women," she says to one of them. "What do you think, women can't handle this job?" Adina and Chaim send a photo of Adina, Deutsch and the Shomrim to a local Jewish paper, with a smiley photoshopped over her face—the paper won't print photos of women's faces.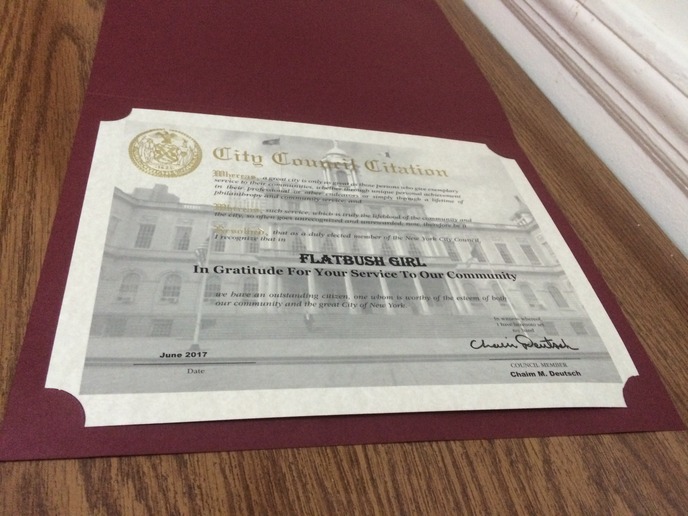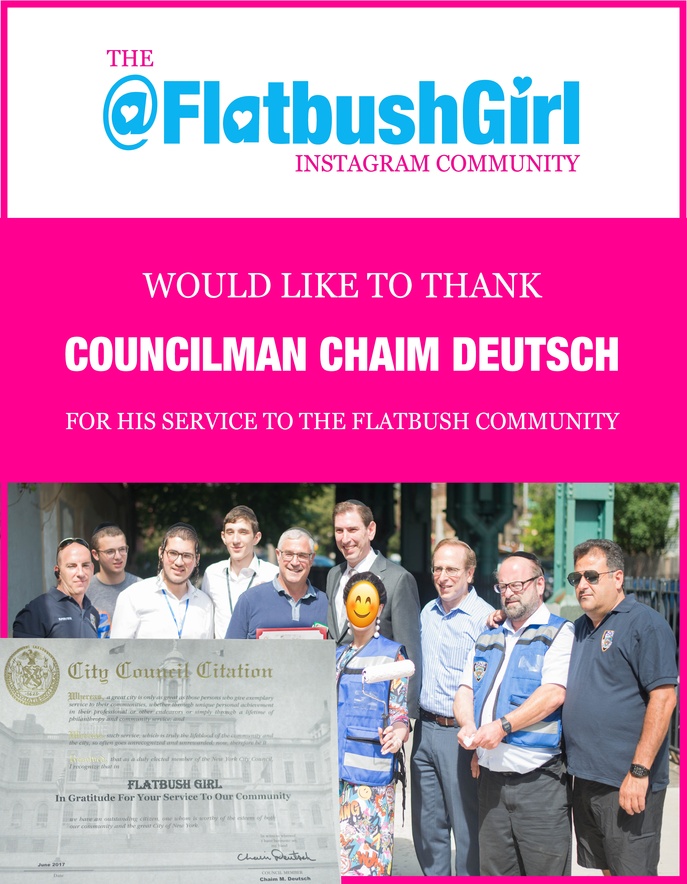 Adina has been at it for 12 hours today, beginning with shooting the video with the councilman this morning. "Some people do recognize the effort," she says. "But other people are just like, 'You're addicted to social media." She says ever since her videos started blowing up, she's begun to practice unplugging for certain parts of the day, using an app that turns off her other apps. You have to have a friend give you the password. "It's almost like a sponsor," she says.
Adina made her debut in a video for the Orthodox-centered website Simcha Spot ("simcha" means joy), in which she jumped in a pool wearing a dress, an expensive wig, jewelry and heels. Some people in the community found it morally outrageous. "There were some death threats," Chaim says. In one of her video sketches, a conservative grocery store cashier speaks Yiddish on the phone as Flatbush Girl enters: "We see enough filth on the streets," says the clerk. She gives Flatbush Girl too much change by accident, and Flatbush Girl hands it back, letting her know in Yiddish.
Chaim says the real way this content is passed around is on WhatsApp. There's a stigma around social media, but the community has embraced the texting app, and "it's almost like this dark web, we can't even do metrics for it." He explains that until recently—the algorithm has been tweaked, apparently—if you got 400-450 people watching your Instagram Live, you could get into the "Top Live" section, which could result in around 400 more followers for Adina in just an hour. "You're competing with people just undressing themselves," he says.
During her live online performances, Adina responds to every individual comment she can, including the meanest ones. She used to have anxiety—"Random fears, burglars, I couldn't get up in the middle of the night"—but says that performing and putting herself out there has helped her face that anxiety. "If I could desensitize myself to hate, doesn't that sound like such an exciting thing to conquer?"
She insists that she's not funny, that she would admit to it if she did think she was. I react with surprise: You don't think you're talented at the thing that's made you famous? "I think I have a good marketing brain, but I'm definitely not funny." I argue that she knows how to intentionally deconstruct what humor is and then replicate it on the spot—isn't that just what being a funny person is? She won't hear of it.
"When I was a kid," she says, "I used to want to be a Disney princess. Then I got into Animorphs, do you remember Animorphs?" I do. "I was obsessed with Animorphs for like a good ten years of my life, to the point where it consumed my life," she says. She mentions that she has a Master's in Medieval Literature. She realizes she has to sugarcoat what a weirdo she is by projecting the image of a pretty girl with a nice family—and that in the same way, the Flatbush Girl character has to be a silly goofball, but not pitiably dumb. It makes sense: After I initially approached her about this profile, she suggested I come over and see her pre-show ritual of being around the kids and getting prepared. She has, on some level, reality-TV-style engineered even the look behind the curtain.
Adina does her makeup and Chaim helps her set up for the Live. The phone, for Instagram, is up on a mount, and she has a professional light with an umbrella. A laptop connects to Facebook Live. She complains that the lighting for Facebook is "so gross and dingy and dank" compared to Instagram's. She reminds Chaim to take a kid's toy tractor off the mantle. "Someone just wrote, 'Heil Hitler,'" she says, not seeming shocked at all. A phone battery charger cord breaks.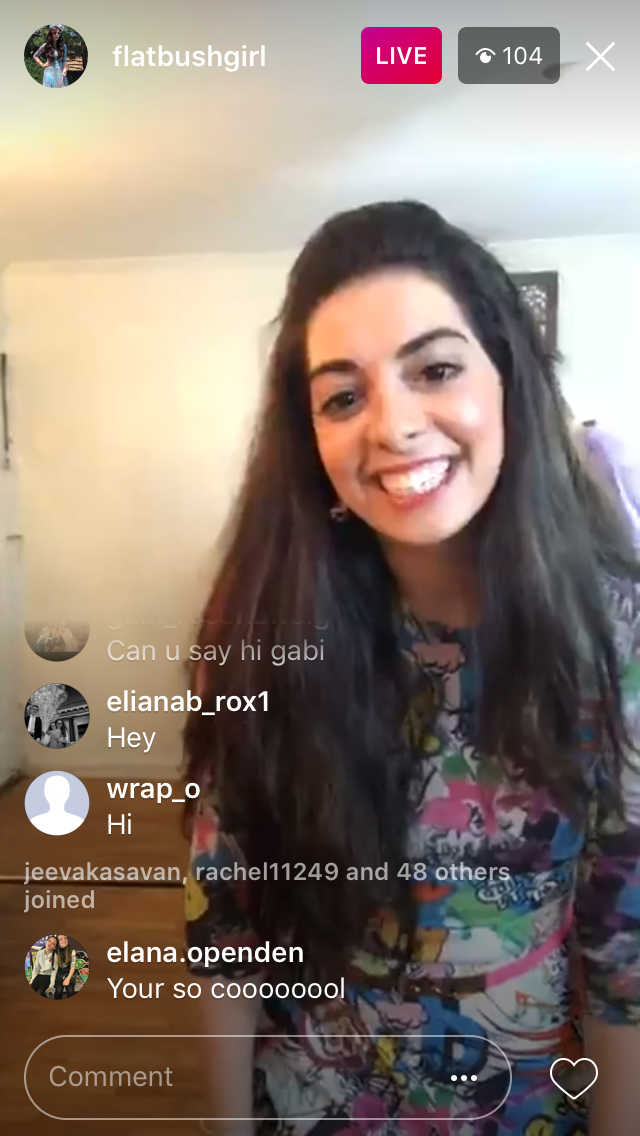 When the stream starts, she talks to the viewers about the Shomrim video and about her previous night's Live, for which she just aimed the camera at her betta, whose name is Flatbush Gil, for a "Q&A." Anyone with Instagram can watch the stream, from her biggest fans, many of whom are Orthodox preteen girls, to Internet randos with no particular religious affiliation. Someone says, "Proxima B is likely to have perfect conditions to host alien life." "Let's go populate the planet," she says. "You have a sex addiction," someone else says. She makes a joke about an electric toothbrush.
Someone insults her dress. "Thank you SO MUCH," she says. Someone in Iran says he is learning English by watching these. Someone calls her pathetic. Someone asks if there's a mirror behind her (there is), and she says "No, you need to go to the hospital if you're seeing two of stuff."
"Your husband did everyone a favor by marrying you," one commenter says, "And made the biggest mistake of his life." "Hey, Chaim, did you know you did everyone a favor by marrying me and made the biggest mistake of your life?"
More comments roll in, some of which are bizarre or combative or condescending: "Send regards to your Mexican friends." "Get a drink of water." "You should go on the Ellen show." "You should go on America's Got Talent." "You keep ignoring me. I'm being so nice."
When it's over, she's frustrated—they didn't crack the Top Live spot on Instagram. It must be the new algorithm. "That's just the hustle," Chaim says. "If Live isn't what works, you make something else work."
---
Nate Waggoner is a writer, comedian and editor-in-chief of The Tusk.