Louis C.K. Accused of Sexual Misconduct by Five Women, Per New York Times Report
Photo courtesy of Getty Images
Comedy
News
louis c.k.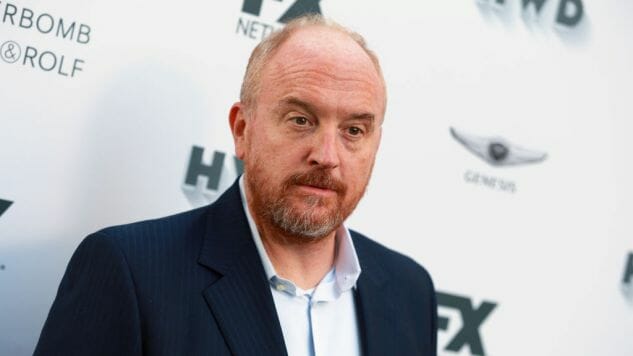 The New York Times story that drove Louis C.K. to cancel his movie premiere and Colbert appearance has been published. Five women talked to Times reporters Melena Ryzik, Cara Buckley and Jodi Kantor about a history of sexual misconduct stretching back to the late '90s, when the comedian was a writer and producer on The Chris Rock Show. Four of them went on the record, including Julia Wolov and Dana Min Goodman, who reveal themselves as the comedy duo who C.K. masturbated in front of in a hotel room during a comedy festival in Aspen in 2002. Rebecca Corry told the Times that C.K. asked her if she would watch him masturbate on the set of a TV show in 2005; the show's executive producers, Courteney Cox and David Arquette, both confirmed Corry's account. A fourth woman, comedian Abby Schachner, said that C.K. was audibly masturbating on the other end of a phone call in 2003. The fifth anonymous woman reported that C.K. also asked to masturbate in front of her in the late '90s several times, which she eventually relented too.
Tig Notaro, whose Amazon show One Mississippi's list of producers includes C.K., also talked to the Times about the allegations and C.K.'s history of inappropriate behavior. Via an email, she told the newspaper that she fully believes the charges against C.K. and regrets her association with him.
The Times also reports that C.K., who has refused to address the long-standing rumors of his misconduct, privately reached out to at least two of his victims to apologize.
Given the current climate of finally taking powerful men to task for their sexual harassment and abuse of others, it's not really a surprise that details are finally emerging about C.K.'s behavior. This has been widely rumored for years, first gaining mainstream traction after two Gawker articles earlier this decade. Without naming C.K., comedian Jen Kirkman seemingly confirmed them during a podcast episode that she eventually deleted. Due to his success and his stature within the comedy world, C.K.'s victims felt like they couldn't go public with what happened, but the wave of sexual misconduct revelations emboldened them to come forward. You should absolutely read the full Times report for all the information that's currently been released.