Every Comedian Repped by 3 Arts Has the Power to Get Rid of Dave Becky
Photo by Frazer Harrison/Getty Images
Comedy
Features
Louis CK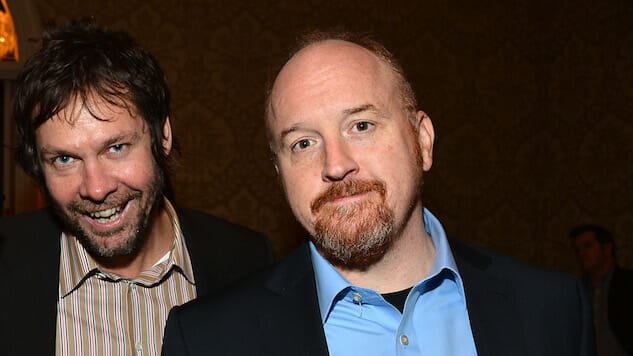 There are many monsters in the Louis C.K. story. Second to C.K. himself, the biggest might be his manager, Dave Becky. Becky is a partner at 3 Arts and a profoundly influential figure in comedy and television. He represents Amy Poehler, Kevin Hart, Hannibal Buress and Aziz Ansari. He's a producer on Broad City, Better Things, Insecure, Difficult People and many more TV series and comedy specials. His company produces Great News, The Good Place, The Mick, Brooklyn Nine-Nine, Unbreakable Kimmy Schmidt, Silicon Valley, and… many more TV series and comedy specials. He is, in short, a Powerful Man In Hollywood. And he denies pressuring C.K.'s victims to stay quiet about what C.K. did to them.
Uh, sure, dude.
From the New York Times piece on C.K.:
Hoping that outrage would build against Louis C.K., and also to shame him, they began telling others about the incident the next day. But many people seemed to recoil, they said. "Guys were backing away from us," Ms. Wolov said. Barely 24 hours after they left Louis C.K.'s hotel, "we could already feel the backlash."
Soon after, they said they understood from their managers that Mr. Becky, Louis C.K's manager, wanted them to stop telling people about their encounter with Louis C.K. Lee Kernis, one of the women's managers at the time, confirmed on Thursday that he had a conversation in which he told Mr. Becky that Louis C.K.'s behavior toward the women had been offensive. Mr. Kernis also said that Mr. Becky was upset that the women were talking openly about the incident.
Mr. Becky denied making any threats toward the women. "I don't recall the exact specifics of the conversation, but know I never threatened anyone," he wrote by email on Thursday. Ms. Halpern and Robert Schroeder — Ms. Goodman and Ms. Wolov's agent at the time — said that the pair told them that they felt they had been warned to stop talking.
And later:
In the years since, Ms. Goodman and Ms. Wolov have found some success, but they remained concerned about Mr. Becky and took themselves out of the running for the many projects he was involved in. Though their humor is in line with what he produces, "we know immediately that we can never even submit our material," Ms. Wolov said.
Whether Becky exercised his power passively or actively, and I think we all have a good idea which route he chose, he exercised it—to silence voices, to damage careers and to protect C.K. from facing any consequences. And that's all secondary to the simple fact that he shepherded the career and fortune of a predator. He has to go.
Every comedian represented by 3 Arts has just been handed considerable power. Even if he's not your manager, you make him money. His success depends on your happy relationship with your representatives. What happens if you tell them you'd rather bring that success to a company that doesn't enable and cover up sexual misconduct?
Maybe they'll agree. Maybe they'll leave with you. Maybe they'll say fine, get lost. Probably they wouldn't flinch to lose one or two of you. But the dominos don't fall until the first tips over. So long as business continues as usual, 3 Arts has no Dave Becky problem. You have the power to give them one.
Editor's note: This post originally included a photo of Louis CK, Dave Becky and former HBO Head of Programming Michael Lombardo. At the request of Lombardo's representative, we have cropped him out of the image. When asked for comment on the Times story and today's statement by CK, Lombardo declined through his representative.
---
Seth Simons is Paste's assistant comedy editor. Follow him on Twitter.