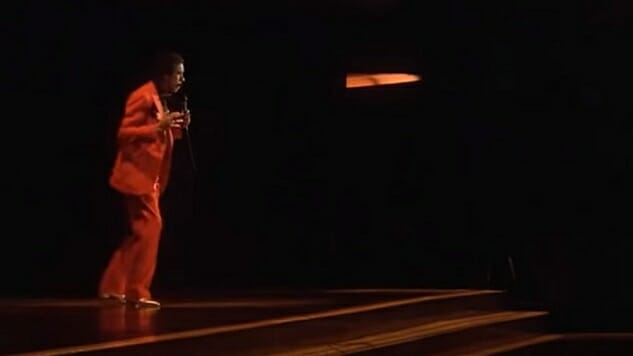 There's no one right way to do comedy. A comedian who builds their reputation on illuminating systemic injustices in society isn't necessarily better than one who specializes in absurd one-liners. What matters is simply how funny they are, and since that's a pretty subjective quality, this will be a pretty subjective list.
A handful of regular contributors to Paste submitted ballots with their picks for the best stand-up comedians of all time. Here are the results. Try not to take them personally. We factored in solely their stand-up work—no sitcoms, no movies, no sketch shows—and had a mind towards history, with longevity and influence carrying some weight. Part of this exercise is hopefully introducing readers to comedians they might not be familiar with, comedians whose time on stage had passed before today's audience was able to experience it. We're mindful of what a modern audience would think coming to this material for the very first time, and so that's lead to one significant decision that was surprisingly not that hard to come to. Yes, Bill Cosby, who would be a consensus top ten on any such list were it not for the monstrous crimes he's currently under trial for, is not here. Expect an in-depth exploration of Cosby's stand-up legacy, and how a modern audience should approach it, soon.
For now, though, let's focus on the comics who do deserve the attention, the legends and cult favorites who laid the groundwork for the comedy boom that we're all currently enjoying. Here are the best stand-up comedians of all time, accompanied by a short list of their notable works of stand-up (be they albums, specials or books).—Garrett Martin
50. Jerry Seinfeld
Notable Work: Jerry Seinfeld Live on Broadway: I'm Telling You For the Last Time
Seinfeld's "what's the deal?" vocal style of observational comedy about human nature's absurdity is unmatched, portraying himself as the sane one in a world of idiots. —Emily Reily
---
49. Mike Birbiglia
Notable Work: My Secret Public Journal Live, Sleepwalk with Me, Thank God for Jokes
Mike Birbiglia wasn't the first comedian to being integrating long-form storytelling and one-man theatre elements into his act, but he did do it without losing any of the bite and comic chops of his early material.—Graham Techler
---
48. Kevin Hart
Notable Work: Seriously Funny, Laugh at My Pain
The current king of stand-up, Kevin Hart is a master of insincere bluster and angry vulnerability. He's successfully juggling a career as an active stand-up and one of Hollywood's top comedic leading men, and shows no signs of slowing down.—Garrett Martin
---
47. Paul F. Tompkins
Notable Work: Driven to Drink, Paul F. Tompkins: Crying and Driving
Delightfully silly and deceptively sharp, Paul F. Tompkins has been one of stand-up's most natural storytellers since his earliest, most innovative special, 1998's Driven to Drink.—Seth Simons
---
46. John Mulaney
Notable Work: John Mulaney: New In Town
The former Saturday Night Live writer is a master of short jokes, sweeping narratives, and dressing up as an old man who loves tuna. In comedy we call that a triple threat. —Seth Simons
---
45. Margaret Cho
Notable Work: I'm the One That I Want, Notorious C.H.O.
Perhaps the most prominent Asian-American stand-up comic, and a vital voice for queer representation in comedy, Cho's autobiographical work on her troubled upbringing can be shockingly blunt and devastatingly personal.
---
44. Wanda Sykes
Notable Work: Sick and Tired, I'ma Be Me
Wanda Sykes is honest, outrageous and outspoken, and, since coming out in 2008, one of the most prominent LGBT comics. Her detachable pussy joke explains being a (cis)woman more than any gender studies course could.—Sara Ghaleb
---
43. Patton Oswalt
Notable Work: Feelin' Kinda Patton, My Weakness Is Strong, Tragedy Plus Comedy Equals Time
Few comics have been able to redefine themselves album-to-album as naturally as Patton Oswalt has, creating a string of masterpieces that feel more mature and more Patton each time.—Graham Techler
---
42. Todd Barry
Notable Work: Medium Energy, Todd Barry: The Crowd Work Tour
Todd Barry does deadpan better than anybody since Newhart and sarcasm better than anybody ever. The two collide into a distinctive delivery that makes almost everything he says hilarious. His recent focus on crowd work has lead to the best comedy of his career. —Garrett Martin
---
41. Gilbert Gottfried
Notable Work: Gilbert Gottfried: Dirty Jokes
Gottfried dishes out scathing insults veiled beneath an obnoxious, comically ridiculous "Aflac" voice and squinting eyes. He can spout really insensitive jokes, and knows how to tell a riotous and filthy "Aristocrats" story. —Emily Reily
---

40. Jim Gaffigan
Notable Work: Beyond the Pale; Obsessed
The "Dad joke" master, Jim Gaffigan might have you cringing from embarrassment, but it will always end with a huge smirk, uncontrollable satisfaction and a hug.—Becca Beberaggi
---
39. Henny Youngman
Notable Work: Take My Life, Please! (autobiography)
The king of the one-liners packed a lifetime of material into his short, punchy 20 minute sets that, for decades, left audiences reeling with joy.—Robert Ham
---
38. George Burns
Notable Work: The George Burns & Gracie Allen Show
George Burns, a classic comedian's comedian, is the gold standard for stand-up. He delivered impeccable, timeless one-liners that are still whip-smart and relevant. —Emily Reily
---
37. Whoopi Goldberg
Notable Work: Whoopi Goldberg: Direct from Broadway
Using a political bent, Goldberg dished out un-PC jokes geared toward women's equality, but wasn't afraid to use the guttural "F" word for impact. Her actual stand-up career was relatively short, and with her theatrical background always bordered on performance art, but her Direct from Broadway special is a masterclass of character work and social critique.
---
36. Paul Mooney
Notable Work: Race, Analyzing White America, The Godfather of Comedy
The self-proclaimed "Godfather of Comedy" has spent the last 40 years using his comedy to dismantle racial divisions and land verbal haymakers at the guts of our oft-corrupt political system.—Robert Ham
---
35. Hannibal Burress
Notable Work: Hannibal Buress: Animal Furnace
With one set, Hannibal Burress ignited a firestorm that may soon bring a serial criminal to justice. Few comedians can say that their jokes changed the world, and the ones who can probably aren't nearly as funny.—Seth Simons
---
34. Maria Bamford
Notable Work: Maria Bamford: The Special Special Special
Maria Bamford, who managed to turn a set delivered in her parents' living room into one of the most thrilling hours ever released, is in a league of her own. And those pugs!—Seth Simons
---
33. Aziz Ansari
He's known for his acting on Parks and Recreation and for co-creating Master of None, but as a stand-up Aziz Ansari has grown by leaps and bounds between every special. He's developed into a keen critic of relationships and modern millennial life.—Sara Ghaleb
---
32. Sarah Silverman
Notable Work: Jesus Is Magic, We Are Miracles
Plenty of people thought they had Sarah Silverman figured out based solely on her early "what did I say?" routines. But those people severely underestimated the subversive power of early-Silverman, as well as the powerhouse she has become in record time.—Graham Techler
---
31. Norm Macdonald
Notable Work: Norm Macdonald: Hitler's Dog, Gossip & Trickery
Norm Macdonald puts the dry in dry humor, his peerless sensibility distilled beautifully in even the most nonsensical bits—like the classic "Moth Joke," a short story as potent as any of his hourlong specials.—Seth Simons
---
30. Bernie Mac
Notable Work: The Original Kings of Comedy
Mac was fearless. He famously told a crowd "I ain't scared of you motherfuckers." Although widely-known after Kings of Comedy, this South Side comedian was a rising star from his thirties on. A master of all the laughing arts—storytelling, imitation, observation, insult—he died too young and too funny.—Jason Rhode
---
29. Ellen DeGeneres
Notable Work: Ellen DeGeneres: Here and Now
DeGeneres's observational comedy about go-gurt and cellphone reception focuses on people's idiosyncrasies through a well-rounded microscope. Her stand-up remains original and respectful, never malicious. —Emily Reily
---
28. Phyllis Diller
Notable Work Wet Toe in a Hot Socket!, Are You Ready for Phyllis Diller, The Beautiful Phyllis Diller
The first female comedian to become a household name and a gay icon as well, Diller was decades ahead of her time with the persona she developed for her act.—Graham Techler
---
27. Rodney Dangerfield
Notable Work: No Respect
As much as it pains us to give the man any respect, nobody can deny that Rodney Dangerfield's signature schtick is one of the most iconic—and endlessly enjoyable—in stand-up history.—Garrett Martin
---
26. Roseanne Barr
Notable Work: On Location: The Roseanne Barr Show
Roseanne's stand-up always bristled with blue-collar toughness and the no-nonsense attitude of a woman who wouldn't be fucked with, so it's no surprise that her sitcom became one of TV's best depictions of working class America.—Garrett Martin
---
25. Robert Klein
Notable Work: An Evening with Robert Klein, Robert Klein on Broadway
The first comic to have a special on HBO, Klein is a strangely underrated legend whose longform explorations of his life and cultural commentary presaged the voice of today's comic masterminds.—Robert Ham
---
24. Jonathan Winters
Notable Work: The Wonderful World of Jonathan Winters
A master improviser and a lover of absurdist bits that poked gentle fun at pop culture and his many personal foibles.—Robert Ham
---
23. Dick Gregory
Notable Work: In Living Black and White, Dick Gregory Talks Turkey
A rare crossover success in the pre-Civil Rights Act era, Gregory provided a finely-honed and often ridiculous take on sociopolitical commentary that only got sharper as he got older.—Robert Ham
---
22. Mitch Hedberg
Notable Work: Strategic Grill Locations, Mitch All Together
Hedberg's surreal one-liners and one-of-a-kind delivery are the marks of a true genius, and unfortunately the brilliant comic had the personal demons to prove it. He might be the greatest joke writer of the last 40 or 50 years.—Garrett Martin
---
21. Albert Brooks
Notable Work: Comedy Minus One, A Star Is Bought
Probably the best conceptual comic of the '70s, Brooks connected the ribald joy of vaudeville with the freewheeling spirit of the hippie counterculture.—Robert Ham
---
20. Don Rickles
Notable Work: Hello, Dummy!, Don Rickles Speaks!
We believe that people should treat others the way they'd like to be treated themselves. We also know that Don Rickles, who never met a person he couldn't insult, or a stereotype he wouldn't embrace, is one of the funniest humans to have ever lived. There was no malice behind his insults, and as he aged the fundamental warmth and decency behind his harangues grew ever more obvious.—Garrett Martin
---
19. Garry Shandling
Notable Work: Alone in Vegas, The Garry Shandling Show: 25th Anniversary Special, Garry Shandling: Stand-Up
Freaks and Geeks had it right in its depiction of Martin Starr watching Shandling on The Tonight Show, relishing his formal experimentation alongside his unbeatable anxious wit.—Graham Techler
---
18. Bill Hicks
Notable Work: Dangerous, Relentless, Arizona Bay
We maybe wouldn't have the comedian-as-vicious-social-satirist archetype today without Bill Hicks. No one ever hated the world with so much love.—Graham Techler
---
17. Redd Foxx
Notable Work: New Fugg, You Gotta Wash Your Ass
His were the albums that were listened to after the kids went to bed. All the better to appreciate his deliciously filthy bits about sex, drugs and bodily functions.—Robert Ham
---
16. Lily Tomlin
Notable Work: This Is A Recording, Lily Tomlin on Stage
Playing the exasperated woman just looking for a break, Tomlin used a no-nonsense style to tell lengthy stories that revealed the dark side of the human condition.—Emily Reily
---
15. Jackie "Moms" Mabley
Notable Work: I Got Somethin' To Tell You (documentary)
With her gravelly voice and wide eyes, Moms Mabley never softened her brash, unrefined one-liners. Early on, Mabley turned the tables on gender roles, putting women in charge for once.—Emily Reily
---
14. Robin Williams
Notable Work: At The Met
Williams worked as fast as the speed of light, leaving you confused, dazed and introspective. He was perfectly psychotic and always a step too far in the right direction.—Becca Beberaggi
---
13. Lenny Bruce
Notable Work: The Sick Humor of Lenny Bruce, American, The Carnegie Hall Concert
Not only did Lenny Bruce pave the way for all artists to express themselves thanks to his battles against obscenity laws, he elevated nightclub material from countercultural clichés to sheer anarchic brilliance.—Graham Techler
---
12. Louis C.K.
Notable Work: Chewed Up, Hilarious, Live at the Beacon Theater
The definition of a modern comedian as far as most are concerned, C.K.'s work ethic and excellent run of late 2000s albums have helped elevate our understanding of the comedy album as an auteur exercise.—Graham Techler
---
11. Eddie Murphy
Notable Work: Eddie Murphy, Delirious, Eddie Murphy Raw
Let's be honest: much of his material would be hate speech today, and he's overquoted and overborrowed. But we deal with the man in his time, the man in full, and it's fair to say that in his glory, there was absolutely nobody in the world as funny as Eddie Murphy. A short list of the way he moved comedy history: saving SNL; opening the doors to the wider, white audience that Bill Cosby had left shut; and knowing when to quit.—Jason Rhode
---
10. Dave Chappelle
Notable Work: Killin' Them Softly, For What It's Worth, Deep in the Heart of Texas
Dave Chappelle is controversial, but what genius isn't? And although that word gets tossed around like it's nothing these days, if it applies to anybody doing stand-up today, it applies to him. His work is both personal and political, cutting and introspective.—Sara Ghaleb
---
9. Steven Wright
Notable Work: I Have a Pony, A Steven Wright Special, When the Leaves Blow Away
When every single line you say on stage is a joke, you're allowed a few misses. It's amazing that Steven Wright doesn't have more of them, then. Like Hedberg, his best work is stuffed full of hilarious one-liners whose absurd twists are still unexpected even when you know they're coming.—Garrett Martin
---
8. Mort Sahl
Notable Work: At the Hungry I, Sing a Song of Watergate
The conscience of the '60s and '70s and a social satirist who is, at age 90, still ripping our corrupt political system to shreds on a weekly basis.—Robert Ham
---
7. Bob Newhart
Notable Work: The Button-Down Mind of Bob Newhart, The Button-Down Mind Strikes Back
Bob Newhart gets more laughs as a straight man with an unheard foil than most comedians get with their best material. A master of deadpan and slow-burn frustration, his stand-up albums from the 1960s are absolutely timeless.—Garrett Martin
---
6. Andy Kaufman
Notable Work: appearances on Saturday Night Live, Late Night with David Letterman, and CWA Wrestling
You might argue that what Kaufman did wasn't really stand-up, that it's more performance art, but that'd be denying the long tradition of alternative comedy that he helped create and that still thrives today. None of his acolytes have surpassed Kaufman, though, whose post-modern deconstruction of comedy feels as fresh today as it did 40 years ago.—Garrett Martin
---
5. Joan Rivers
Notable Work:Don't Start With Me
You knew Rivers's jokes and punchlines were probably going to be racy and definitely hysterical. One might confuse her energy with a scorned woman's. No, she was a woman who made herself heard.—Becca Beberaggi
---
4. Steve Martin
Notable Work: Let's Get Small, A Wild And Crazy Guy
You could call him the original alt-comic: He was hilarious, musically inclined, prop filled, and absurd. Steve Martin is an enigma, but that's why we love him. We can't understand him, but we can't help liking him. —Becca Beberaggi
---
3. George Carlin
Notable Work: Class Clown, What Am I Doing In New Jersey, Seven Words You Can Never Say on Television
Carlin was known for raw, offensive language, and railing on taboo subjects like politics, religion and censorship, but what made him great was his thoughtfulness and depth. He sparked a furor about voicing obscenities that still burns today. —Emily Reily
---
2. Chris Rock
Notable Work: Bring the Pain, Bigger and Blacker, Never Scared
Chris Rock's bold, smart cultural commentary has been striking a chord with audiences for over 20 years. He's equally insightful when it comes to both the personal and the political, critiquing the flaws of society and the ridiculousness of relationships on both a micro and macro scale.—Sara Ghaleb and Garrett Martin
---
1. Richard Pryor
Notable Work: Bicentennial Nigger, Richard Pryor: Live in Concert, Richard Pryor: Live on the Sunset Strip
Richard Pryor's genius was not just his unblinking candor onstage nor his delightful use of his body and face to punctuate punchlines. What truly helped set him apart was how he was able to make even the biggest theaters feel intimate, using his loose, joyful delivery to draw an audience closer to his side. No matter how ugly the tale or goofy the bit, you were with him every last step of the journey.—Robert Ham