Brutal, Brilliant Video Spoofs Beloved Coke Ad Campaign, Highlights Health Risks of Soda
Photo via YouTube
Drink
Video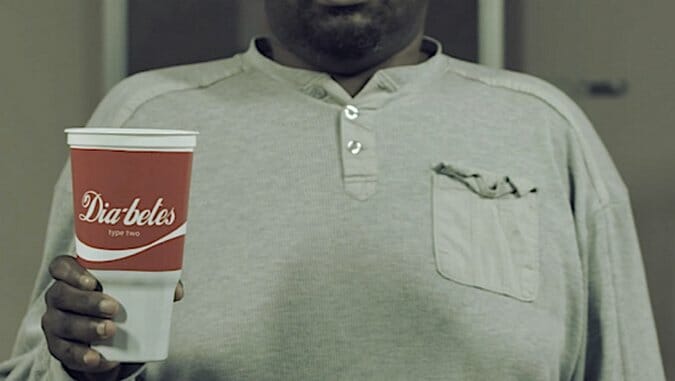 By all means stay thirsty, friends, but know that you may have trouble banishing this clip from your brain the next time you reach for a tall, cool, sugar-saturated soda.
"Change the Tune" takes aim at both Coca-Cola and Pepsi, indicting the companies' feel-good marketing strategies and spotlighting the serious health risks posed by their products. The clip was created by the Center for Science in the Public Interest, a consumer watchdog nonprofit that advocates for healthier food and drink in America.
The ad itself is fairly disturbing, and is reminiscent of anti-smoking commercials in that its deadpan, dark sense of humor belies a lethally serious issue. CSPI cleverly capitalizes on the recent resurgence of Coke's famed "Hilltop" TV spot, which was featured prominently in the Mad Men series finale. "Change the Tune" is a bitter twist on the iconic ad, altering its lyrics and moving the action from a hilltop to a hospital. "I'd like to teach the world to sing in perfect harmony / I'd like to buy the world a drink that doesn't cause disease," the song goes, as background singers intone "That's obesity!" The harsh reality of the clip is a far cry from Coke's original ad.
CSPI executive director Michael F. Jacobson explains the video's purpose in a statement:
For the past 45 years, Coca-Cola and other makers of sugar drinks have used the most sophisticated and manipulative advertising techniques to convince children and adults alike that a disease-promoting drink will make them feel warm and fuzzy inside. It's a multi-billion-dollar brainwashing campaign designed to distract us away from our diabetes with happy thoughts. We thought it was time to change the tune.
This is not the first time CSPI has gone after Big Soda. In 2013 the group created an even darker campaign titled "The Real Bears," in which a family of cartoon polar bears—the animals a wholly unsubtle nod to Coke's mascot—discover the dark side of the sugary soda. Over the course of the video, Papa polar bear gives himself an insulin injection, suffers from erectile dysfunction as a side effect of diabetes and has his leg amputated before dumping his family's entire soda supply into the Arctic.
Though CSPI may come across as overzealous in their efforts to subvert Coke's happy-go-lucky advertising, it's safe to say that the facts are on their side. There is an abundance of evidence to suggest that sugar-sweetened beverages such as soda contribute to the spread of obesity and related diseases.. "As a physician who asks all of my patients about the foods and drinks they choose, I see the connection between soda consumption and chronic conditions like diabetes, heart disease, and obesity every day of the week," said Dr. Jeffry Gerber, a physician who appeared in the ad. This kind of food for thought certainly doesn't go down easy, but it's good for us.
Watch "Change the Tune" in full above.