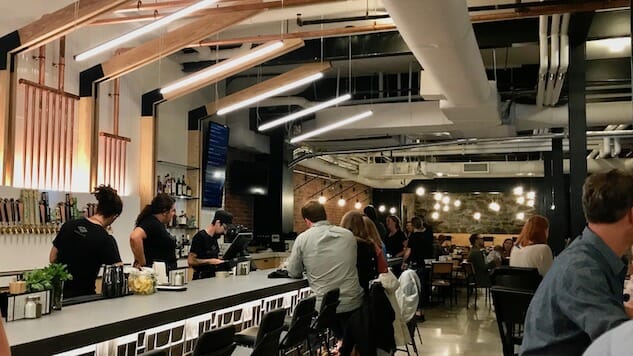 The South's coolest brewpub concept is officially open. The CANarchy Craft Brewery Collective has opened the Collaboratory, a brewpub that focuses on collaboration (duh!), in downtown Asheville. The CANarchy Craft Brewery Collective is a group of independent brewers headlined by Oskar Blues, and includes Cigar City, Perrin Brewing, Squatters Craft Beers, Wasatch Brewery, Deep Ellum Brewing and Three Weavers Brewing. We wrote about the brewpub's announcement late last year and we've been waiting anxiously ever since for the damn thing to open. And it finally has. The Collaboratory opened to the public yesterday and we got a sneak peek over the weekend during the soft opening to check out the space and the new beers.
Wayne Wambles, of Cigar City, is leading the brew team at the Collaboratory, where the name of the game is innovation and collaboration. Okay, that's two names, but you get the point. The Collaboratory will create two to four limited edition, small batch beers each week that will be available only at the brewpub. Those beers will include mashups between CANarchy members as well as smaller breweries in Asheville. When I stopped in for dinner and beers, there was a funky tart IPA on tap that was brewed with Asheville's Bhramari Brewing, as well as a dark lager brewed with Highland Brewing.
The space itself is bright and beautiful, with copper pipes running from the exposed tanks to the taps behind the bar. The whole thing has a church organ affect.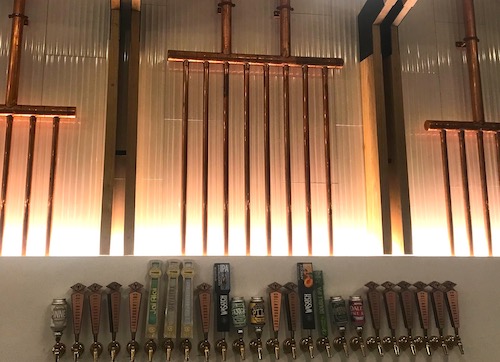 It's hard to get excited about a new brewpub in Asheville, which is a town that has far more than its share of brewpubs. We have gas stations with their own tap lines. But the Collaboratory is something different altogether. This join is bringing beers that typically aren't distributed in the South, and producing one-off beers that show off the brotherly nature of the craft brewing industry. It's a completely different concept for one of the most aggressive beer cities on the East Coast. Personally, I'm excited to see what beers come out of this kitchen.