Besides making popular beers like 60 Minute IPA and the fall favorite Punkin Ale, Dogfish Head Brewing has been making their own spirits for their Delaware brewpub for over a decade. Now, the "off center" brewery is taking the leap into larger scale production of craft spirits, launching two gins and a vodka line next month.
The brewery/distillery will start with Analog vodka, Compelling gin, and Whole Leaf gin, all made using the brewery's proprietary yeast strain, Doggie. By using brewer's methods, they hope to give unique flavors and aromas to the spirits, highlighting the natural grain flavors. They've hired Graham Hamblett, formerly of Flag Hill Winery & Distillery, to lead the project as head distiller. With the three spirits about to hit Delaware, followed by the rest of the Mid-Atlantic States over time, Paste spoke with Dogfish Head founder Sam Calagione about the brewery's approach to distilling.
---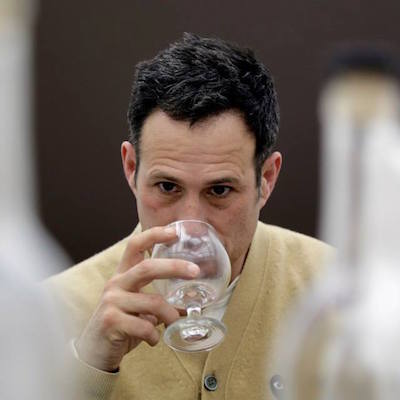 ---
Paste: How does the new operation compare to the small batch distilling you've been doing in house?
Calagione: It's really a whole new direction. Dogfish Head was one of the first craft distilleries in America. We opened our distillery almost 13 years ago. It was a tiny little homemade distillery that made about 20 cases of alcohol per day. Because it was in our restaurant/brewery it had a very tiny space. At our big brewery, where we have world-class equipment and quality control, we've been perfecting test batches of all grain, from scratch, barley-based vodka and gin washes, using our brewing lab and yeast equipment for the last 12 years. Now the front end of our distilling project is really all about making beer in the same world class equipment, sourcing the barley from around the world, growing our own yeast that we use to ferment the vodka and the gin. It is a very different process than the old one.
Paste: Are you focusing the spirits in a new direction too?
Calagione: Like on our beer side, our spirits recipes have always been very off-centered but we have been working for years on new, from scratch recipes, particularly starting with our Analog Vodka. Usually vodka by definition is flavorless and odorless but to do an off-centered vodka from scratch, we worked hard on test batches for years. We want to bring forward the earthy sweetness of the barley in the finished vodka, and then the nose of the vodka has a fruity ester-y smell to it from our proprietary Doggie yeast. That's the yeast we ferment our beer with, but it's also the yeast that we ferment our vodka and our gins with.
We're starting with the Analog vodka and two very unique and different gins. The Compelling Gin is distilled using a lot of citrus fruits that we use in our pub kitchen—a proprietary mix of citrus, not just the peels but the flesh from certain citrus fruit, and then other herbs and spices along with juniper for that one. We're starting the launch of our new distillery with just the Analog vodka, Compelling gin, and the Whole Leaf gin made with hops.
Paste: Besides the hops and wash, are there other ways you're integrating brewing techniques?
Calagione: We're using our quality control lab and yeast propagators. By doing the fermentation at controlled temperatures we can control how much aromatic quality in the finished vodka and gin is actually being contributed by the yeast.
Paste: What got you interested in craft spirits? Do you see it as the next big thing?
Calagione: I saw that as the next big thing when I opened our distillery almost 13 years ago, but back then, there were only a handful of craft distilleries in America. In the 12-13 years since we opened our distillery, it's been wonderful to see so many other creative, innovative small facility start-ups in America. We kept dialing in, perfecting and innovating our recipes knowing that someday we would have room at our big campus in Milton to put in a full-scale custom copper distillery. Now that we have that space we've built this beautiful distillery, built for us by Vendome, a multi-generation copper distillery maker form Kentucky.
Paste: What went into hiring the head distiller? Did you seek out specific qualifications because of your brand recognition?
Calagione: We got quite a few applications. Because we're dealing with a relatively young industry, we were looking for a seasoned veteran of commercial distilling. We found Graham Hamblett who has been a professional distiller in New Hampshire for over a decade, mostly making fruit based brandies and vodkas.
Paste: Do you know if it was daunting for him to come into such a position?
Calagione: I wouldn't want to speak for him. I do know that he's really enjoyed the creative process here and having the luxury of time. He started working with us two years ago and we're only opening our distillery next month. For the first two years he was working with Allison Schrader, our pub distiller, while he was helping to methodically plan the equipment and do test batches of the new recipes. We didn't want to rush this new distillery, and now we've had almost two years to plan the recipes and the business side of the distillery project.
Paste: So you've had a lot of R&D time?
Calagione: We sure have. It's fun R&D, sitting around trying this stuff for the last year or two has been a blast.
Paste: Are you focusing on areas of distribution where your beer is already successful?
Calagione: It's basically because we're a Mid-Atlantic based company. We want to get strong in our own backyard before we consider opening distribution up to the other states within our 31-state network.
I'm really excited to embark on this new, grander distilling experiment that we've been proud to be part of since the early days of the craft distilling revolution, and we're confident that craft distilling can continue to grow on a similar trajectory to the way craft beer has grown into the mainstream.