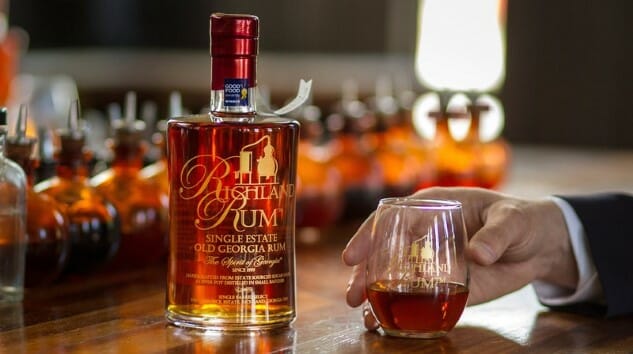 In 2018, if there's been one overarching trend to our liquor coverage that will probably stick with me into 2019 and beyond, it's been my ever-increasing interest in aged rum.
It's a little trite to constantly point out that aged rum is an easy and interesting transition for whiskey drinkers, but that doesn't make the sentiment any less true. It's the kind of catchy headline that PR people love, but it's honestly how 2018 played out for me—after years of writing about bourbon and rye, this was the year when aged rums snagged my attention. Whether it was tasting my way through the Mount Gay lineup of classic Barbados rums, or diving into the deep end of ultra-rich premium rums such as Diplomatico Reserva Exclusiva, I'm leaving the year with far more knowledge about this corner of the liquor-sphere than I had going into it. And along the way, Paste has also tried to expand its rum coverage with articles such as these five rum cocktails for National Rum Day.
Will aged rum ever become a huge, hyped industry in the U.S. that can be compared to the likes of bourbon? Perhaps not, but as more are converted to the rum cult every year, appreciation for this style of aged spirit will only become more pronounced.
And that's not just including imported rums, either. To close out 2018, I thought I would taste my way through another lineup—this one hailing from Paste's own home of Georgia, where Richland Rum's estate has been producing spirits for almost 20 years now. All that time has allowed the brand to put out a variety of different expressions and spirits, which I tackled side by side.
---
Single Estate Virgin Coastal Georgia Rum
This is the distillery's "Classic" rum, minus the four or five years spent in the barrel. Instead, the "virgin" rum is "unaged, unaltered and unfiltered," although it is sent to rest in toasted (not fully charred) oak for 60 days, just to mellow out a bit. It's then diluted to 86 proof and bottled, at a strength slightly higher than most white rums.
This sample, to me, was one of the most interesting, and perhaps the most unexpected. The spirit here, whether through the Richland distilling process or the brief rest in oak, picks up more sweetness than you might expect, which makes it really quite pleasant to drink neat. There's a slightly "malty" note that the barrel may have contributed, but the rest is pretty classic white rum: Grassy, piney, slightly vegetal and a touch of mint, with a twist of lime zest. The alcoholic heat is very mild, especially for a rum so young. You could absolutely sip this neat, although its true calling is to make a bang-up daiquiri.
750 ml bottles have an MSRP of $48. That's undoubtedly on the high side for a white rum, so whether this justifies the price is a matter of personal valuation.
---
Single Estate Old South Georgia Rum
Richland Rum's "Classic" is their standard aged rum, which spends 4-5 years in charred and toasted oak. Like the virgin rum, it's diluted to 86 proof, allowing for a bit more robust flavor than your standard, 80 proof bottles. Also important is the fact that Richland chooses not to blend rum barrels in pursuit of a specific flavor profile—each is bottled as a single barrel expression, which they refer to as "Single Barrel Select." Customers can actually use the online Barrel Tracer in order to look up specific tasting notes and details on each barrel, which is a pretty neat touch. They're clearly catering to the geekiest of consumers with that approach, which is probably a good idea as more rum geeks are born each year.
On the palate, I found the Old South Georgia Rum to be particularly smoothed out and agreeable. There's some light banana here, and some sticky toffee, caramel and burnt sugar in general. On the palate this stuff is positively whiskey-like—so much so, that I got out some Mount Gay XO to taste in comparison, which seemed much more distinctly "rummy." Alcohol burn is once again very low, making this spirit extremely approachable, if not quite as assertive as it could be. Mellow sweetness and a good variety of caramelized sugar notes are the draw here. When people write that something is a "whiskey-drinker's rum," this is definitely what they're talking about.
750 ml bottles have an MSRP of $59, which is probably easier for most customers to justify than the virgin, given the time this one has spent in the wood.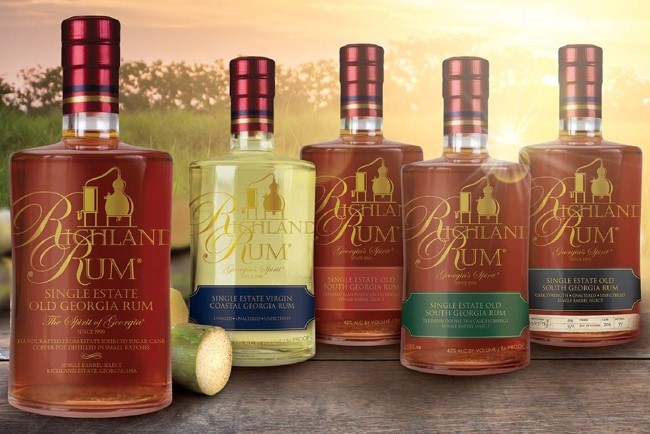 ---
Single Estate Old South Georgia Rum — Terrapin IPA Cask Exchange
This is an ambitious program, wherein Richland Rum "Classic" is aged for about 3 years in a charred barrel, before being emptied and transferred into another holding barrel, while the original barrel travels to Athens, GA's Terrapin Beer Co. The brewery then uses the original barrel to age a double IPA for roughly a year, before bottling the beer and sending the barrel back to Richland, where the rum goes back into it for another year. The final result: A bottle of rum that spent three years in a barrel, then a year in a new barrel, then another year back in the first barrel, which has now been infused with DIPA.
The result? Well, I admire the ambition, anyway. This has had some interesting effects on the rum, but not the ones I would necessarily have expected. One might think that the leading result of moving rum into a DIPA barrel would be a bunch of big hop notes, but these seem restrained to some increased notes of pine and florals. Instead, what seems more assertively amplified is the maltiness of the rum, as if it picked up significantly more toasted malt and sort of biscuity/bready tones from the beer than hop-derived ones. This also serves, along with a bit of increased bitterness, to make this rum expression seem considerably drier than the regular Classic, which should probably appeal to some drinkers. In general, though, I like the idea of this expression more than I like the result.
750 ml bottles have an MSRP of $79, which suffice to say, wouldn't make it my first pick.
---
Single Estate Old South Georgia Rum — Chateau Elan Port Cask Exchange
This is the same program as described above for the Terrapin Cask Exchange, except this time the partner is Chateau Elan Winery in Braselton, GA, which takes Richland Rum barrels that have been aging "Classic" for three years, and then uses those barrels to age port. The barrels are then sent back to Richland, where the rum can finish up in the port-soaked wood.
In execution, this one proved to be everything I was hoping the Terrapin Cask Exchange would be. The port barrel contributes all the flavor notes you would hope to find in the rum—lots of dark and red fruitiness, with notes of plum and raisin. This one is particularly rounded and smooth on the palate, but compared with the "Classic" it also seems to have had its oak and spice qualities amplified in a luxurious, very satisfying way. Of all the samples I tried, this one feels like the most perfect expression for neat drinking. I would definitely like to return to this again—it's a real gem.
750 ml bottles have the same MSRP of $79, which is a lot easier to rationalize this time.
---
Single Estate Old South Georgia Rum — Cask Strength
This is just the company's aged rum, presented in as pure a format as it gets, straight from the barrel. Proofs of individual barrels can apparently fluctuate quite a bit, between 105 and 120 proof, meaning that some may be quite a bit more fiery than others. My own sample weighed in at a respectable 111.4 proof.
And yeah, you can certainly feel the increase in ABV here, although I would still characterize this as an easier drinking rum than most in the same overproof bracket. What stands out is once again how positively whiskey-like the "Classic" expression is, both in its standard and overproof strengths. I genuinely believe that if you handed a neat glass of this to most tasters, they would think they were drinking some overproof, spice-heavy bourbon. That's not a criticism; just an observation. I don't know if I've ever had a rum that so ably bridged the gap between these two genres.
On the nose, this one seems distinctly "roasty" to me—I get more of the char than in the Classic, along with deep caramelization and plenty of spice. In particular, one of the signatures is an assertive licorice/anise note that lingers on the tongue after each sip. There's some grassiness as well, and a slight funk that might let you know you were drinking rum, along with a banana fruitiness that combines with the caramel to make me think of bananas foster. It's pretty decadent, but within reason. Once again, I think the obvious market for this is going to be the bourbon drinker looking to expand their horizons.
750 ml bottles have an MSRP of $89—a pretty pricey bottle of rum, but a potentially memorable splurge purchase.
---
Jim Vorel is a Paste staff writer and resident brown liquor geek. You can follow him on Twitter for more drink writing.