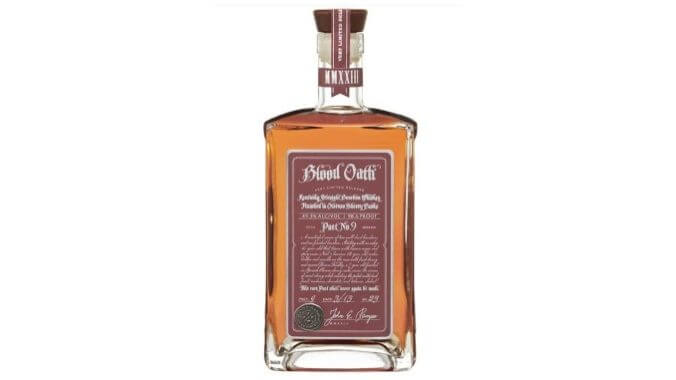 The Blood Oath series from Lux Row Distillers has a bit of a reputation for inconsistency, but that's really the point–variation and novelty are baked into the premise of a limited edition series of finished bourbons in which the blend and finishing barrels will never be the same twice. It's only natural that some of the Blood Oath entries will thus receive wider acclaim than others, as some of them will appeal to the bourbon geek "sweet spot," as it were. And I have a feeling that the newly released Blood Oath Pact 9 is going to be one of those sweet spot entries for a lot of people.
As ever, this ninth batch of Blood Oath was conceived by Lux Row master distiller and blender John Rempe. The blend on this one includes some particularly old stock–16, 12 and 7-year-old rye bourbons, which are finished in Oloroso sherry casks from southwest Spain. Rempe says the following: "Blood Oath Pact 9 contains three great bourbons, and the Oloroso Sherry cask finish has resulted in a deep, dark amber liquid with long legs. The Oloroso Sherry casks also bring out tasting notes of sweet sherry with hints of ripe fruit on the nose, as well as flavor notes highlighted by ripe fruits including figs, plums and raisins, with notes of molasses, chocolate and tobacco. This bourbon also provides a long-lasting finish characterized by fruit notes and complemented by hints of spicy oak. I'm proud to share Blood Oath Pact 9 with bourbon lovers."
So with that said, let's get right to tasting and see how the secondary maturation has treated this bourbon blend.
On the nose, the first thing standing out for me is fragrant cinnamon and warmly toasted, spicy oak–there's a lot of baking spice to be found, but also a distinct nuttiness, which combines with creamy caramel to suggest pecan praline. I'm also getting some of the dried fruit you'd expect to encounter with the fortified wine casks that are in play, along with a distinctive butteriness. The sherry character is mostly coming through in the fruitiness, rather than the more intense oxidized nuttiness one will see in truly powerful, "sherry bomb" scotch whiskies. Regardless, the overall nose is very pleasant.
On the palate, this one favors flavors that are sweet, rich and spicy–big, bold brown sugar and roasted nuts, with hints of darker, vinous fruit coat the palate on first inspection, leading to a plethora of baking spice notes. Old, sweet oak makes an appearance, equally weighted with spiced pralines and dried fruit. Again, there are notes here that are certainly appropriate for sherry, but I don't necessarily get the sense that Blood Oath Pact 9 is being defined by sherry flavors specifically–it's more a showcase for the extra-mature bourbon character, with sherry flourishes that I think work quite well. It's flavorful but gentle in its approach, with very little heat or ethanol presence, and it functions beautifully as a lower-proof neat sipper.
I am sure that there will be plenty of whiskey geeks on this one who are craving an even bigger or more intense proof point, or a more in-your-face sherry characteristic, but all in all I find the composition of Blood Oath Pact 9 to be really quite satisfying. It may be my favorite Blood Oath release to date, in fact. If the flavors sound appealing to you, it's definitely one to hunt down.
Distillery: Lux Row Distillers
City: Bardstown, KY
Style: Blend of straight bourbons
ABV: 49.3% (98.6 proof)
Availability: Limited, 750 ml bottles, $99 MSRP
---
Jim Vorel is a Paste staff writer and resident beer and spirits geek. You can follow him on Twitter for more drink writing.