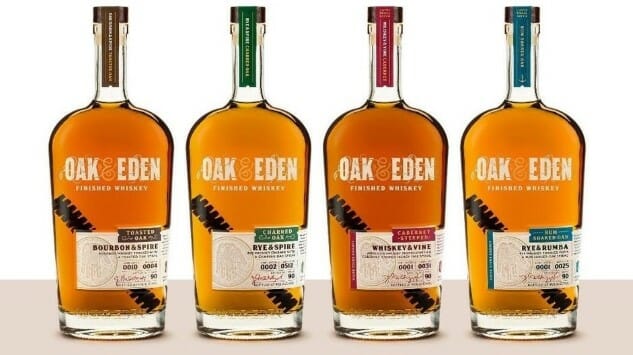 The whiskey market is unafraid of a good gimmick; this we can say for sure. Most of your classic craft whiskey gimmicks, however, tend to take place on the distilling or aging side of the process—few continue on into the liquid's life after being bottled. Oak & Eden, on the other hand, has stumbled onto something new.
This young company has built itself around an entire lineup of "spiral-finished" American whiskeys, all of which feature spiral-cut pieces of freshly toasted/charred oak (both American and French oak) inside the bottle, the idea being that they will further age via significant contact with a small amount of oak surface area while resting in the bottle. In effect, it's essentially like bottling your whiskey within an active barrel, or barrel-aging a pre-mixed cocktail. Currently, the company is offering four different products: A "standard" bourbon, a rye whiskey, a wheated bourbon, and a bourbon finished with red wine-steeped oak. All are young whiskeys (2 years, but non-age-stated) sourced from Indiana's MGP, like so many other craft distilleries (not that there's anything wrong with this), but Oak & Eden has at least hit upon a way to clearly say they've taken an active role in the process. The mash bills, meanwhile, are ones you're likely familiar with, such as the common MGP high-rye mash bill (60% corn, 36% rye, 4% malted barley) and the classic 95% rye bill.
For our purposes, we were sent samples of two of these products: Bourbon & Spire, the "standard" bourbon, and Bourbon & Vine, which is finished with an oak spiral steeped in Cabernet Sauvignon. In each case, the spirals are allowed to rest in the bottle with the whiskey for "at least 6 weeks" before heading to retail, which co-founder and CMO Brad Neathery describes as "the magic timeline for the wood to fully express everything it has to give before becoming completely saturated by the whiskey." This naturally led me to ask about if the whiskey would continue to pick up more oak character from the wood over time, eventually leading to it possibly becoming "over-oaked" during potential years of sitting on a store shelf or liquor cabinet, to which Neathery said the following:
As I'm sure you've already gathered, unlike a barrel which interacts with its environment, allowing it to breathe, our spire is fully submerged in a closed glass container of 90 proof whiskey, so it becomes completely saturated after that 6 week period, so no continued aging occurs, therefore no over-oakiness. We have discovered, however, that since we expose the wood to fire, it virtually becomes an activated charcoal filter, allowing the whiskey to continue smoothing out over time. We've been on shelves for just over 18 months and we have bottles that are about two years old … when I tell you they are the smoothest whiskies I've ever had, I'm not exaggerating.
So there you go. Ultimately, the presence of the spirals is a trick that allows the infusion of a greater sense of age into a relatively young spirit, while also potentially introducing new dimensions of flavor into the final product. Of course, we've sampled plenty of attempts to do exactly this sort of thing in the past (small barrels, barrels full of staves, honeycombed barrels), with some of these attempts to rush maturation turning out very badly indeed. So let's taste our Oak & Eden samples and see how they measure up.
---
Oak & Eden — Bourbon & Spire
MSRP: $39.99
This is the simplest of the Oak & Eden releases, and presumably what they think of as the base from which the rest of the products flow. As stated above, this is a two-year MGP bourbon, which is finished in the bottle for at least 6 weeks (before heading to retail) with a freshly toasted American oak spire—more or less the same sort of oak profile it previously aged on in its standard barrel. It's bottled at 90 proof.
On the nose, this one is a combination of toasty/dusty grain, with big spice aromatics. There is tons and tons of cinnamon sugar here, with other spice hints (a pumpkin pie spice-type melange) creeping out from behind the cinnamon. Even though it's American oak, I'm immediately reminded of the aromatics of toasted French oak.
On the palate, this is thin of body but huge in terms of spice, to the point where it's a bit dominant. Peanut brittle segues into sweet cornbread and wildflower honey before the long spice blast takes over, with tons of cinnamon, clove, and pumpkin spice latte. Does it make the overall product taste older than it likely would otherwise? The answer there is absolutely. However, it feels a bit like the overall profile was thrown a bit out of whack here, to the point of it seeming slightly artificial—an infusion of spices on top of a grainy, slightly green, younger bourbon, as if a tea bag of spice was used to give it a bit of extra oomph. Not bad, all in all, but it feels slightly on the guileless side.
Rating: 7.3
---
Oak & Eden — Bourbon & Vine
MSRP: $64.99
I wasn't really expecting Bourbon & Vine to be the selection I preferred of these two, as I haven't always been the biggest fan of wine-finished bourbons in the past, but I think Oak & Eden might be onto something here. This one is the same base bourbon, but instead of being finished with newly toasted American oak, its spire is a toasted piece of French oak that was then soaked in Cabernet. And really, I think it's the presence of the wine that elevates this one, simultaneously tamping down the intensity of the spices/spiral influence, while introducing some wine-derived flavors that are very welcome.
This one is similarly toasty/spicy on the nose, but the spice profile is fainter. It also introduces some pleasant notes of dark and dried fruit, which the mind if already sort of expecting visually, given the ruddy amber hue. All in all, the dried fruit character begins to evoke Spanish port wine, in a good way.
On the palate, my immediate thought is that this is the superior offering of the two. It is more rounded, less dominated by fresh spices, and considerably more subtle. Branded cherries (very much like cocktail Luxardos) are a signature note, playing well with cinnamon, plum and raisin. Sweetness is moderate and heat is tempered, helping this dram to drink neat a little bit more enjoyably than the Bourbon & Spire, although there's still a grain-driven impression that suggests a bit of youth. Still, I found myself enjoying this one more and more, and I could see it appealing to the consumer who is a fan of port-finished whiskeys such as Angel's Envy. Certainly, Bourbon & Vine has gone further in transforming the product they purchased from MGP, and I think there's a good thought process behind it. As it turns out, this expression also has the significantly higher MSRP, but I can see why.
Rating: 8.0
---
Jim Vorel is a Paste staff writer and resident brown liquor geek. You can follow him on Twitter for more drink writing.