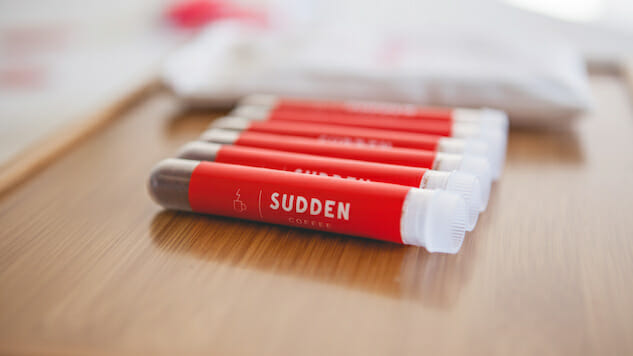 Mention the words "instant coffee" around a coffee lover, and you'll most likely elicit an immediate shudder. While the ease of brewing might make it a winner in some books, on the coffee social ladder, instant coffee can certainly be found on the bottom rung.
There's a reason for that.
Traditionally, the starting point for instant coffee is mediocre at best, often made from leftover crops of beans that could be unripe, moldy or full of insect damage. Then overbrewed, the resulting cup can taste burnt and bitter — not exactly the kind of drink you want to highlight on your breakfast table. But one company is trying to change that, revolutionizing how instant coffee is made and changing its reputation in the process.
Based in San Francisco, Sudden Coffee is the brainchild of Joshua Zloof and Kalle Freese, bringing customers specialty coffee in an instant format. They start with single origin beans and then use a custom brew method to make the coffee, which is then freeze dried using batch freeze dryers. The result is an instant coffee that tastes like a pour over you would get in a specialty cafe, bright and clean.
With specialty coffee culture continually growing, the company's timing is perfect, and allows them to reach not only those who are already professed specialty coffee fans, but those who are wanting to test the waters. "People are ready for quality instant coffee," says Zloof. "Specialty coffee has become widespread and people know what it is and want to give it a try. At the same time, it's still inaccessible outside major cities. For many people (like my dad), seeing someone make a pourover for the first time is something they just don't get. Why make such a fuss just to make a cup of coffee? What we try to do is take something high quality and put it in a form that people are comfortable with and easily understand."
Part of the goal of Sudden Coffee isn't just to facilitate you getting a quick fix; it's to democratize the world of good coffee. "I love being able to make specialty coffee really fun and 'gettable' for people. Specialty coffee almost by definition has been confusing and inaccessible. And that's too bad because I think specialty is a really incredible," says Umeko Motoyoshi, Sudden Coffee's Head of Coffee Production. "I love putting it in a form that is welcoming, connecting, and makes people feel good."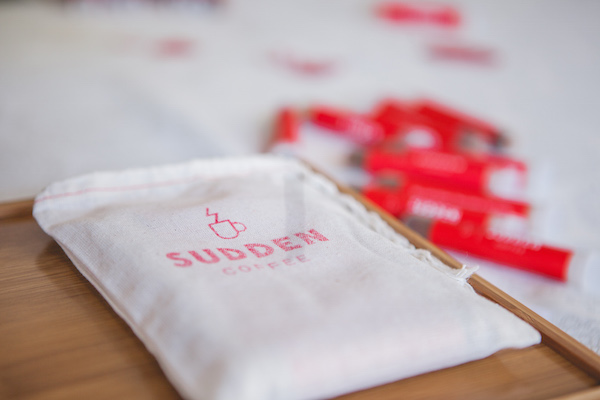 Photo courtesy of Sudden Coffee
There's a lot of technology that goes into making that happen. Initially, Sudden Coffee started out by brewing every cup individually. There's a limit to how many cups one can produce however (5,000 cups to be exact) and as they have grown, they have developed a custom brew method to achieve the same level of quality, but in larger batches.
Customers can subscribe to the Sudden Coffee Club, which gets members eight cups of coffee every month, from a rotating list of different coffees. Sudden Coffee's most recent addition to that list is the Helvetica blend. Blends are common in cafes, but what makes this one revolutionary is that it's blended after the coffees have been brewed.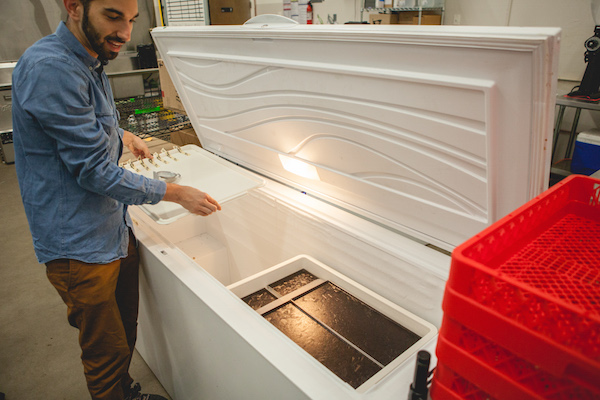 Photo courtesy of Sudden Coffee
Sudden Coffee is ultimately a mixture of new and old, the combining of one of the world's favorite drinks and new technologies that allow them to ensure a cup that not only tastes good, but is good for the producer on the other end.
"In the last couple decades, we've seen a true refinement of coffee. It went from being a commodity you drank at the breakfast table as an afterthought to something that has been honed with a lot of care to pull out some really unique flavors. Now that the industry has really transformed coffee, we believe it's time to put it in the hands of more people and take it back to being an easy, accessible drink," says Zloof. "We can take something magical, complex, and unique and distill it down to something very simple, basic, and easy to understand. In that way, we really believe we can democratize specialty coffee and make it easy for everyone, no matter where you are or how much experience you have with coffee."
---
Anna Brones is the author of The Culinary Cyclist and Fika: The Art of the Swedish Coffee Break, the founder of the print quarterly Comestible and runs Foodie Underground. Wherever she is in the world, she can often be found riding a bicycle in search of excellent coffee.