You've read the how-tos. You've watched the adorable videos of eccentric Italian chefs running dough through machines and churning out beautiful and delicious-looking pasta. You've sampled handmade noodles in restaurants and burst through the door of your home screaming, "It's my time! Today is my day to finally learn how to make pasta!"
Well, where do you start? What tools do you need, and what can you probably skip? We put together a list of five things you will want if you'd like to make professional-looking long pastas. Sure, you could save some money and make do without any of these tools, but for pasta that makes your friends look up from dinner and suddenly exclaim, "Wait, you made this"? Here's what you'll need:
1. Manual Pasta Machine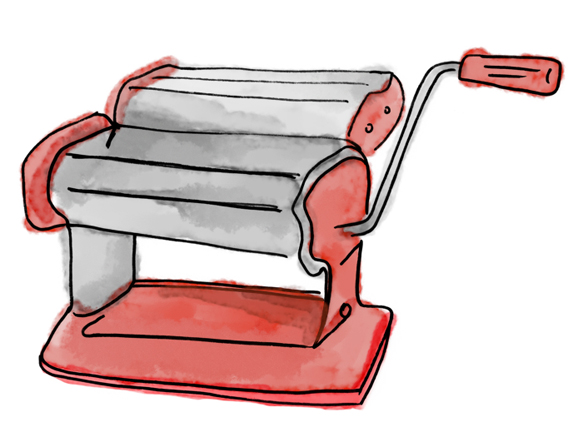 This one is a no-brainer. Pasta machines serve several purposes—they give you a ton of control when rolling out your dough, both in thickness and in width. You can try rolling out the dough on a table with a rolling pin, but if you're not precise or careful, your dough will have varying thicknesses and be shaped like a round pizza, instead of a long rectangle. A pasta machine has a dial for different thicknesses of dough, which allow you to create thicker sheets for lasagna, and thinner sheets for angel hair noodles.
Pasta machines can range from $25 at Walmart to $907 from Paderno World Cuisine. I've used several different brands over the years, and haven't been able to identify any noticeable benefits of a more expensive machine except that the cheaper ones cause the pasta to stick a little and roll out less crisp. I recommend the Roma 6 Inch Traditional Style Pasta Machine, setting you back a comfortable $35.15. One plus of the Roma is if you get tired of cranking the machine, you can order an Electric Motor Attachment to do the work for you.
2. Sifter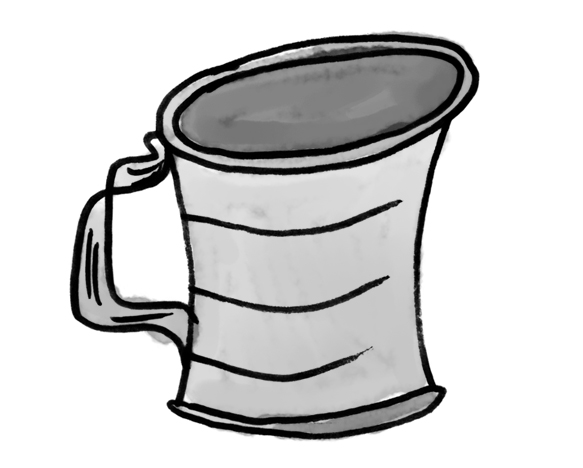 These things are wonderful. They allow you to evenly distribute flour while you're kneading, rolling, and cutting the dough. The extra flour keeps the dough from sticking to itself and making a horrific mess; I tend to err on the side of using more on my work surface, not less (clearly this tip is not for the gluten-sensitive).
The sifter pictured above is a Farberware model, which allows you to distribute flour by just squeezing the handle. I prefer this style over the kinds that require one hand to hold, one hand to crank, because you can keep kneading the dough while you add flour. I found my sifter at a thrift store, totally clean, for about two dollars—they seem to show up pretty often in cooking sections. Another cheaper alternative to the sifter is a dredge shaker, which does basically the same thing. However, they hold less flour than a sifter, so you may need to keep refilling.
3. Bench Scraper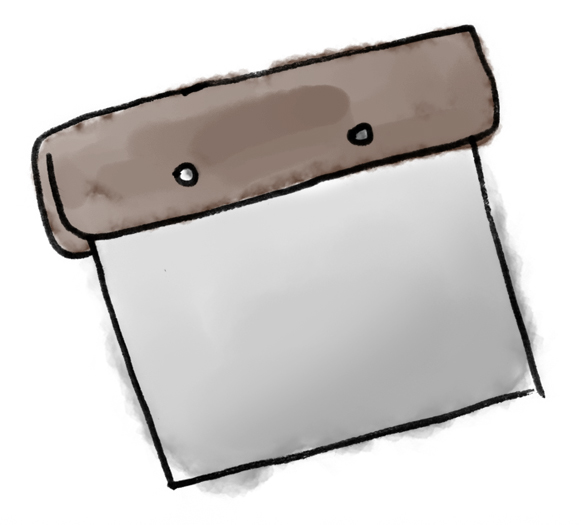 This is another tool you could technically do without, but will be so glad you dropped that extra five dollars or so. Once you've dumped your dough out on the table and begin to knead it, the table will become a sticky mess, and pieces of dough will start breaking off. Instead of using some random utensil to hastily scrape all of the bits back together, use a bench scraper to do it in one fell swoop. Once you're done, these make cleaning up your work surface much easier. You can also use them to cut the dough and chop pieces up for stews.
4. Drying Rack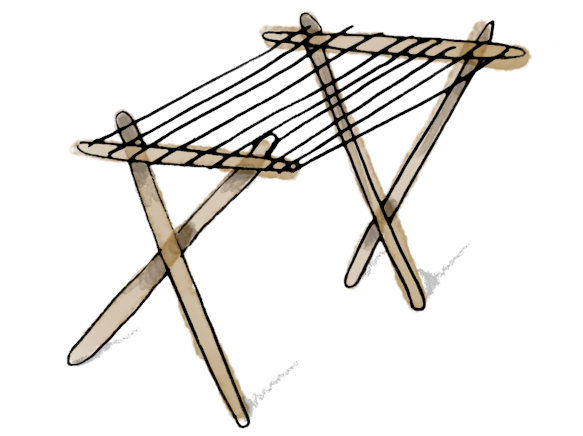 Making tons of pasta for an event, or for keeps? You have to put it somewhere, and you'll quickly feel like you're drowning in noodles. Hang the strands on a drying rack as you go, to keep them up off of the table—and each other—and allow air to circulate, providing an even drying process. Actually drying the noodles will take different amounts of time depending on the humidity and other factors in your kitchen—either overnight, or several days. But don't make the mistake of storing your pasta before it's completely dry. It'll mold! And beware of hanging noodles made from just regular all-purpose flour and egg (no semolina or other agents)—they'll snap at the joint overnight and end up on the table or floor.
Drying racks are another gadget that can vary widely in price. The collapsible model from Southern Homewares will run you about $11 and the top-of-the-line product from Marcato costs a whopping $80. A drying rack's efficacy really doesn't vary by price range—the only thing to keep in mind when shopping is how much real estate you need for your dollar. Even then, the drying rack from Prime Pacific has the same number of arms as the Marcato rack, for half the price.
If you're worried about the pasta snapping off, or you're making shorter pastas that don't hang (like rigatoni, penne, farfalle, etc), you may want to invest in a set of stackable drying racks from Eppicotispai. Another bonus of using this style of rack means you can also dry fresh herbs, mushrooms, and other delicious eats.
5. Double-Headed Pastry Wheel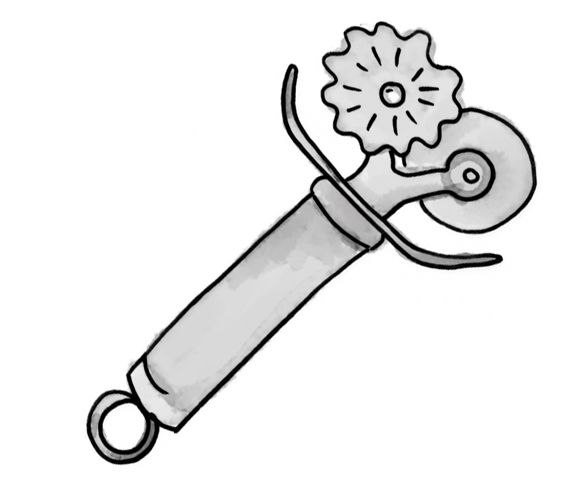 This is one of those things you grab when running through a cooking store because you're trying to get out without spending over a hundred dollars, but you see this little innocuous-looking contraption in the corner of the gadgets section, and decide "what the heck" and toss it in your already-packed shopping basket. (Anecdotal? Never.)
The fluted pastry wheel is another one of those things with several cooking uses beyond pasta—you can use this in baking cakes or pies as well (imagine an apple pie with little fluted crispy strips on top). In pasta making, this guy is used to a.) cut the dough, obviously, but also b.) produce fluted edges for farfalle, lasagna, and fancy wider noodles like tagliatelle and pappardelle. Sure, you could make farfalle with straight edges, but that's like stumbling at the finish line. The fluted pastry wheel is the icing on the cake. Get one. I recommend this super basic one from Fox Run.
Which are your favorite tools? Is there anything I missed that you can't live without?

Sarah Lawrence is Paste's Graphic Designer and Design Editor. When she's not at a computer (which is most of the time), she's either talking to people about making pasta, thinking about weird new side projects or drawing shit every day. Follow her on Twitter @whiskeyfoxxtrot for the GIFs, or check out her Skillshare class on handmade pasta here.