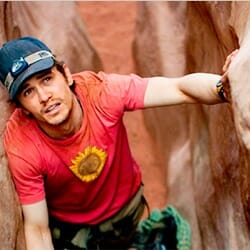 Director: Danny Boyle
Writers: Simon Beaufoy, Danny Boyle
Cinematographer: Anthony Dod Mantle
Star: James Franco
Studios: Fox Searchlight, Pathé
Stuck in place, Boyle's latest still maintains a frantic pace
A crime thriller. A drama about heroin addicts. A romantic black comedy. A zombie movie. A charming kids' flick. A space odyssey. And then an Oscar-winning tale about a poor, lovelorn boy in India. If there's another director alive with the range of curiosity that Danny Boyle has, he's not as talented. So naturally for his 9th film, Boyle decided to tell the true story of Aron Ralston, a mountain climber and canyoneer who was trapped alone by a fallen boulder in Utah for 127 hours in 2003.
The bulk of the film takes place in the gully where Ralston (James Franco) tries to free himself after a nasty fall. There are occasional flashbacks and dreams, but more scenes of a loner leaving messages for his loved ones on a camcorder, pondering his choice of going through life alone and, most importantly, trying to get the hell out of the gully. Franco, as a one-man show, remains engaging in a surprisingly frenetic film.
It's a harrowing story, expertly told by Boyle. In the opening shot, we see crowds of people at ballgames, mosques, city streets. And then we see a man trying to get away from it all and finding some of the most isolated, barren and beautiful landscape in America. He's alone with his music and enjoying the freedom.
But during the ordeal, all he can think of—besides his thirst and, well, the giant rock on his hand—is his longing for other people. Connectedness. Companionship. Or even just a raven to fly overhead. By the time he gets trapped, we don't know Ralston very well, but we care deeply about his plight, even if we already know how it ends. Franco's character is kinda funny, kinda crazy and a complete loner. But his story taps into that deepest emotional center—survival. And, better still, survival comes with the hope of a kind of redemption. Yes, the penultimate scene is gruesome and difficult to watch. But the ending is so triumphant to the soundtrack of Sigur Rós' "Festival," that it's well worth reliving Ralston's ordeal.
Along with Franco, the music of A. R. Rahman and the cinematography of Anthony Dod Mantle, who both worked on Slumdog Millionaire with Boyle, anchor the film. Another genre mastered, Mr. Boyle. Now let's see what you can do with a 16th-century period drama. Or maybe the next Pixar movie.