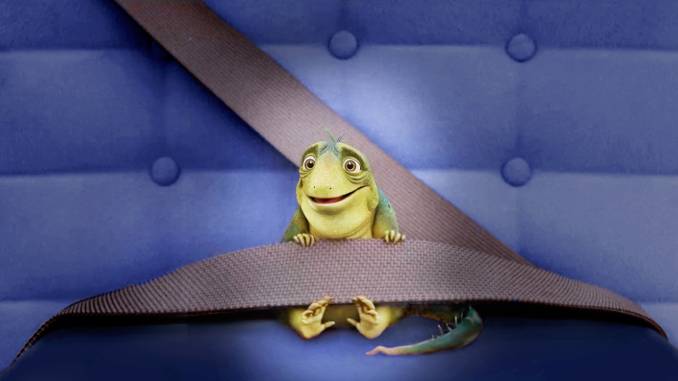 Truth be told, I'm not really in the Adam Sandler demographic. I don't mind him as an actor. In fact, I found him rather compelling in movies such as Hustle and Uncut Gems. But I've never been a fan of his aw-shucks onscreen persona or that particularly grating whine that his schtick can sometimes involve. I'm also amused by what one of my (non-Paste) editors described as the "Adam Sandler Family Industrial Complex" when discussing potential interest in reviewing You Are So Not Invited To My Bat Mitzvah. All of this to say, I was pleasantly surprised by Leo, an animated movie starring Sandler, his wife Jackie and kids Sadie and Sunny, as well as an ensemble cast including the likes of Bill Burr, Cecily Strong and Rob Schneider. 
My two kids (ages 13 and 11) and I didn't expect much from Leo the lizard (Sandler), a class pet, and the friendship that evolves between the reptile and the Florida students in their final year of elementary school. But we were pleasantly surprised; my kids were in stitches at several spots, while I was quite amused. 
Leo proved to be a perfect, lighthearted watch on a rainy evening that left us with a feeling of bonhomie before switching off the lights for the night. Will it help my children discover the comedic antics of the former SNL star? Unlikely. But now they might not have quite the same bored face when I pull up a clip of Sandler singing "The Chanukah Song," especially when I tell them it's the same guy who sang a pretty grim lullaby as Leo.
Part of Leo's charm lies in the story. Leo is 74 years old, and has shared the same glass tank with Squirtle the Turtle (Burr) for more than seven decades. When Leo learns that he may only have another year to live, he wants to make a mad dash for the Everglades and catch the sunsets in the wild before his own final sunset.
An opportunity presents itself when the mean substitute teacher Mrs. Malkin (Strong) forces the students to take one of the pets home for the weekend. Summer (Sunny Sandler), the class keener who can bore everyone into facial paralysis with her neverending spiels, gets the first assignment. While making his escape, Leo accidentally lets slip that he can talk. And it turns out that he's a good listener too. Years of watching the kids go in and out of the classroom makes him a de facto therapist, and he dispenses his wisdom generously, often in nonsensical songs.
Soon enough, Leo becomes an advice expert for the whole class. Each student thinks they are the only one who knows Leo can talk, so there's the added element of keeping a secret. But it all comes to head when jealousy and betrayal are added to the mix. Suddenly Leo finds himself unwillingly in the Everglades, and a rescue mission is mounted.
Given the simplicity of the story, most of Leo's appeal comes from its comic observations. Take, for example, Leo and Squirtle discussing the new batch of kids introduced at the beginning of the year. The montage is full of wisecracks you might expect at an elementary school stand-up:
"There's the snotty clique."
"The Tween Queens."
"The Façade Squad."
"Peaking at 11."
Another moment that got a chuckle out of me was when the two geezer pets bandied about regarding the onslaught of kids named Cole, reminiscing on the bygone Justin days.
Since this is a script co-written by Sandler, there's gotta be a couple of scatalogical gags. So there are some farts and butt jokes involved, a questionable tattoo or two, and a couple of suggestive lines that err more on the PG-13 side of things—a demographic older than the kids portrayed in the otherwise PG movie.
My own children thoroughly enjoyed themselves, even though their other current must-watch streaming content includes Marvel series and K-dramas. The juvenile humor appealed to them. Also, it's been a few years since they've graduated from elementary school, so Leo was #nostalgic for them. (I know, I know.) My daughter especially kept grinning, with pronouncements of "Oh these kids!" when it came to the depiction of the kindergarteners—earning her an eye-roll from me.
There's no grand lesson to take away when the credits roll for Leo, which is actually a good thing. Both Leo and the students in his class figure out ways to deal with life and its myriad problems. The class graduates, Mrs. Malkin finds a new purpose beyond substitute teaching, and Leo gets a new lease on life. 
Leo's animation is fine; no fancy tricks on the CGI front. Its songs are not schmaltzy, and as such are unlikely to become annoying anthems such as "Let It Go." In that sense, Leo is totally unlike a movie like Luca, for example. The wistful, musical Luca, a charming story about abiding friendship, makes that Pixar movie repeat watch fare in my household. However, if you're looking for a general mood lifter, and something easy to watch, Leo is a great option. Besides, now I am kind of interested in what the Sandler family comes up with next. An intergenerational sports film? Some kind of family murder mystery? Bring it on.
Director: Robert Marianetti, Robert Smigel, David Wachtenheim
Writer: Adam Sandler, Robert Smigel, Paul Sado
Starring: Adam Sandler, Bill Burr, Cecily Strong
Release Date: November 21, 2023 (Netflix)
---
Aparita Bhandari is an arts and life reporter in Toronto. Her areas of interest and expertise lie in the intersections of gender, culture and ethnicity. She is the producer and co-host of the Hindi language podcast, KhabardaarPodcast.com. You can find her on Twitter. Along with Bollywood, Toblerone bars are one of her guilty pleasures.