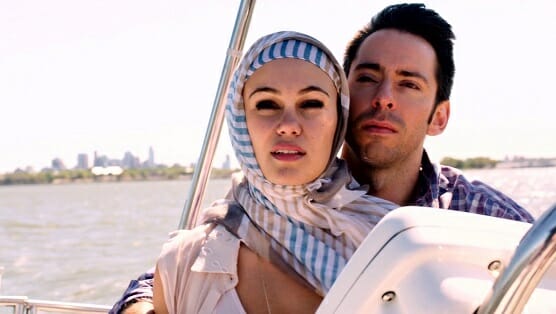 Just in time for Cupid's special day comes Amira & Sam, the feature debut from writer-director Sean Mullin. The thoughtful, sincere romance, in theaters now and also available on VOD, crosses political divides and features Martin Starr (Freaks & Geeks, Silicon Valley) as Sam, an army vet readjusting to civilian life after a lengthy deployment overseas. Enter Amira (Dina Shihabi), the Iraqi niece of Sam's war buddy, who is wholly uninterested in anything and anyone associated with the American military. That is, until immigration troubles with Amira force the would-be odd couple together.
Stars Martin Starr (@MartinStarr), Dina Shihabi (@DinaShihabi) and Paul Wesley (@PaulWesley), along with writer/director Sean Mullin (@SeanChrisMullin), will watch the film and live tweet commentary tomorrow, February 14 starting at 4 p.m. ET.
Check out the exclusive clip above and ready your hashtags for Saturday's viewing party.