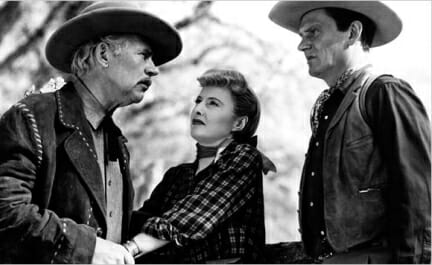 DVD Release Date: June 24
Director: Anthony Mann
Writers: Charles Schnee, Niven Busch (book)
Cinematographer: Victor Milner
Starring: Barbara Stanwyck, Walter Huston
Studio/Run Time: Criterion Collection, 109 mins.

Greek tragedy in the old West

In A Personal Journey with Martin Scorsese Through American Movies, the iconic filmmaker says that, of the four Westerns director Anthony Mann released in 1950, only "The Furies could have been a Greek tragedy." There are also grace notes of King Lear and Dostoevsky present amid the film's severe landscape. So it's no surprise that, when The Criterion Collection added the first Western entry to its esteemed catalog, it opted for such an idiosyncratic choice. Rather than gunplay and granite-faced cowboys, The Furies instead simmers with land rights, hostile business takeovers, and the crackling Electra complex between Stanwyck and Huston. Huston plays cattle baron T.C. Jeffords, while Stanwyck plays his daughter, Vance. Alternately deemed a she-fox, unbridled filly and herd of stampeding cattle, Vance is intent on inheriting the family land—known as the Furies—until her father brings home a new bride and hangs her paramour. It's then that we learn the adage, Hell hath no fury like Barbara Stanwyck scorned.