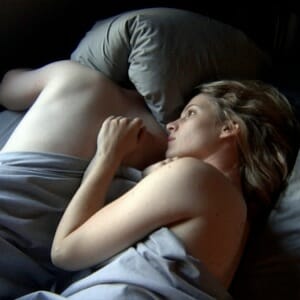 Joe Swanberg and Adam Wingard are either reviled or celebrated for innovating the mumblecore film movement, depending on where you stand on this indie niche's preciously unenunciated dialogue, Godard-esque non-acting and borderline plotless screenplays. It's a hit-or-miss style from conception, although in pictures like 2007's Hannah Takes The Stairs, starring the charming (and now bankable) actress Greta Gerwig, it worked remarkably well. Swanberg and Wingard's latest film, Autoerotic, also employs the mumblecore aesthetic efficiently to tell four different tales of Chicago couples in their late 20s or early 30s exploring sexuality and all it's fraught with.
Autoerotic is not shy about showing its cards, and the actors' and actresses' sex scenes may indeed go beyond simulated at times, at least in the level of intimacy required. Apparently this is why the film is being released by IFC Midnight, the shadowy subdivision of IFC Films, geared more towards horror and "erotic art house." It's not like Autoerotic is a porno—in fact, the erotic nature of the sex scenes is derived more from their candidness and innocence than from graphic closeup shots. It's also a very funny film at times. But it's the anxiety and insecurity of sexual relationships that really fuels the stories, unpleasant elements that hover around us all, even in the most comfortable situations.
The first story is about a couple who breaks up because of the guy's insecurities about his penis size. He begins scarfing down enhancement pills, but the results are not quite what he anticipated. The second story revolves around public masturbation culminating in assisted autoerotic asphyxiation. The third humorously details what happens when a third party is brought into the mix to help a pregnant woman achieve orgasm. And the fourth tale is about a man who is consumed with watching his past exploits on his computer. For all the seemingly bizarre fetishes of these experiences, and the humor that goes along with it, the actors play the scenes loosely and convincingly make the stories relatable. And Swanberg and Wingard's direction is spare, setting up simple shots and allowing the cast to emote, even if it is extremely subtle at times. The soundtrack varies between indie-pop songs used as chapter breaks, and ominous tones and piano lines that would sound right at home in Eraserhead.
Autoerotic isn't shown in 3D, not a superhero makes his or her presence known, and it's not a sequel, reboot, or rehash. Rather, its pleasure is the subdued titillation derived by the follies and foibles of human sexuality, and Swanberg and Wingard explore and exploit these discomforts cleverly and comically.
Director: Joe Swanberg, Adam Wingard | Stars: Kate Lyn Shiel, Amy Seimetz, Lane Hughes, Kris Swanberg, Ti West, Frank V. Ross | Studio: IFC Midnight