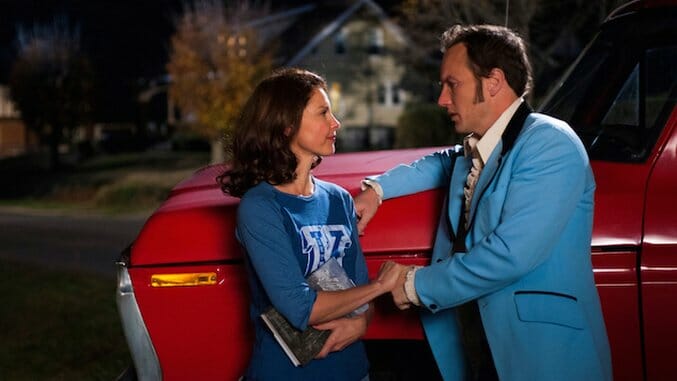 In the early '90s Kurt Vonnegut had some advice for screenwriter and friend Bob Weide, who was adapting Vonnegut's Mother Night at the time. He suggested thinking of the book as "a friendly ghost hanging around the house," and urged Weide to consult the source material only as it served his own interpretation of the prolific writer's fictional memoir.
Though Weide's final product garnered mixed reviews, Vonnegut's tip is almost universally acknowledged. Authors are warned about adapting their own novels for the screen or having too heavy a hand in someone else's—they're too close to the story; writing to motion pictures is wildly different from writing to static pages; darlings better off dead are kept alive (if hooked to a ventilator); and so on. Sometimes Gillian Flynn and a Gone Girl situation come along, but not often.
Watching the brutally mediocre indulgence that is Adriana Trigiani's variation on her own Big Stone Gap, adapted from the 2001 best-selling namesake, recalls Vonnegut's advice. As the giant title card appears, in a Chitty Chitty Bang Bang cartoon font from the Gold Rush, during a song that sounds like a Pandora country station was left on after a baby shower, things already feel clumsy. Trigiani's small-town, smaller-stakes tale introduces Ave Maria (Ashley Judd) of Big Stone Gap, Va., an unmarried 40-year-old who doesn't know where the time's gone.
Ave runs the family drugstore and heads the annual production of Trail of the Lonesome Pine. She and her closeted boyfriend, Theodore—played by John Benjamin Hickey, whose recent turn in Truth also sees him as an undersexed domestic support system—are content to busy themselves with the play and keep their minds off addressing their just-friendship. Despite some of the hairstyles—and a conservative Virginia's notably relaxed attitude about birth control pills and the town thespian's homosexuality—the year is 1978. In her opening voiceover, Judd's character announces with little regret, "It seemed like happiness was for other people." And first-time director Trigiani, whose screenwriting background is mostly TV, has outfitted her debut with the tonal gravitas of a network multi-camera sitcom strong and fast.
Big Stone Gap was shot on location in Virginia, the sprawling purple mountains majestic, the weather a year-round utopian hybrid of each season's most picturesque qualities. But the plot points that will string along Gap's sputtering dramatics are not as pretty: An estate battle between Ave and her aunt Alice that may have served some semblance of purpose in the book here comes across as afterthought, and makes for the film's emptiest and most belabored subplot. Ave's romantic journey commences when she runs into strapping, well-to-do coal miner Jack Mac (Patrick Wilson) while on a house call to his mother. He walks her out to show off his new truck, and Ave—all 40 years of her—literally runs away. He's in love. We don't care.
Trigiani spends some time trying to build a thematic bridge between the humble, noble life of a coal miner and the heartbeat of her native city—or Ave's love life, or her family life, or her friendships, mix and match at will—but the effort lands Big Stone Gap somewhere in the middle of October Sky, Dr. Quinn, Medicine Woman and a Martina McBride music video. Lazy dialogue and dialect abound, though an appearance by the word "churlish" deserves an honorable mention.
Some of the blame may be with Judd. The Double Jeopardy and Heat star doesn't substantiate hometown enchantment as well as her cast mates. A scene in which Ave and Theodore work out their own director-actor grievances is one of the few where Judd packs believable heat, but it is also wildly misplaced. Save for Jenna Elfman's (Dharma & Greg) turn as the whirlybird town temptress Iva Lou Wade, the performances struggle underneath Judd's lukewarm one. Not even the monarchial Whoopi Goldberg or impossibly funny Jane Krakowski (30 Rock, Unbreakable Kimmy Schmidt) can buoy Big Stone Gap—a film whose own progenitor turned it into a face only a mother could love.
Director: Adriana Trigiani
Writer: Adriana Trigiani
Starring: Ashley Judd, Patrick Wilson, John Benjamin Hickey, Whoopi Goldberg, Jane Krakowski
Release Date: October 9, 2015