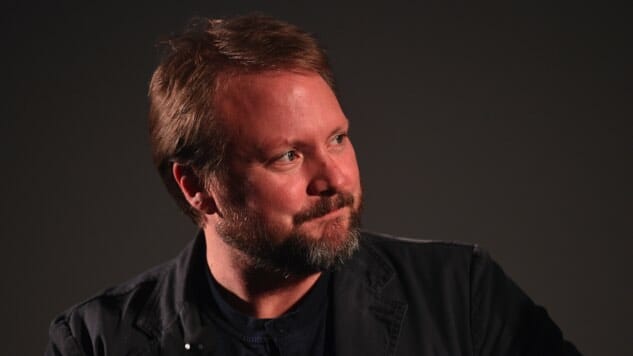 "Everything We Know about … " is Paste's series of deep dives into the forthcoming projects we're most excited about. Explore them all here.
Details are still trickling out about Rian Johnson's original murder mystery Knives Out, one of the biggest projects to come out of this year's Toronto International Film Festival in September and his first film since last year's acclaimed Star Wars: The Last Jedi. Here's everything we know so far about the highly anticipated project.
Plot
We still don't have many plot details on Knives Out, which writer-director Johnson has described as "his contemporary version of the locked-door mansion murder mystery," inspired by classic Agatha Christie murder-mystery novels.
Based on Johnson's inventive work as writer-director on films like Brick, Looper and The Last Jedi, though, we can expect a novel (and possibly divisive) take on these classic mystery tropes.
Cast and Characters
There have been a number of casting updates since the Knives Out news first broke, with Daniel Craig attached. The soon-to-be-former Bond is reportedly playing a detective assigned to solve the case in the modern, Christie-inspired mystery. At the time, Deadline also reported that filmmakers were looking to fill six-to-eight major roles around Craig.
Still, we haven't gotten many more details about the nature of Craig's character, or about many of the new additions to the star-studded cast.
Chris Evans joined the cast in an unknown role in early October, the day after he said goodbye to his run playing Captain America in the Marvel Cinematic Universe. A few days later, rising Atlanta and Sorry to Bother You star Lakeith Stanfield also came onboard, with sources revealing that Stanfield, as with Craig, would be playing a detective. That same day, Variety reported that Oscar nominee Michael Shannon was in talks to join the star-studded project, and following cast updates suggest that Shannon has indeed accepted a role in the film.
Later in October, Blade Runner 2049 star Ana de Armas signed on as the project's first announced female cast member so far, although her role has yet to be revealed. Veteran actor Don Johnson has since also boarded Knives Out in an undisclosed role.
Behind the Scenes
Johnson will direct Knives Out from an original, self-penned script, which hit distributors by surprise ahead of the Toronto International Film Festival, where the project hunted for buyers in September. Independent studio Media Rights Capital acquired world rights for Knives Out in the early days of the festival, with a commitment upwards of $40 million, although no studio is yet attached to distribute.
Johnson is also producing Knives Out alongside his longtime partner Ram Bergman, who is credited as a producer on all of Johnson's films to date, as well as his forthcoming standalone Star Wars trilogy, the duo's next project following Knives Out.
Knives Out is set to start production in November.
The November start date was made possible by director Danny Boyle's sudden departure from Bond 25 in August, which delayed production on that project but also freed Craig to shoot Knives Out next month. Bond 25, Craig's final installment as the iconic British spy, will now be directed by Cary Fukunaga and is set for release on Feb. 14, 2020, with Knives Out arriving sometime before in 2019.
The Latest
Fresh off a record-breaking opening weekend for Halloween, Jamie Lee Curtis has joined the all-star cast of Knives Out as of Oct. 26. Curtis joins Ana de Armas as Knives Out's second announced female cast member to date, although neither of their roles have yet been revealed.
Johnson revealed on Oct. 30 that Knives Out has begun production.
Aaaaaaaaaaand we're off pic.twitter.com/JWN1uK7DsN

— Rian Johnson (@rianjohnson) October 30, 2018
A Nov. 2 THR report reveals that Toni Collette has joined the Knives Out cast, as well, and Christopher Plummer is in talks to follow suit. The details of both actors' characters are unavailable. Said report also notes that the film is "is said to hearken back to the more singular vision of Johnson's movies such as Brick and Looper."
On Dec. 9, Johnson revealed via Twitter that Knives Out only has two weeks of shooting left, also praising his cast.
Two weeks left in the shoot! It's flown by, & with this group of actors every day is like https://t.co/cy8yGAarz9

— Rian Johnson (@rianjohnson) December 9, 2018
As of Dec. 13, Knives Out now has a distributor and release date. Lionsgate is set to distribute the film worldwide, and has set a U.S. release date of Nov. 27, 2019.
Production has wrapped on Knives Out as of Thursday, Dec. 20. Writer-director Johnson took a celebratory leap while sharing the news on Twitter.
Aaaaaaaand that's a wrap on KNIVES OUT!! Thanks to the best cast and crew of all time. I cannot wait to put this one together. (And the two exclamation marks are not part of the official title but looking at them here I'm thinking maybe they should be?) pic.twitter.com/riqcNH0RnD

— Rian Johnson (@rianjohnson) December 21, 2018