In Little Women, Greta Gerwig Lovingly Knits Together a Brilliant Adaptation from the Classic Story
Gerwig's second directorial effort uses compassionate and unexpected storytelling techniques to renovate the beloved coming-of-age tale.
Movies
Reviews
Little Women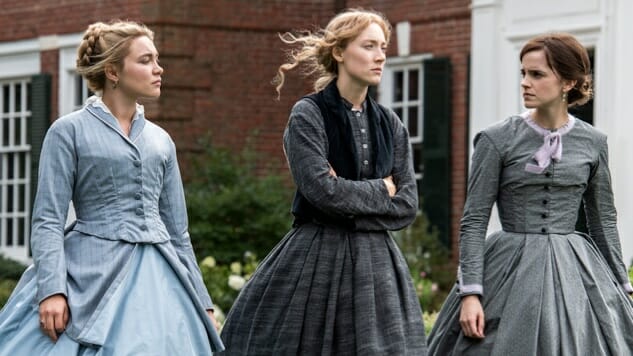 "Never liked girls, or knew many, except my sisters," Louisa May Alcott once wrote.
Yet, the problems with—and questions raised—by Alcott's almost universally adored novel Little Women have always had to do with the men. Why did Jo March and Laurie—for whom a great, fiery love affair seemed written in the stars—not end up together? Why on earth did Laurie turn to the flouncy youngest March sister, Amy, after Jo turned him down? And then, why, oh why, did Jo finish her story betrothed to an older writerly professor, when the very core of her character seemed so tied to her strong feelings about marriage? When Alcott herself, like Jo, swore never to marry? "I'd rather be a free spinster and paddle my own canoe," she once said. But unlike her quasi-autobiographical heroine, Alcott never wavered. She died a single lady.
These plotlines and coinciding facts have been points of contention among scholars, critics and fans of the cherished book for the better part of 150 years. Little Women has been adapted for TV, film, radio and the stage dozens of times, the most notable version (until now, arguably) being Gillian Armstrong's 1994 film starring Winona Ryder as an especially hot-headed Jo. But even that down-to-earth rendition—one that introduced Little Women to a whole new generation of bookish girls who were raised on American Girl, I might add—doesn't approach these inconsistencies and questionable romances with as Greta Gerwig's spunky, magical Little Women. It is rhythmic, vibrant perfection, and, like Gerwig's directorial debut, Lady Bird, (which also starred Saoirse Ronan as its lead), has an uninhibited appreciation for life.
Jo (a wisecracking, wonderful Ronan) reprises Alcott's "canoe" line in Gerwig's adaptation. Like any good Jo, she is fiercely independent, except when it comes to her sisters: She dotes on sweet Beth (Eliza Scanlen, who puts a wise spin on the doomed girl), reveres the poised Meg (an accurately cast Emma Watson) and brawls with feisty Amy (played by Florence Pugh, who breathes new life into the oft-detested character). Marmee (the earnest Laura Dern) is the whole family's moral compass, constantly encouraging her children to do the most good. I can't say I've seen every single Little Women adaptation ever made, but Gerwig, who also wrote the script, weaves the women's storylines together in a more clever and effective manner than that of any of those I have seen.
Alcott's book was initially released as a single volume that ended with Mr. March's return from the Civil War, the halfway point in the final version. Part two followed after the first sold out its original 2,000-copy pressing in just two weeks (per this handy New York timeline). The book follows a sensible chronological order, beginning with the attempts of the four March girls to finagle a Christmas celebration despite living in genteel poverty and ending with the three surviving sisters beginning their lives as wives and mothers.
Gerwig doesn't just flip Little Women's narrative arc on its head—she cracks it open and scrambles it. The film opens on a fully grown Jo making her way in New York City selling stories to the popular press and serving as a tutor. We're introduced almost immediately to Friedrich Bhaer, Jo's professor friend to whom she'll later give her hand, which makes their relationship—and gorgeous umbrella scene at the film's end (you'll know the one)—all the more convincing. Also in the city, Jo converses with a grouchy publisher (Tracy Letts, another Lady Bird export) who urges her to marry off any "girl" protagonists in her works, which would explain a few things.
From there, the film toggles between past and present, never fully committing to one or the other, until the two timelines collapse into one another. Gerwig often uses Jo's relationship with Beth, who catches scarlet fever and never fully recovers before her death, to illustrate the passage of time. It's Beth who encourages her to keep writing and whose memory inspires Jo to write a novel even after she's gone. And it's Beth's death that brings Laurie (Timothée Chalamet) together with the Europe-traversing painter Amy, who's being pursued by a rich suitor whilst traveling with Great-Aunt March (Meryl Streep). Pugh plays out Amy's prissy, childish tendencies (yes, she wants to trade limes and go ice skating), but brings new depth to the character. Kristen Dunst played a very loud and particular Amy in the 1994 version. Pugh's Amy shakes off the superficiality, leaving us with a character who is daring and creative. In the end, when Amy and Laurie elope on their way back to the States, their marriage feels like something that could have actually happened in the lives of these characters more than Alcott just delegating Laurie to the last available March sister.
Gerwig also gives special attention to one of the story's most touching subplots—that of Laurie's grandfather Mr. Laurence and his affection for Beth. Mr. Laurence gifts his piano, silent since his own daughter's death, to Beth, who fills his house with music again. When the musically inclined March sister herself passes away, Laurence's scenes are nothing short of heartbreaking.
Watching this Little Women adaptation was such an engrossing experience that looking back at the film's events in the rearview feels more like remembering a mood rather than recalling a sequence of scenes. The two timelines flowed together seamlessly as each actress brought such color to her role that all the moments have since swarmed together in my mind, leaving me with a content glow more than anything. Gerwig has a way of making her audiences feel something different at every beat. Maybe Little Women isn't the radical feminist pamphlet we all want it to be; maybe it was never progressive and never will be. But its triumphs are the little ones: a gust of sandy wind covering Jo and Beth as they cling to each other on the beach, Marmee taking the scarf off her neck to give to a weary father who has lost his sons to the war, the poor John Brooke (James Norton) giving up a new suit so his wife Beth can have a fancy dress. These moments of compassion relay new meaning in Gerwig's film, even if we've seen them 100 times before.
I left the theater blinking back tears and with my outlook brightened. Many of the year's greatest films have dealt heavily with class and race, but it is perhaps during the most socially turbulent times when personal movies like this one can speak the loudest. By looking at a supposedly small picture—both the insignificant and epic aspects of one family's domestic life—rather than the big one, Little Women remains a story that rings true in any era. But Gerwig's interpretation feels distinctly of this one, while still keeping true to the heart of Alcott's treasured words. If you're a living, breathing person with feelings and emotions, it is almost guaranteed to set your soul aglow.
---
Director: Greta Gerwig
Writer: Greta Gerwig (written by); Louisa May Alcott (based on the novel by)
Starring: Saoirse Ronan, Emma Watson, Timothée Chalamet, Florence Pugh, Eliza Scanlen, Laura Dern, Tracy Letts, Bob Odenkirk, James Norton, Louis Garrel, Chris Cooper, Jayne Houdyshell, Meryl Streep
Release Date: December 25, 2019