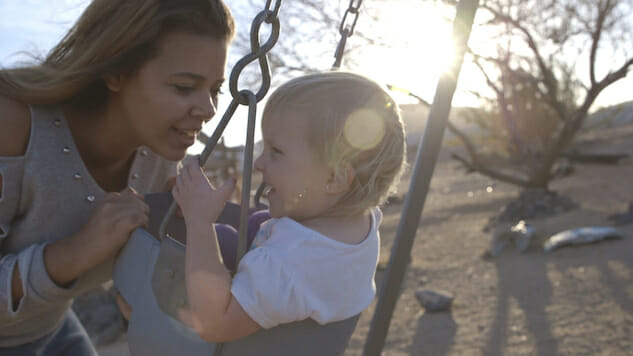 An affecting and enlightening documentary, The Bad Kids offers a fly-on-the-wall look at efforts to help students graduate high school despite their personal struggles and looming sense of hopelessness. These students attend Black Rock High School in Yucca Valley, Calif., a self-paced school where teachers and staff strive to help 11th and 12th graders earn the credits they need to graduate. The ability to change perspective and attitude, to see challenges as opportunities are mindsets the teachers and administrators like principal Vonda Viland must instill in these students to make a change for the better. For Viland, who acts as the film's guiding conscience and whom we see most often, she is tasked with giving them the confidence to persevere now and beyond high school. As The Bad Kids will reveal, her challenges are considerable. She must motivate adolescents with forces internal and external working against them.
The students we see at Black Rock live in poverty; they're homeless; they have parents who have left them or abuse drugs; they're drug abusers themselves; and they feel trapped in desolate towns in the Mojave Desert with little hope for a better future. Co-directors Keith Fulton and Lou Pepe emphasize the low-income, poverty-stricken look of this landscape, where the wide swath of desert and endless highways suggest abandonment and loneliness, but which may also be seen as vistas of distant opportunity.
We learn about the teenagers' lives through conversations between Viland and three main students: Joey, a drug user who is visited at home early in the film by his probation officer; Lee, who has a baby with fellow student Layla; and Jennifer, who says her father puts her down and insists she'll amount to nothing. By extension, these are the obstacles that Viland faces as she offers her matter-of-fact advice and encouragement. Viland is candid to the point that she lets the students know she realizes the act of graduation is a game, and the diploma is a way to meet society's expectations. In her practical view, it's a game that has to be played.
Through Viland's one-on-one conversations with her pupils, The Bad Kids shows how difficult it can be to motivate students like these to overcome the apathy that threatens to undermine their lives. In the face of that apathy, Viland's Black Rock coworkers are active beyond teaching in the classroom: They phone the students and their parents to make sure they have a ride to school, counseling them, meeting with and about them. "We want you to demand we help you," Viland tells her charges. Fulton and Pepe show the sincerity behind her words when they film her driving to pick up a student and bring him to school.
This level of access and caring is evident throughout the film. Fulton and Pepe bring viewers into Joey's living room, and are next to him on a picnic bench as he plays guitar. They observe from a distance to emphasize the magnitude of struggle, as when they film Lee, Layla and their baby walking along the side of the road. They are in Viland's office as Jennifer shares the self-doubt that constricts her horizons. Moments like these make the viewer wish to learn more about Joey's relationship with his meth-addicted mother, and how he survives day to day. When Joey leaves his home because his mother has accused him of stealing her drugs, we see him on his own and washing his clothes at a laundromat.
With that kind of access, we expect to see where Joey's been sleeping and how he's been feeding himself. We long to see how Lee and Layla manage to be students and parents on a daily basis. We want to see firsthand the circumstances in which Jennifer must cope with a negative, disapproving father. Though it was a choice on the filmmakers' part to let their subjects' stories unfold without third-person narration or interviews, The Bad Kids would be richer if it delved deeper into these young people's lives and let them express themselves directly to the camera or an off-screen interviewer, giving valuable context to their hopes and fears. Viland, who sees her role as a life coach, is ready and brave enough to engage with these fears, including those of a girl who is afraid of leaving the security of high school and entering adulthood.
By the film's end, questions linger about what will become of those who have and haven't yet earned their diplomas. The viewer is compelled to wonder: What happens after graduation, and will students have the resources and support they need to succeed in life? As it is, The Bad Kids succeeds in showing that these high-schoolers aren't bad at all. Rather, they need the trained, caring individuals at places like Black Rock to help them before the inertia of apathy turns difficult years into wasted lives. Just one of the lasting values of this film is giving insufficient terms like "at-risk youth" meaning that inspires empathy and understanding. Ideally, Fulton and Pepe's documentary will foster action so that kids like these around the country have the support they need and aren't left to their own hopelessness or others' indifference.
Directors: Keith Fulton and Lou Pepe
Writer: N/A
Starring: Vonda Viland, Joey McGee, Jennifer Coffield, Lee Bridges
Release Date: Jan. 6, 2017 in select cities