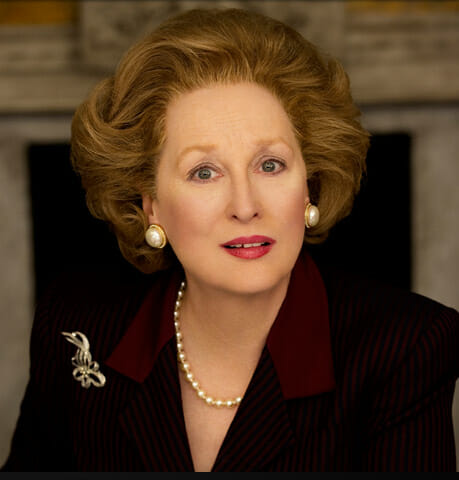 Meryl Streep isn't exactly always a bridesmaid, never a bride. She has won two Academy Awards. But she's also been nominated 16 times—more than anybody else, ever—and the last time she took home an Oscar was in 1983 for Sophie's Choice. Backed by the marketing prowess of the Weinstein Co., Streep's turn as Margaret Thatcher will likely garner her a seventeenth nod, and she deserves another statuette—not just for impersonating the longest-serving prime minister in the United Kingdom and the first female elected to lead a Western government, but for capturing the fading dignity of a powerful woman in the twilight of her life, denied her freedom and losing her grip on reality.
Spanning 40 years, The Iron lady attempts to recount, in just 105 minutes, Thatcher's impressively lengthy career through the filter of her memories. Today, she is in her 80s, her movements restricted to her home out of concern for her safety, so she must content herself with chastising her husband Denis (Jim Broadbent) for spreading too much butter on his toast and commenting on the price of milk over breakfast. But Denis has been dead eight years, and she has finally agreed to clear out his clothes and belongings, a decision that suddenly floods her with memories of their life together.
It's the personal aspects of Thatcher's life that capture the imagination in Abi Morgan's script: How the proud Oxford-educated daughter of a grocer (played as a young woman by Alexandra Roach) loses her first bid for public office, immediately after which her goofy beau Denis (Harry Lloyd) proposes. How she sacrifices mothering her twins for public service, storming the House of Commons in her powder-blue suits and string of pearls. How she agrees to a makeover, including voice lessons worthy of The King's Speech, to run for leadership of the Conservative Party, an office even she never thought a woman could win.
At her side throughout is affable Denis, who haunts her to this day, keeping her company even as she knows his presence in her chambers is a sign of her senility. Ultimately, The Iron Lady is a love story.
In contrast, the highlights of Thatcher's controversial career—spending cuts during a period of recession and high unemployment; war with Argentina over the Falkland Islands; a flat-rate per capita tax that leads to civil unrest—are managed in abbreviated montages that don't do the woman or these events justice. Director Phyllida Lloyd (Mamma Mia!) needed a longer running time or more finesse or both to satisfyingly cover all this material. Her talent as a director lies in details, including a quite nice motif involving a teacup.
Lloyd's coup was in casting Streep, whose physical transformation by J. Roy Helland, overseen by makeup and hair designer Marese Langan, is remarkable—even her teeth appear altered by prosthetic. But it's Streep's portrait of the Iron Lady that is memorable and moving—of an aging woman who can't get around so well anymore, who understands she gets confused sometimes, who doesn't recognize herself in the mirror, and who struggles to maintain her poise even as the once most powerful woman in the world now depends on others to care for her. Her fate is one to which all can relate.
Director: Phyllida Lloyd
Writers: Abi Morgan
Starring: Meryl Streep, Jim Broadbent, Alexandra Roach, Harry Lloyd and Olivia Colman
Release Date: Dec. 30, 2011