Alan Palomo Invites Us Into His Dazzling World of Hassle
The Neon Indian frontman's first solo album is a gorgeous, cinematic fusion of R&B, disco and yacht rock that plays with '80s music tropes to captivating effect
Music
Reviews
Alan Palomo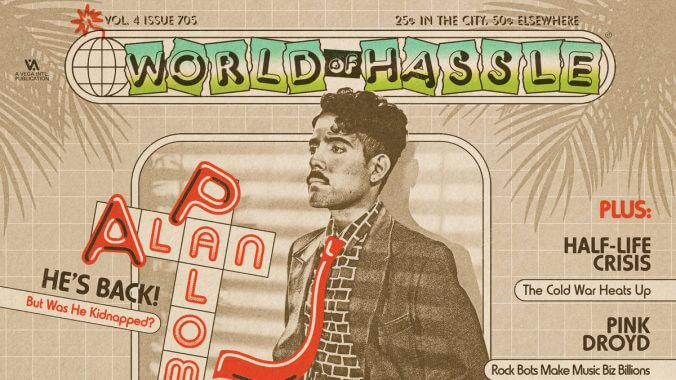 Before bedroom pop—that strain of fuzzy, vibe-y, DIY music you hear a lot on Tik Tok and SoundCloud—there was chillwave. Emerging in the early 2010s, chillwave was borne out of the fruitful indie sleaze era, known for its blend of the lo-fi, dreamy psychedelia of the '70s and the seductive, upbeat synths of the '80s. Alan Palomo—and his electro-pop project Neon Indian—was, arguably, the most prominent contributor to that movement, producing three uniformly strong records—2009's Psychic Chasms, 2011's Era Extraña, and 2015's VEGA INTL. Night School—that played a crucial role in cementing the internet's impact on pop music.
Neon Indian, in particular, stood out for the way Palomo and his team hit the sweet spot between retro and futuristic—filtering the blissed-out sounds of the past through a lens of ambient millennial angst in the digital age. Songs like "Deadbeat Summer," "Polish Girl" and "Annie" were catchy, escapist balms in the anxiety-inducing, post-recession landscape that simultaneously recalled the musical textures of artists like Todd Rundgren, Depeche Mode and Carly Simon.
But, like many music trends, chillwave came and went, with bedroom pop taking its place and furthering the democratization of music-making for better or worse. Palomo has also stayed relatively mum since the subgenre's decline, having made a few one-off singles in the past few years but no major body of work. Now, nearly a decade since his last full-length output, Palomo has returned with his first explicitly solo record World of Hassle—with only two of his Neon Indian bandmates helping out behind the scenes. Though the album is less chillwave and more vaporwave (another trendy online micro-genre), Palomo has crafted something much more ambitious and refined than a simple "aesthetic," doubling down on the comforting sonic nostalgia of his earlier efforts but infusing it with his fresh, charismatic twisting of older styles.
World of Hassle is a richly crystallized marriage of Palomo's vision and technique, an electric fusion of woozy disco, sensual R&B, and funky yacht rock. The production is razor-sharp in its precision, the lyrics carry an air of looseness and levity and the world-building of its central concept is evocative enough to offset how well-worn '80s throwbacks have become in today's pop culture. Think of it like an alternative soundtrack to Miami Vice or a less hedonistic, more romantic companion to The Weeknd's After Hours. In contrast to Abel Tesfaye's revenge-seeking anti-hero, Palomo poses as a lovable, lovesick nightclub entertainer who stuffs his big-hearted emotions—and even bigger sounds—into a tasty, sensuous elixir that you can't get enough of.
Some may find World of Hassle overly indulgent in its cinematic, Grand Theft Auto-like presentation—you could practically play this album front-to-back while crashing into virtual cars and visiting seedy, late-night establishments on your TV—but its excess is part of the fun. The record is gorgeous and transportive, bursting with a savory international flavor that spans from Japanese city pop to reggae, the Italo disco of Giorgio Moroder to I'm Your Man-era Leonard Cohen and vocals that flit between English, Spanish, and French.
Palomo has teased his affection for worldly influences before, but its overtness here offers a welcome and fascinating peek inside his perspective on how cultural differences shaped his own artistic identity. On the opener "The Wailing Mall," he chronicles a core childhood memory of getting lost in a Payless store over a wave of orchestral stabs, synths and saxophone. "My little brown blues were longing to stray," Palomo recounts, using a pivotal life moment to express his struggle in navigating the difficult confines of American spaces as a Mexican-born immigrant. Stark as it may seem, Palomo manages to apply some lightness and humor to the experience through casual references to T2: Judgement Day and the Rainforest Cafe. Even the political undertone of the song's title also functions as a cheeky double entendre.
From the get-go, it's clear that Palomo's here to have a good time and wants his audience to as well. There's a magnetic, sugar-rush quality to the album's first half, where tracks like the slick "Meutriére" and the smokey "La Madrileña" make you wanna down a tequila shot and boogie like an idiot on the dancefloor. "Mundial Nudista '89," one of the best songs Palomo has ever made, features an irresistible hook, a quirked-up synth beat, and an amusingly loopy feature from Mac DeMarco, whose appearance feels like Palomo invited up a drunken beachgoer onstage to riff with him. "The Return of Mickey Milan," another fantastic, fantastical banger, plays like a lost Doobie Brothers song Michael McDonald made while snorting coke and sipping a daiquiri.
But, of course, good vibes always have a limit and, inevitably, give way to the melancholy buried underneath all the glitz and glam. After the lowkey but groovy "Stay-at-Home DJ" and the alluring, Supertramp-inflected "Club People," World of Hassle shifts into lounge mode—still maintaining the vibrancy of the first half but dialed down to a softer register. The somber, wordless interlude "Alibi for Petra" and tropical slow jam "Nobody's Woman" evoke images of cruising late at night down a dark, empty road, or puffing on a cigar at the club after everyone has left—save for a few lonely stragglers.
Even though the atmosphere Palomo has constructed fits squarely in a late-Cold War setting, he contextualizes his ideas in a way that feels both timeless and contemporary. Take, for instance, the discussion of late-night texts on "Stay-at-Home DJ," allusions to "fuck, marry, kill" on "Nobody's Woman" or the reference to a line of dialogue from the 1955 Best Picture-winning drama Marty in "Big Night of Heartache." This balancing act between the novel and the nostalgic can be a tricky feat to pull off, but Palomo makes it subtle enough that it doesn't feel like a glaring anachronistic distraction.
Although Alan Palomo is so evidently adept at emulating rather than sentimentalizing the past, World of Hassle does, sometimes, feel a touch pastiche-y. Especially as it enters the moody second half, the album begins to mirror what M83 did in 2016 with Junk, leaning so hard into the cheese and schmaltz of late-'80s muzak that it almost verges on fetishistic parody. But Palomo's sun-soaked, salt-rimmed, neon-tinged world has such an immersive, hypnotic pull that its more derivative tendencies don't really matter. World of Hassle oozes so much personality that a two-hour vaporwave YouTube video could never replicate. Like he's done with Neon Indian, Palomo situates the listener in a time and place that still haunts our culture, but invites us to get lost in the memory—and, as long as he's leading the way, there isn't much to worry about.
Listen to Alan Palomo's 2009 Daytrotter session as Neon Indian here.
---
Sam Rosenberg is a filmmaker and freelance entertainment writer from Los Angeles with bylines in The Daily Beast, Consequence, AltPress and Metacritic. You can find him on Twitter @samiamrosenberg.