The 40 Best Songs to Sing in the Shower
Belting "Bulletproof" in the community bathroom? We've all been there
Screengrab via YouTube
Music
Lists
Best Songs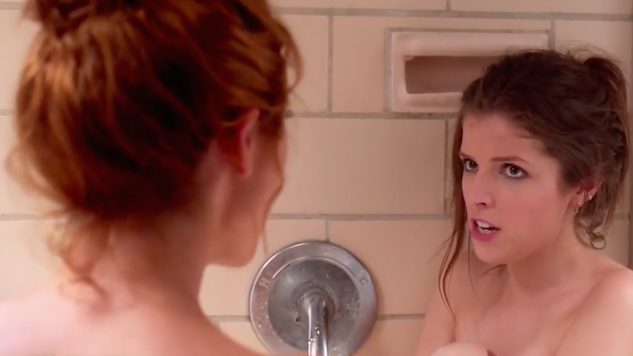 First, a few questions: Do you shower in the morning, or at night? Do you shampoo and condition, or do you just shampoo (if you're the second option, I'm jealous)? Are you a bar soap kind-of-person or a body wash kind-of-person? Loofa or wash cloth? Legs shaved or unshaved? That's a lot of decisions to make just in order to get clean. Don't let the music you listen to (or the songs you sing) in the shower be yet another you have to make before you turn up the steam. Just sing what you feel, man. Shower time is your time. Maybe you don't listen to music or sing in the shower at all, and to that I say "Why, oh why not?" as well as "But your days could be so much happier if you did!" My point is, listening to music in the shower is a simple pleasure. If you're not doing it, you're missing out. However, you're not likely to find me grooving to experimental jazz or bizarre post-punk on the tile—some music is just made to be sung like nobody's watching, and some is not. So, here, we present to you a list of songs that are absolutely perfect for bathtime listening and belting. Alternatively, this would make for a killer workout playlist (just saying!). Now go wait for the water to heat up. Don't forget to wash behind your ears.
Listen to our Best Songs to Sing in the Shower playlist on Spotify right here.
40. The Ronettes: "Be My Baby"
Pretty much any girl group staple would work as a shower singalong, but let's be honest—"Be My Baby" is the girl group song to end all girl group songs. Castanets are optional but luckily, also waterproof. —Lizzie Manno
39. Elvis Costello: "Pump it Up"
The lead vocals of "Pump It Up" are so fun to mimic that you'll want to wear spectacles and buckle your knees inward just like Elvis Costello. Be careful not to slip in the shower when trying to pull off his signature move. —Lizzie Manno
38. Wheatus: "Teenage Dirtbag"
If impersonating singers' bizarre voices in the shower isn't a national pastime, it definitely should be. Would you sing "All the Small Things" without Tom DeLonge's bratty "NEEAWWs?" No. So where should you turn when you inevitably run out of Blink-182 hits? Look no further than Wheatus' immortal "Teenage Dirtbag," a song featuring the most prominent nasal voice this side of Billy Corgan. Plug your nose, pretend you're still a teenager and your biggest problem is that your crush won't listen to Iron Maiden with you, making you feel like the biggest dirtbag in the world, and just. let. it. out. —Steven Edelstone
37. The Human League: "Don't You Want Me"
When The Human League's Philip Oakey sings "You were working as a waitress in a cocktail bar," over videogame-like synths, you can't, in good faith, avoid joining in with this yearning New Wave classic. This is the best shower loofah-as-microphone song that exists. —Lizzie Manno
36. Talking Heads: "Take Me To The River"
This Talking Heads favorite is all about the replenishing powers of water. Well, maybe not exactly—but it could be interpreted as such. "Take me to the river / drop me in the water / Washing me down." David Byrne is using it as a metaphor for relationships, but it's also perfect bathing music. Take your next shower to the next level by allowing it to wash your woes away and cleanse you anew. —Ellen Johnson
35. Bruce Springsteen: "Dancing in the Dark"
Washing away the sweat after another long, hard day working for the Man deserves a fitting companion, and "Dancing in the Dark" is just that. It may be the most suitable pairing since the Boss and New Jersey, or "Born in the USA" and every single Fourth of July party since 1984. Grab that shower head and sing away, 'cause this gun's for hire. —Clare Martin
34. The Tallest Man on Earth: "The Gardener"
I submit to you that a shower song should serve as entertainment, first and foremost. Showering is a mundane task, and anything that can engage your brain as you perform it is a gift. So a compelling narrative can elevate an otherwise perfectly serviceable tune into shower song excellence. Enter The Tallest Man on Earth's "The Gardener," a metaphorical story of hiding one's ugliness to better be the apple of a lover's eye—the verses are patterned a certain way, each a distinct scene recounting a figurative body buried, with the sort of subtle variations that keep you grasping always for the next lyric, imagining the garden you have made, rather than, you know, soap. —Scott Russell
33. Nellie Forbush & The Ken Darby Singers (from South Pacific): "I'm Gonna Wash That Man Right Outa My Hair"
This South Pacific song is petty and pretty, and there's no better tune for cleansing yourself of emotional baggage (and the memory of bad boyfriends past) than "I'm Gonna Wash That Man Right Outa My Hair." Nasty ex who keeps sliding into your DMs? Wash 'em out. Former coworker who won't quit badgering you? Wash 'em out. You get the idea. —Ellen Johnson
32. Beyoncé: "Love On Top"
If you're an alto at the best of times, then there's nowhere better to attempt the four key changes of "Love On Top" than the safety of your own bathroom. Behind the shower curtain, we're all secretly Beyoncé. —Clare Martin
31. Carly Rae Jepsen: "Party For One"
Following heartbreak, a person may listen to "Pristine" by Snail Mail seven times over every day and that's valid. Brave, even. But what if I told you there was a way to sing a song in the shower that acknowledges your pain, doesn't ask you to become a #GirlBoss to overcome your personal loss and exemplifies the best of synthy confectionary pop? When you're ready, "Party for One" can be the song to spring you back on your feet (assuming you don't trip and fall dancing to it in the shower). —Jane Song
30. The B-52's: "Love Shack"
The shower is just the place to practice your "Love Shack" shimmy and nail your Fred Schneider impression. Plus, "Your tin roof's… rusted!" has a whole new punch to it echoing off bathroom tiles. —Clare Martin
29. Toploader: "Dancing in the Moonlight" (King Harvest)
Toploader's 2001 remix of King Harvest's "Dancing in the Moonlight" is groovy and amazing. It's money in the bank on the dancefloor, a road trip jam and a great song to jog to. Add "good for shower serenades" to the list. —Ellen Johnson
28. a-ha: "Take On Me"
I don't mean to show my age, but a certain six-second clip from the long-dead Vine comes to mind when I hear this song. Be like the girl in that clip: bounce to this song like no one's watching, and when you realize they are, flash 'em a grin. Or, just crank it up in the shower, and perform a concert for the bar of soap and an audience of conditioner bottles. —Ellen Johnson
27. Natasha Bedingfield: "Pocketful of Sunshine"
Maybe this one only made it because of that one scene in Easy A, but just like it did for Emma Stone's Olive, "Pocketful of Sunshine" grows on you the more you listen to it. You're not a real fan unless you give yourself an in-shower mohawk and sing this song straight from the soul into the shower head. —Ellen Johnson
26. New Radicals: "You Get What You Give"
A perfect pop song that still doesn't get the recognition it deserves 22 years after its release, you may not remember how this one goes. But throw it on for the first time in however long it's been, and you'll be singing it for the next week straight. You won't be able to match Gregg Alexander's glorious falsetto when he croons, "But WHEEEEEEN the night is OOOOOOOVER," but don't give up, you impassioned shower singers: You've got the music in you. —Steven Edelstone
25. Kelly Clarkson: "Since U Been Gone"
Say what you will about former American Idol star Kelly Clarkson, but you can't honestly tell me that you've never sang the "Since U Been Gone" chorus in the shower, pounding the walls in a fit of heartache and pretending that the water was rain. —Lizzie Manno
24. The Cure: "Friday I'm in Love"
When you're in the shower, chances are you're starting or ending your day. That means you'll need a song that doubles as a pump-up anthem and escapist classic. There's no better answer than The Cure's "Friday I'm in Love." —Lizzie Manno
23. La Roux: "Bulletproof"
I will fight anyone who thinks this isn't one of the greatest pop songs of all time—and the verses are just as memorable as the chorus. All three-and-a-half minutes can and should be attempted in the shower. —Lizzie Manno
22. Dexys Midnight Runners: "Come on Eileen"
It may be hard to imitate Dexys' Kevin Rowland on "Come on Eileen," but you can always go for it in the privacy of your own shower. Forget "rub-a-dub-dub." We should be teaching our kids "Too-ra-loo-ra." —Lizzie Manno
21. Aretha Franklin: "Respect"
What you need? Baby, Aretha's got it. "Respect" is a bonafide classic from any angle, but it's also a confirmed mood booster. Change your attitude and your confidence level next shower with a healthy dose of the one and only legend Aretha Franklin. —Ellen Johnson
20. Lizzo: "Good As Hell"
There's no one better to help you love yourself than Lizzo. Toss your hair, check your nails and lather up—"Good As Hell" is good enough to play on repeat all shower long. —Ellen Johnson
19. Hoku: "Perfect Day"
Is this cut from the Legally Blonde soundtrack overly optimistic or just the right amount of optimism? Try starting your morning shower with this 2000s pop fiasco to find out for yourself. Also, what's a Hoku? —Ellen Johnson
18. Sheryl Crow: "Soak Up The Sun"
This one's for the morning showerers. There's no better way to start the day than with Sheryl Crow singing about communists and inflammatory gas. Also, she says the words "diddly squat." This song is best chased with a glass of fresh-squeezed OJ. —Ellen Johnson
17. The Capitols: "Cool Jerk"
Has there ever been a more instantly iconic cinematic instance of singing in the shower than Kevin's vain, surly Uncle Frank belting out The Capitols "Cool Jerk" in the opening minutes of Home Alone 2? It's obvious that the great John Hughes knew it was a solid bit—hence, Kevin recording the embarrassing moment and then using the recording to play a prank on a hapless Tim Curry later in the film. As for the song itself, it was the career high-point for Detroit R&B three-piece The Capitols, reaching no. 7 on the Billboard Hot 100, even as it referenced the waning popularity of '60s fad dance craze "The Jerk." Driven by an infectious piano rhythm, plenty of "woos" and "heys" and the constantly repeating "Cool Jerk!" refrain, it's a jubilant two minute shower stomper. Of course, you're practically required to close with the following: "Get out of here, you nosy little pervert, or I'm gonna slap you silly!" —Jim Vorel
16. John Mayer: "No Such Thing"
This is the ultimate world-at-your-fingertips anthem. John Mayer wants to run through the halls of his high school to the tune of this song, but I'd just like to belt it in the shower. We are not the same. —Ellen Johnson
15. Marvin Gaye & Tammi Terrell: "Ain't No Mountain High Enough"
This gussied-up soul classic may be a duet, but there's no rule that says you can't finesse a call-and-response all by your lonesome. There's nary a river nor bathtub wide enough to keep me from humming along to this one while I rinse and repeat. —Ellen Johnson
14. Justin Timberlake: "SexyBack"
Is there ever a time when you're feeling yourself more than when you're home alone and singing in the shower? Naked with the place to yourself, the time is ripe to sing the internationally-recognized anthem for feeling hot as hell: Justin Timberlake's "SexyBack." We know you're bringing sexy back, so let the world (aka your soaps and conditioners) hear it. —Steven Edelstone
13. Lady Gaga and Bradley Cooper: "Shallow"
Sure, it's a duet, but we all know which part you're really singing here. Here's hoping your neighbors don't hear your "OHohohhhhhhhhhhhWHOAAAAAAAOHHHohohohohOHHHHHHHHHHHHHHHHHH," which inevitably won't sound anywhere near as good as you think it does. —Steven Edelstone
12. Shania Twain: "Man! I Feel Like a Woman"
Man! I feel like a shampoo. Embrace your femininity and groove along to Shania's biggest hit. Maybe you're getting ready to go out, or maybe this is a pre-nap wash, but that's your "prerogative." —Ellen Johnson
11. Robyn: "Dancing On My Own"
The all-time heartbreak anthem "Dancing On My Own" is as much a celebration of independence as it is a woe-is-me lament. Whether you're "dancing" or crying on your own in the shower, this glistening pop classic and dancefloor favorite should do the trick. —Ellen Johnson
10. ABBA: "Super Trouper"
This list simply wouldn't be complete without some ABBA. Crank this up and pretend you're a lonesome, homesick Swedish pop star whose only joy is found through song. Or a blushing bride-to-be with three potential dads—your choice! —Ellen Johnson
9. Becky G: "Singing in the Shower"
It's all in the name. This one-hit-wonder from 2014 "lights me up inside." —Ellen Johnson
8. Lady Gaga: "The Edge of Glory"
I'm just going to let Abbi Jacobson take this one. —Steven Edelstone
7. Atomic Kitten: "The Tide is High" (Blondie)
Lizzie McGuire had the right idea. Of course Blondie's original track is pure bliss, but there's something extra sing-in-the-shower-able about Atomic Kitten's 2001 remix. "The Tide is High" goes with scalding shower temps like halter tops and low-rise jeans. It's just science! —Ellen Johnson
6. The Entire Disney Catalogue
[Insert your favorite Disney song here]. Disney music from our childhoods (or—let's be serious—more recently, too) is just made to be sung word-for-word at the top of your lungs, be it "Circle of Life" or "I Won't Say I'm In Love." But a recent tune that feels especially appropriate is "How Far I'll Go" from Moana. Raise your sails (towels?) and come "back to the water." —Ellen Johnson
5. Corinne Bailey Rae: "Put Your Records On"
"Girl, put your records on, tell me your favorite song." Has there ever been a gentler, more pure-hearted plea? You're already going to "let your hair down" in the shower anyways, so you might as well do it to the tune of Corinne Bailey Rae's honeysweet, reggae-inspired pop classic. —Ellen Johnson
4. Carole King: "Where You Lead"
I can think of a dozen Carole King tunes that would be perfectly suited to steamy shower listening, but the pure loyalty and joyful innocence of this Tapestry-hit-turned-Gilmore-Girls-theme makes for the perfect behind-the-curtain belt. —Ellen Johnson
3. Prince: "Kiss"
Shuffling bass, sexy smooching noises, body positivity and that signature Prince sultriness? It's the perfect recipe for shower singing. But good luck hitting those high notes. —Ellen Johnson
2. Oasis: "Wonderwall"
Is "Wonderwall" the best Oasis song? Definitely not, but it is the best Oasis song to belt out by yourself—that chorus lift was made for bathroom quiet time. —Lizzie Manno
1. Adele: "Rolling in the Deep"
The best songs to sing in the shower all have that note. You know the one I'm talking about: The impassioned scream into the shampoo bottle note, the one you know deep down you can't hit but you're definitely going to try anyway. It's that note that, if your roommate walks into the apartment and hears you go for it, will earn you infinite shame and endless jokes when they hear your voice inevitably crack. So of all the songs you can think of, do any of them have a more fun note to try to sing than Adele's "We could have had it AAAAAAAAAAAAAAAALLLLLLLLLLLLLL?" I didn't think so. —Steven Edelstone
Listen to our Best Songs to Sing in the Shower playlist on Spotify right here.