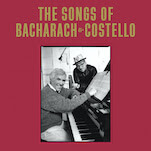 The breadth of Burt Bacharach's impact on popular music, especially in the second half of the 20th century, is undeniable. When the beloved songwriter passed away in early February, artists and critics (including Paste's own Geoffrey Himes) waxed rhapsodic about his staggering trove of hits, his distinctly sophisticated orchestrations and how pleasurable it was to listen to the music he wrote. Though he was certainly a household name, his presence was more akin to a high-end tailor than a superstar: like the finest formal dresses and suits, his songs drew your attention to the person they were cut for, not so much his exacting needle and thread work.
As 60 Minutes host Lesley Stahl suggested in a segment that originally aired in 1999, Bacharach's music was, for several decades, just an ambient feature on the landscape—so ubiquitous that you were probably exposed to it whether you knew it or not. Elvis Costello, in fact, stands as living proof of that. As Costello explains in a scintillating and highly informative 10,000-word essay he wrote for the new box set The Songs of Bacharach & Costello, his admiration for the late songwriting maestro dates back to 1958, when Perry Como's famous rendition of "Magic Moments" aired on the small family television set.
Costello, four years old at the time, wouldn't have even known what songwriting was at the time, much less be aware of Bacharach's stature. But that would change in short order, with Costello forming an early and abiding personal connection to Bacharach's music. By the time he and his hero were tapped to contribute a song for writer-director Allison Anders' musical comedy-drama Grace of my Heart in 1995, Costello was keenly aware that this was a once-in-a-lifetime opportunity. (One of this box set's most appealing features, Costello conveys a great deal of wit and humor whether writing at great length or just talking off the top of his head like he does in the official unboxing video.)
Costello felt so good about the results from that initial meeting, the solemn yet serene "God Give Me Strength," that he persuaded the venerable tunesmith to do more, which led to their one full-length collaboration, 1998's Painted from Memory. If the buzz around that album helped put Bacharach's familiar, grandfatherly smile in the contemporary spotlight, it's not like he needed the exposure. A pair of 1997 films had already thrust the songwriter back into the public consciousness. The soundtrack to the Julia Roberts romantic comedy My Best Friend's Wedding was made up entirely of songs Bacharach wrote with his longtime creative partner Hal David. And, owing to his composition "The Look of Love" helping inspire the main character, Bacharach made a cameo in the first Austin Powers film. He returned for the 1999 sequel with Costello in tow.
But what the pair's appearance in The Spy Who Shagged Me, performing "I'll Never Fall In Love Again," and Painted From Memory revealed was that Costello's voice was, shall we say… an odd fit for Bacharach's style from day one.
The textbook example of a vocalist who doesn't meet the standard of a technically-skilled singer but manages to achieve greatness on sheer grit and imagination, Costello's vocal quirks rival Bob Dylan and Neil Young. They've served him quite well in his own music, and some measure of his career longevity can be attributed to the unique personality of his voice. And though he first emerged as a truculent avatar of post-punk attitude, he'd always harbored a profound affinity for tunefulness. It's not like Costello can't hold his own in highbrow jazz and classical settings, either. In fact, he's quite capable of composing in those realms in his own right as proven by albums like North and his ballet score Il Sogno.
In hindsight, Bacharach's influence on the U.K. artist was obvious as far back as "Alison," a signature track from Costello's 1977 debut My Aim Is True. Still, against the lacy intricacies of Bacharach's chord changes, Costello's phrasing can come off as choppy and coarse, not unlike when Americans sound harsh when conversing with Brits. As we hear right out of the gate with Painted from Memory's leadoff track "In the Darkest Place," Bacharach was nothing if not patient with his tempos. Throughout the main album, even when Costello tries with all his might to hold back, his baritone vibrato pushes against the unhurried pace of the material. Costello is only able to blend in at times when the drums grow forceful enough to give him cover. It's not so much that these two men were musically incompatible, it's that there was a dissonance between the temperament of their respective styles.
Oddly enough, it's in the moments where the duo get separated—or neither appears at all—that we get to hear just how fruitful their creative bond actually was. On Disc 2, Bill Frisell and Cassandra Wilson capture the essence of Painted from Memory's title track with a previously-released interpretation so delicate it threatens to blow away at any moment. (See the companion album The Sweetest Punch, not included in full here.) And when Costello's longtime foil Steve Nieve steps in to transpose Bacharach's piano chart to a Fender Rhodes on "Everyone's Playing House," all of a sudden Costello sounds like he's in his element, even as the elder composer's stamp defines the identity of the song. Nieve, in fact, pretty much saves the day, supplying a much-needed bridge between Costello and Bacharach's approaches, providing the main musical accompaniment on the all-live disc included here.
Whether Bacharach and Costello were indeed mismatched versus whether their differences created a fertile contrast depends on your taste. There's no denying the effort that went into this material, and the elegant presentation of this box matches the music's tone and character perfectly. Undoubtedly, though, even fans might find themselves wondering at first how a single album could possibly justify a "super-deluxe" set consisting of four CDs and two LPs.
If it seems superfluous, for starters, to own a remastered Painted from Memory on both CD and LP, there's really no better way to honor Bacharach's work than to hear it on vinyl, the medium of his era. Overall, The Songs of Bacharach & Costello justifies its scale quite nicely by offering sufficient counterpoint to its two marquee attractions, along with songs originally written for a stage musical adaptation of Painted from Memory that never made it to production. In the unboxing clip, Costello jokes that "now you can put it together for yourself."
Perhaps it's the ultimate testament that some artists have such a strong flavor that they don't complement just any recipe they find themselves in. A bittersweet example of everything that can happen when people get close to their heroes—remarkable achievement spiked with a sense of unfinished business—Painted from Memory marked a historic pairing of musical minds. It's rare that "heartfelt" is the first word that comes to mind with a box set, but this one benefits greatly from the way Costello communicates his feelings about Bacharach's work. And however you feel about the music itself, Costello's lengthy testimonial will give you a new appreciation for everything that went into it.
Saby Reyes-Kulkarni is a longtime contributor at Paste. He believes that a music journalist's job is to guide readers to their own impressions of the music. You can find him on Twitter and Substack at feedbackdef.substack.com