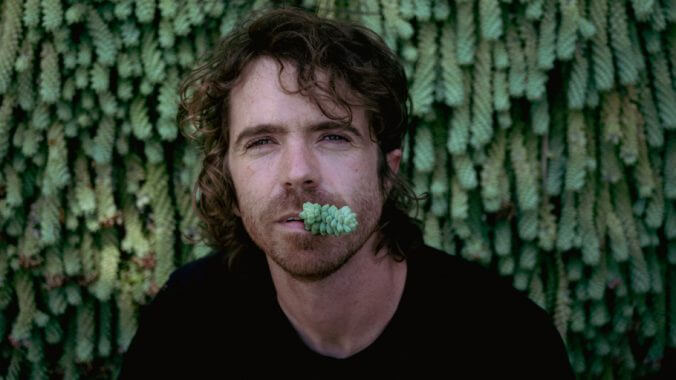 On October 6, Los Angeles musician Hank May will release his sophomore album Tails via Dangerbird Records. Today, May has unveiled the project's latest single, "Life Is Sweet"—a groovy pop track coated in a candy folk gloss. He approaches the song with an eye for intricate arrangements, layering rich guitars with a propulsive, drum machine backbeat that glimmers as much as it awes. It's evident that May is branching away from the singer/songwriter world he built on his debut album—2021's One More Taste of the Good Stuff—and is, instead, more interested in making undefinable yet accessible work that is catchy, electronic and bountiful. "Life Is Sweet" lives up to its own title, with an earworm melody and a sharp modernity.
May says of the accompanying video: "This video was inspired in part by Bob Dylan's classic 'Subterranean Homesick Blues' video and The Giving Tree by Shel Silverstein. I spend a lot of time by myself in the woods. When 'Hell is other people,' as the saying goes, heaven can be a walk in the forest surrounded by plants and animals. The lyrics in this song deal with depression and self-imposed isolation, so I thought it would make sense to make the music video by myself in the woods.
"Even though I planned not to leave anything behind, I did feel guilty bringing a whole bunch of junk into the forest. (Usually I only have a water bottle and maybe a snack.) I tried to find a secret spot to do my shady business of spray painting sheets of construction paper and stapling them to a tree but alas, other nature-loving humans managed to find me. I will say that most people were intrigued, someone even said something along the lines of 'Oh, doin a bob Dylan thing?' and I was like "Yup!' But eventually, someone came along who was like 'Oh hell no, I don't what this is but it's completely unacceptable, I'm calling the authorities on you!' So I had to pack up quickly and hide from the park rangers in order to keep my music video budget at zero dollars. I finished the video in the tub and came back the next day to remove the staples from the tree. I think it came out pretty good!"
Watch the music video for "Life Is Sweet" below.