Japanese Breakfast's Michelle Zauner Talks Grief, Soft Sounds From Another Planet and More
"It's kind of amazing that an experience that feels so individual to me is shared by so many people."
Music
Features
Japanese Breakfast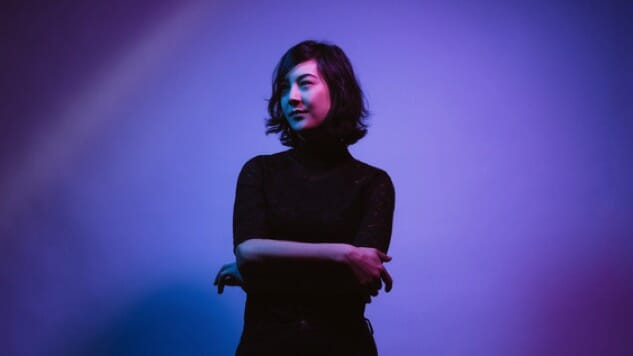 What's striking about Michelle Zauner's music as Japanese Breakfast is how hard her work ethic has been earned. Her debut Psychopomp was written just two months after her mother's passing from cancer. That a fear of relenting to depression after several months of difficult caretaking drove her to write catchy, uptempo synth-rock gives credence to the cynical joke that fear is the strongest motivator.
The follow-up Soft Sounds from Another Planet, out today on Dead Oceans, is a product of that determination, but is speaking instead to the growth that comes once the Kubler-Ross model has been cycled through. Though the album carries the musing spirit of last year's Psychopomp, its emotional core is more earthbound, more concerned with piecing together how to relate to ourselves and others, fragment by fragment. Intimate insecurities hide inside mundane moments, from a failed attempt to use sex to curry favor in a dying relationship ("Road Head") to the melodramatic belief that, without explanation, your partner will stop loving you and leave you for your waitress ("Boyish"). Japanese Breakfast's compositions are direct and spiky, showcasing Zauner's dexterous guitar work. The careful detailing, both musically and lyrically, has a marbled quality, the spitting image of majesty and balance. It's also far from the decollage method that ended up producing what Zauner considers "a failed concept record," initially built around the lead single "Machinist."
"I was really fascinated by the Mars One project at the time because my friend had applied and been rejected, and around the same time there had been a magazine article about the 100 profiles of different people that they had whittled it down to to colonize Mars," she says. "I was really fascinated by these people who had families and lives, and were willing to sign it off for science. But then, when I started to do it, I realized it was so restrictive and it felt really phony and I felt like I had so much left to say. My mom's death is going to haunt me forever, I can't just shove off and decide that I don't want to write about it anymore."
After the blog that commissioned her to write the song had rejected "Machinist," Zauner turned her gaze to reupholstering demos and exploring sentiments from the Psychopomp stage in her life that were left unaddressed on that record. Given the emotional despondency Psychopomp's album cycle rendered her in, Zaunder regards Soft Sounds as a more "objective view of what mourning was like." While touring, she fell into a more difficult routine, during which she revisited the gravest period of her life ad infinitum, through answering questions from reporters or responding to fans' interest with as much empathy as she could muster. Bearing through death doesn't grant one special insight about how to grapple with it, and that fact is harder to square away when the art that you make so deftly navigates it that you become an ambassador for closure.
"I didn't realize Psychopomp was going to reach so many people; it's kind of amazing that an experience that feels so individual to me is shared by so many people," she says. "[But] there's nothing satisfying about that interaction, I think. When kids come up to me and tell me about their experiences, I want so badly to say the perfect thing and to connect to them in such a special way, and it's so hard. I don't know what I would want from that, and I don't know there's a thing that can be accomplished in that way."
Zauner recognizes that in-vain attempt to relate to an idol because she'd been there more than a decade ago, with Phil Elverum of Mount Eerie. Raised in Oregon, the realist, "Pacific Northwest tenderoni" identity is heavily relatable to her, with Elverum specifically being a personal hero (she has a drawing from the Dawn album artwork tattooed on her arm). When Mount Eerie played in her post-adolescent home in Philadelphia, she took a chance after the show to enthuse with him over how much she loved his work.
"It was one of those hero interactions that you just wish you didn't have. It's just better to not with those kind of people sometimes—it wasn't bad by any means, but I was just so stupid," she said. "I just went up to him and was like, 'I just think Dawn is the saddest thing I've ever heard.' I think that for a lot of people, Phil Elverum is an artist who is so generous with his work. In interviews or with his art or with his album packaging, it just seems so personal. It seems like you know him so well, even though you don't."
Cancer, specifically, is an unlikely factor that connects Japanese Breakfast to Mount Eerie. Zauner ponders sometime over the timeline of her mother's illness, which overlaps with Elverum's stirringly public struggles with his own wife's unexpected cancer diagnosis. Her personal relationship with his music deepened after hearing a similar account of his grief on Mount Eerie's grim new record, A Crow Looked at Me.
"I still feel like I'm growing out of this really nightmarish thing. I think now, I feel more comfortable being melancholy. I feel like I have so much to say and accomplish with my limited time here. I think about death a lot in a way that I never did, and I think in some ways it really makes you live your life more fully, but it's also quite sad."
"I listened to it that one time—it's not something you can jam out on too many times—and I had to pull over in a car, I just started crying so much," she says. "There was this line about how he was holding hands with his wife, walking to therapy, slowly and slowly getting slower and eventually having to drive. I remember walking around the house with my mom, watching her get weaker and how much you wanted to push them to keep going, and how it's such a losing battle. I think I aspire to do that in my work, capture those real moments, because they really touch people."
Like Elverum, what keeps Zauner buoyed in the wake of everything is her support network. Her husband Peter, who contributed bass previously, now joins her as a full-time band member, and being on the road affords her a pattern of continual creativity, directing and co-editing her music videos in whatever down-time is afforded to her. Close as she is to settling into a contented place, it makes you wonder if her inspiration will always return to death.
"Oh, I hope not!" she says, laughing. "Maybe I can actually do a real concept record next, but right now, it's at the forefront of my mind. I still feel like I'm growing out of this really nightmarish thing. I think now, I feel more comfortable being melancholy. I feel like I have so much to say and accomplish with my limited time here. I think about death a lot in a way that I never did, and I think in some ways it really makes you live your life more fully, but it's also quite sad."