Watch Metallica's Lars Ulrich Interview LCD Soundsystem's James Murphy
Image via Beats 1 Radio/YouTube
Music
News
LCD Soundsystem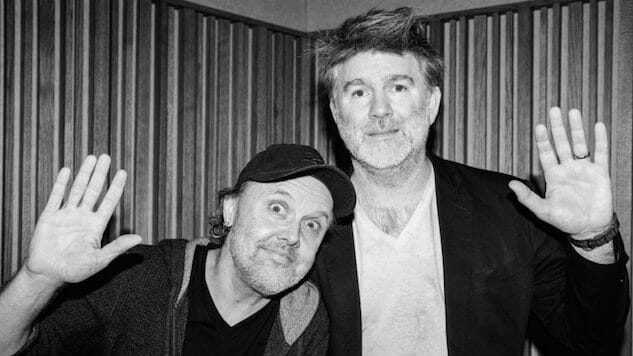 James Murphy of LCD Soundsystem is the latest guest on Lars Ulrich's Beats 1 radio show It's Electric!, and from the sounds of the clips from the interview, they got into the thick of some pretty personal topics. The full interview will be coming out in two parts over the next couple of weeks—the first part will be out Dec. 3, and the second will be out Dec. 10.
Beats 1 shared some preview clips ahead of the episode's premiere. In them, Murphy talks to Ulrich about having artistic control in the studio, his insecurities when first moving to New York from a small town, and public bathroom etiquette. Turns out, Murphy is the passenger we can thank if we walk into a freshly cleaned bathroom on an airplane—he gives us a step-by-step walkthrough of his technique to tidying up.
Watch the interview preview videos below, and further down, listen to Metallica and LCD Soundsystem performances from the Paste Cloud.