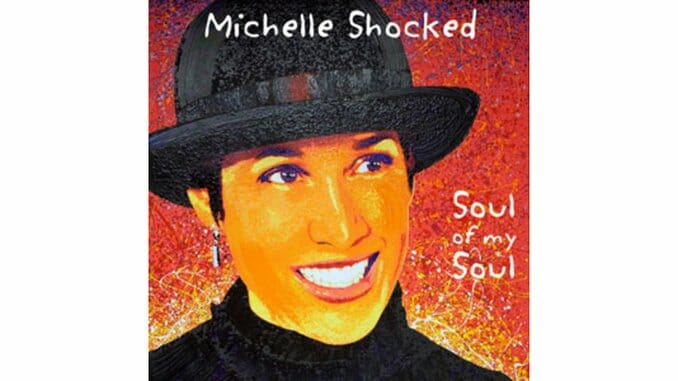 Neither short nor sharp, but definitely Shocked
"Love's song lingered on the lips of other singers," Michelle Shocked sings on the opening track on her latest album. "But love's song was never in my key." With that those simple lines, the Texan troubadour acknowledges 20 years of going her own way, from the ups of Arkansas Traveler to the downs of To Heaven U Ride. But Soul of My Soul is an album about romance busted up and romance thought hard about, so "Love's Song," with its gospel airs and shuffling pace, acts as a promise that what follows will not be typical love songs.
And "Other People" certainly isn't. A spare tune with a quietly pained chorus, it is sung "citizen to country, not woman to man." Yes, it's a love song about patriotism and dissent, with the singer done wrong by a wayward nation, but the metaphor seems mismatched and labored. The similarly themed "Ballad of the Ballot and the Bullet Part 1: Ugly Americans," though righteous in its outrage, already sounds like a relic of a very different time, even though it's only a couple of months in the past.
Soul of My Soul contains some of Shocked's heaviest rock songs since "Fogtown" hid at the end of Short Sharp Shocked, but it's not always a good sound for her. The glammy "Giantkiller" sounds silly in its revved aggression, "Paperboy" just pointless. The chorus to "Heart to Heart" stair-steps in and out of minor key, but the too-smooth backing vocals derail the weight of that chorus. Only "Waterproof" rocks convincingly, thanks to some '80s synths that simulate momentum. In general, the album sounds like another experiment from an artist whose spirited fearlessness has outstripped her musical faculties.
Listen to Michelle Shocked on MySpace.